Iowans share memories of trips Xi made
Share - WeChat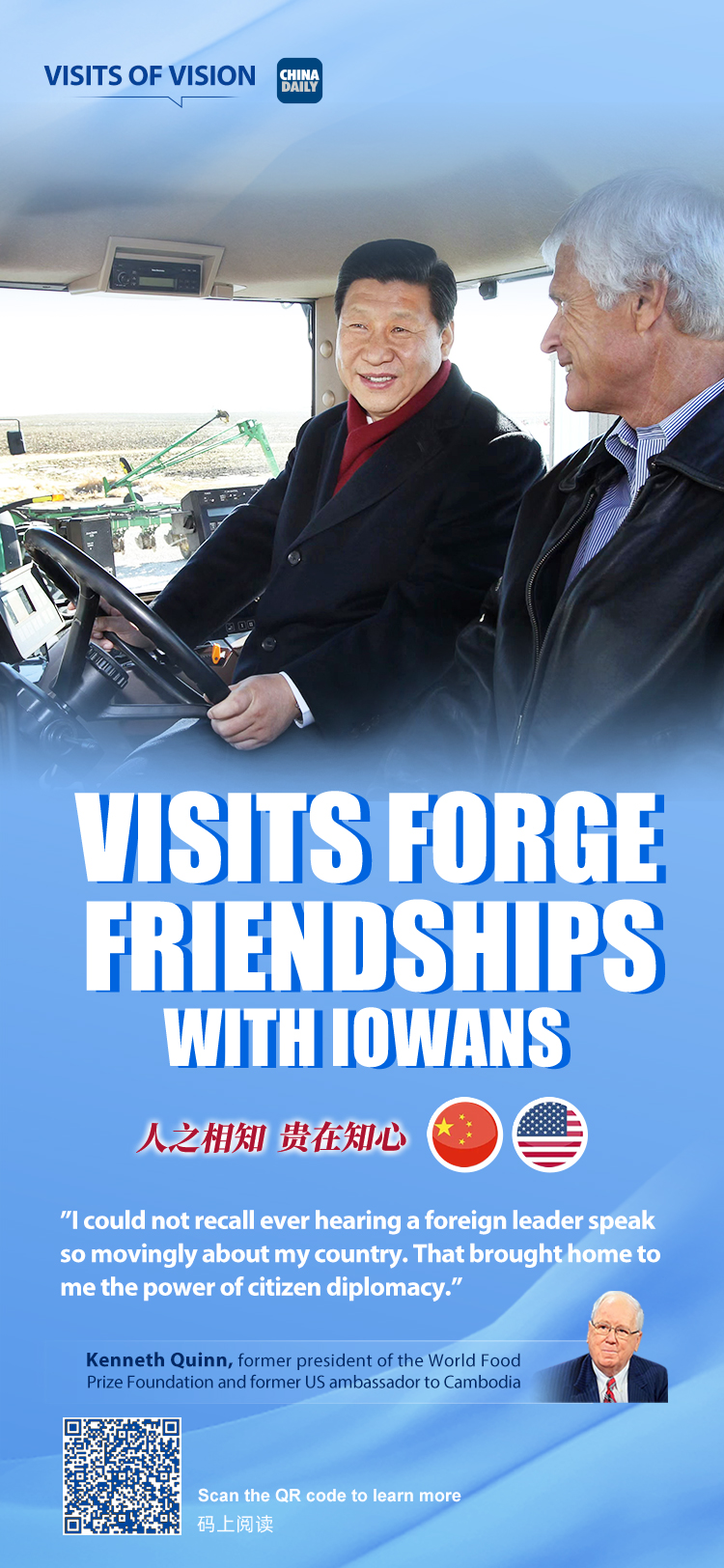 Editor's note: China Daily is publishing a series of stories reviewing President Xi Jinping's visits at home and abroad in the past decade, to showcase his vision for development in China and the world.
Sister state-province relations generate lasting connection between 'old friends'
Iowans ranging from a former governor and ambassadors to local farmers fondly recall Chinese President Xi Jinping's two visits to the Midwestern state. The connection forged over the years made quite a few Iowans "old friends" of Xi, as he calls them.
Terry Branstad, former United States ambassador to China, was governor of Iowa when Xi first visited in 1985 and again in 2012.
At a high-level US-China agricultural dialogue held online recently, Branstad recounted his interactions with Xi over the years.
When he first became governor, Branstad signed a sister state-province agreement with Hebei province in 1983 and brought a 50-person delegation to Shijiazhuang, the capital of Hebei, the next year.
"So then in the spring, 1985, a delegation of five young men, led by a county-level Party secretary named Xi Jinping, came to Iowa. We wanted to treat them as we were treated in Hebei. So we went all out," Branstad recalled. The delegation was taken to a birthday party, got a taste of barbecue and visited the Mississippi River, as Branstad recalled.
What's more, upon Xi's request to experience ordinary life in the US, it was arranged for him to spend two nights at a Muscatine resident's house.
Through the arrangement by Sarah Lande, then president of the Iowa Sister State Friendship Committee, Xi slept in Gary Dvorchak's Star Trek-themed bedroom while the latter was away at college.
Xi also dined at Lande's house and saw her go to a neighbor's house to get some ingredients to make a meal.
Years later, Lande described her impression of Xi as a man "who was bright, curious, well-mannered, fun and friendly, who had a smile that transcended into lasting friendship. He was curious … to learn everything that was new when his visit came in Iowa."
The two-week visit was so memorable to Xi that when Branstad visited China in 2011, Xi received him in the Great Hall of the People.
"He had an itinerary from 1985. He went on and on and called us old friends and mentioned all the people," Branstad said. "I think we did make a very good impression."
In February 2012, Branstad met Xi when he visited the US as China's vice-president.
"We went into the archives and found a picture of him and his delegation with me behind my desk on April 29, 1985," Branstad said. "I autographed it and gave it to him and said, 'Now, would you autograph one for me?' And he did."
Xi visited Muscatine to enjoy a reunion with his friends from more than 20 years before. Xi told them: "My impression of America came from you. To me, you are America."
Xi also visited a local farm where he visited a farmer's house and tried his hand on a tractor.
Farmer Rick Kimberley remembers Xi's visit vividly.
"The day of the visit started very early. A lot of security and media arrived early before Vice-President Xi. That ramped up the anticipation and the nerves," Kimberley recalled.
Once Xi arrived, Kimberley felt more at ease and relaxed. "It put me at ease because he had smiles on him. A warm greeting by him kind of helped with the nerves. I could tell he wanted to be there, wanted the discussion. It's almost like a friend at that time," Kimberley said. "We discussed very important issues of the day, specifically on agriculture."