Celebrities lead national fitness drive
Share - WeChat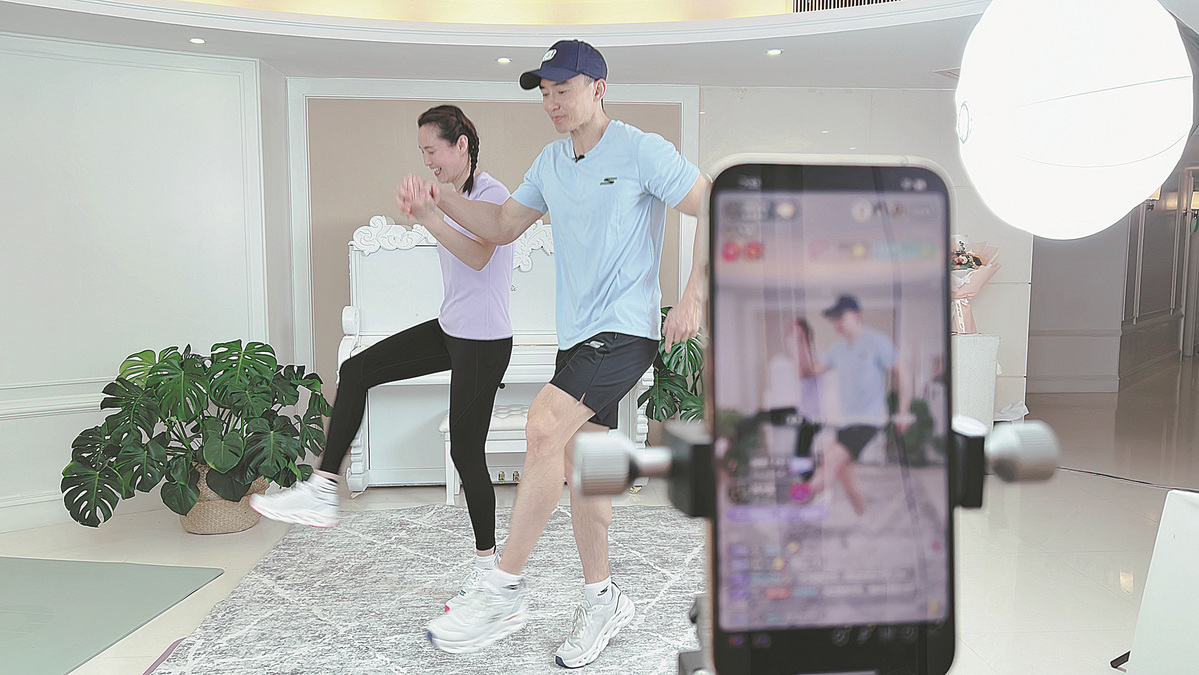 Actors and athletes are among key influencers promoting healthier lifestyles. Yan Dongjie reports.
Wang Zhen is overwhelmed that millions of people are watching her workout and weight-loss videos.
Last month, the 35-year-old from Shenyang, in the northeastern province of Liaoning, started posting videos of herself doing aerobics under the guidance of Liu Kenghung, China's current hottest livestream fitness guru, on Douyin, a popular short-video platform.
More than 560,000 people have liked her videos, and many said they have been encouraged to start working out as well.
"I feel more motivated because so many people are watching me," Wang said. Standing at 1.7 meters, she lost 2.5 kilograms in 16 days-falling from 77.6 kg to 75.1-while her body fat rate fell by 1.7 percentage points to 35.7 percent.
"It's not a big weight loss, but I look much tighter, I feel more energetic and have more strength, and I have even become happier," she said. "I look at myself every time I see a mirror. I like myself more."
Growing trend
Wang is one of the 67 million people in China who exercise at home via Liu's livestream.
Known as Will Liu in English, Liu has been a well-known singer and actor since the early 1990s, and his fame has been enhanced by the Douyin livestreams in which he coaches aerobics.
Last month, his livestream gained more than 60 million followers, suggesting that a trend is developing in which people are becoming enthusiastic about working out at home via livestreams and short videos.
According to a report about the fitness habits of young Chinese published by 36kr, a technology media platform, more than 40 percent of those born between 1995 and 2010 like to exercise at home.
"The latest wave of COVID-19 across the country has prevented people from accessing gyms. In addition, online health gurus are calling for healthy lifestyles to service people's needs during lockdowns, and that's where the 'exercise-at-home' economy has become popular," said Chen Guoqiang, an associate professor at Shanghai University of Sport.
He added that the concept of "nationwide fitness" was introduced in March, when the General Office of the Central Committee of the Communist Party of China and the General Office of the State Council published a paper called "Opinions on Building a Higher-level Public Service System for National Fitness".
The paper emphasized the need to improve fitness nationwide and to establish a number of science-based platforms to spread the word.