Palace excavation unearths vital clues to the past
Share - WeChat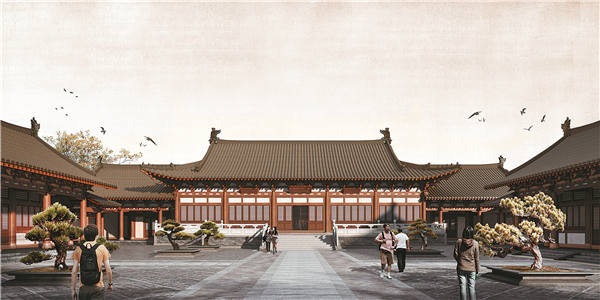 Venue to be transformed into Southern Song Dynasty Museum
When historians discuss business development and technological advances in ancient China, they often refer to the Song Dynasty (960-1279)-the "golden age" for such achievements.
The economy prospered during this dynasty, bank notes first appeared, compasses, gunpowder and movable type printing were invented, and the technologies for making porcelain were refined. Major breakthroughs were also witnessed in mathematics and astronomy.
In Science and Civilization in China, a series of 27 books by British scientist and Sinologist Joseph Needham (1900-95), the author wrote that the country was, for a time, well ahead of the West in developing several fields of knowledge, including magnetism and optics.
Needham also said that Chinese advances in engineering were, at least until 1500, "frequently superior to anything which Europe could show."
In Hangzhou, capital of Zhejiang province, a major archaeology and restoration project ongoing at the site of Deshou Palace is expected to restore the complex and transform it into a Southern Song Dynasty Museum, which will stage exhibitions showcasing economic, scientific and technological developments during the Song Dynasty.
Deshou Palace, or the Palace of Morals and Longevity, was the residence of Qin Hui, a prime minister at the Song Dynasty court. It later became home to two former emperors during the Southern Song Dynasty (1127-1279). Emperor Gaozong, whose reign began in 1127, retreated to the palace after leaving the throne in 1162, as did his successor Emperor Xiaozong in 1189.
According to literary works, the Deshou Palace layout was similar to that of the Southern Song Dynasty imperial city. It comprised more than 10 halls and courtyards, including the Deshou, Houdian and Lingzhi halls. There were also a large number of exquisite landscaped gardens, comparable to those in the imperial city.
Meng Chao, designer at the Zhejiang Institute of Traditional Architectural Design and Research, has been in charge of the restoration project team since 2020.
The project is expected to be completed in three main stages-architectural restoration, site exhibition and digital display, according to Meng.
"As the first and basic step, the location and scale of each building will be clarified through the archaeological restoration process," he said.
Research of the site and reviews of related documents helped form a clear picture of the characteristics and construction methods used for each building.
Most Popular