Macron names first French female PM in three decades
Share - WeChat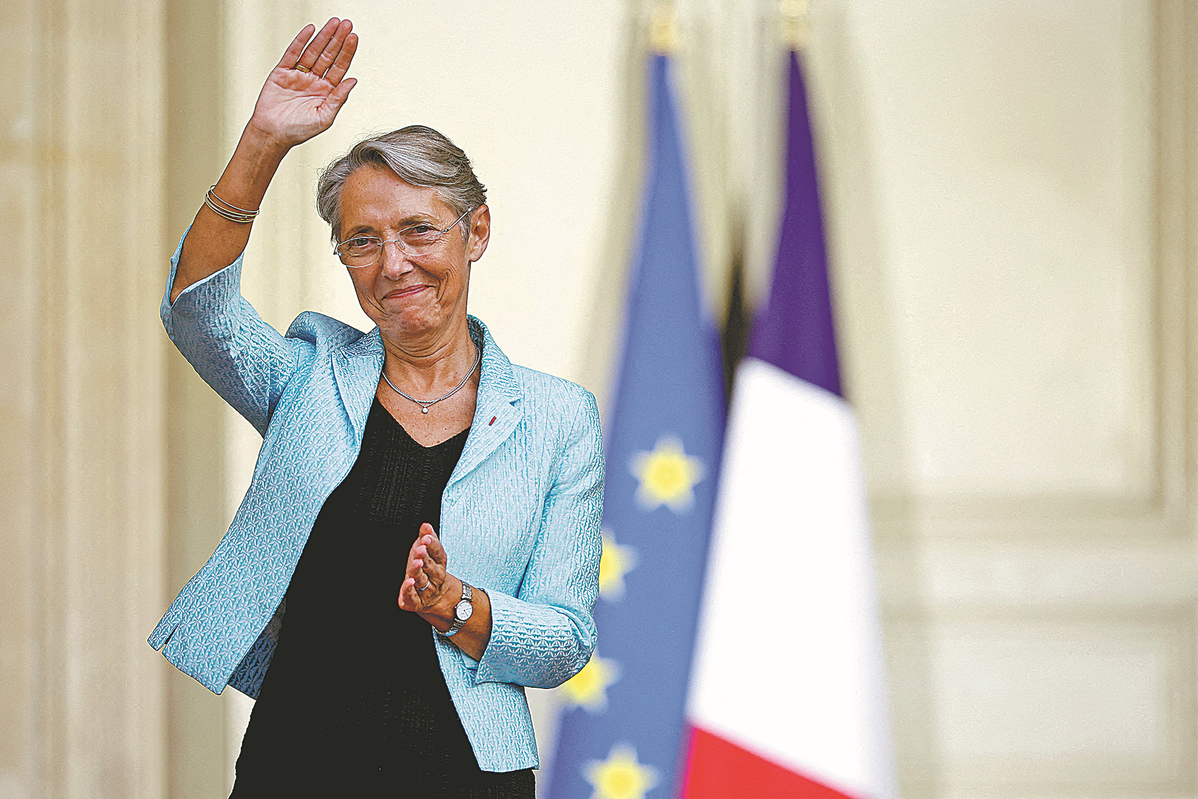 France's new Prime Minister Elisabeth Borne said on Monday that the country needed to act "faster and stronger" to fight climate change and vowed to further work to protect the French people's purchasing power, a top concern among the population according to recent polls.
The 61-year-old technocrat, the first woman to head the French government in over 30 years, was picked on Monday by President Emmanuel Macron to replace Jean Castex, who resigned on the same day.
"We can achieve that in uniting the strength of our regions more strongly," said Borne in her inaugural speech, adding that the "right answers" will be found by staying "close to the French people".
"I want to dedicate my nomination to all little girls and tell them to go all the way in pursuing your dreams."
Borne, who had been the labor minister since 2020, has become the second female French prime minister since Edith Cresson's appointment during the presidency of Socialist leader Francois Mitterrand.
"It was really time there was another woman (in that position) and I know Mrs Borne is a remarkable person with a lot of experience… I think it is a very good choice," Cresson told BFM television.
Borne will be in charge of steering through Macron's controversial pension reform, including raising the minimum retirement age from 62 to 65.
Macron had reportedly wanted to promote a woman and said he wished to appoint "someone who was strong on social issues, environmental and production issues".
"Ecology, health, education, full employment, democratic revival, Europe and security: together, with the new government, we will continue to act tirelessly for the French people," wrote Macron in a tweet shortly after Borne's appointment.
The two are expected to name the full new cabinet in the coming days.
Borne joined Macron's centrist La Republique En Marche party in 2017 and first served as transport minister and then minister of ecological transition during Macron's first term.
Her appointment came at a critical time as France goes into two rounds of parliamentary elections in June, in which both the far left and far right will pose big challenges. The elections will determine which political group holds the majority of seats at the National Assembly, which has the final say over the Senate in France's lawmaking process.
Far-left leader Jean-Luc Melenchon, who came in third in the first round of the presidential election, had coveted the prime minister job and immediately criticized the new appointment on Monday.
"She is a sign of continuity for Macron, it's a new season of social and environmental abuse that is opening. Her appointment is deceptive, we are told she is a woman of the left, but we don't think she deserves that label," he said in a video feed. Melenchon has formed a left alliance to challenge Macron in the parliamentary elections.
"Emmanuel Macron displays …his wish to continue his policy of disdain… of social destruction, of fiscal racketeering," tweeted far-right leader Marine Le Pen on Monday.
Agencies contributed to this story.