US double-dealing on foreign policy blasted by analysts
Share - WeChat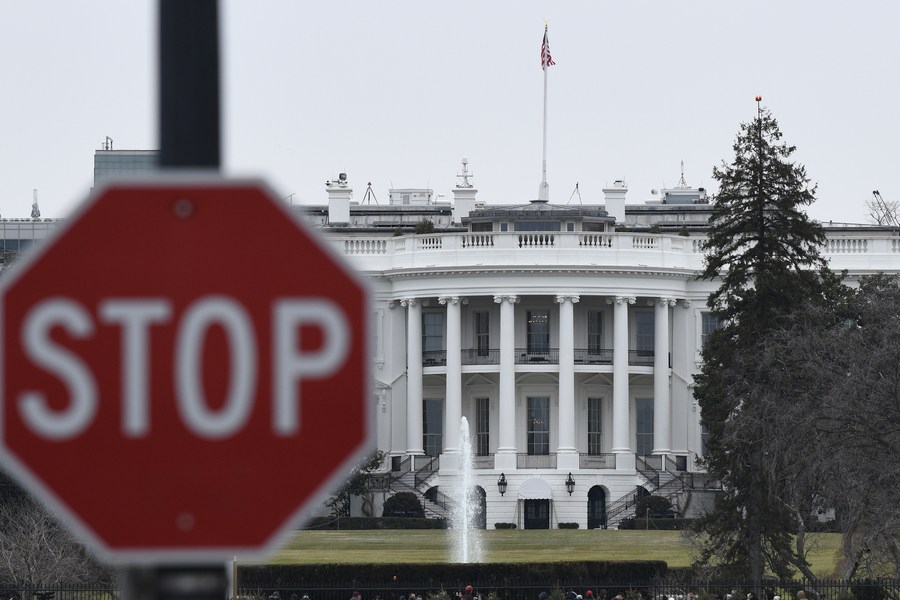 While the United States and its NATO allies are propping up Ukraine's resistance against Russia's military operations with arms and diplomacy, analysts wonder about the contrast in attitudes and actions by Washington and NATO in starting devastating conflicts in Asia.
Amina Khan, director of the Centre for Afghanistan, Middle East and Africa at the Institute of Strategic Studies in Islamabad, said it is unfortunate that there is a dichotomy in the policies of the international community-"be it Americans or the Europeans"-when it comes to their perspective on Afghanistan and Ukraine.
She said all conflicts should be given adequate importance, and particularly so in the case of Afghanistan because the country, since US President Joe Biden's "decision to withdraw rather irresponsibly, is being viewed as a regional problem".
"But I think the international community fails to realize or understand that Afghanistan has always had an international connotation, and it has always had international consequences, or ramifications," Khan told China Daily.
In the US-led invasion of Iraq, which began in March 2003 on the basis of false intelligence, then United Nations secretary-general KofiAnnan called the Iraq war illegal and said it was not in conformity with the UN Charter.
In Syria, the country has been divided into enclaves since a civil war started in 2011. In January this year, Turkish Defense Minister Hulusi Akar was quoted as saying that the biggest problem between Turkey and the US is the latter's support for the Kurdish YPG militia in northern Syria despite the YPG being formally designated as a terrorist designation by Turkey, the US and the European Union.
Moscow said on Monday that it was concerned about the decision of Finland and Sweden to join NATO, which is largely responsible for invading Iraq and Afghanistan on the basis of fake information or a thin rationale, and this has led to human tragedy.
Imtiaz Gul, executive director of the Center for Research and Security Studies in Pakistan, said the US provided financial and military support to Ukraine because the US and NATO have "no boots on the ground".
Farhan Mujahid Chak, associate professor of political science at Qatar University, said, "Now, Finland and Sweden both want to join NATO and that has been referred to as another red line by Russia.
"Technically, no one can join NATO unless there is unanimous support among the members. Therefore, it remains to be seen whether Turkey will budge on this. The situation is growing more alarming day by day."
Amjed Rasheed, a senior researcher at Open Think Tank, an organization promoting peace and social change in the Kurdistan Region of Iraq, said that despite the Ukraine-Russia conflict dragging on, he believes the situation is not in a stalemate, but an impasse.
"Impasse, in a sense, (that) there is always an option not to escalate," Rasheed said.
"I think this is the difference, strategically speaking (and) geopolitically speaking," said Rasheed, who is also a Hillary Clinton Fellow at Queen's University Belfast in Northern Ireland, adding that the war in Iraq and Afghanistan had their own context.
He noted that as the conditions have changed with the rise of China and the restoration of the Russian position in the Middle East, the US can no longer act solely without considering the Russians or the Chinese or even the European allies.
As the US reportedly reviews intelligence failures in relation to Ukraine and Afghanistan, an assessment of its blunders in Iraq and Syria should be revisited to determine if the lessons have been learned and similar tragedies avoided by NATO, and the sufferings of people in Iraq, Syria and Afghanistan compensated, the analysts said.
They noted that the US intelligence review on Ukraine and Afghanistan could put a spotlight on Iraq and Syria and encourage more scrutiny as there have been widespread concerns and distrust over Washington's aggressive foreign policy.
During the past decades, increasingly more people have pointed out alleged US faking of information and excuses in launching attacks against Iraq and Afghanistan.
Chak from Qatar University said reported US intelligence failures suggest that foreign policy in Washington has been framed amid "dishonest appraisals that benefit vested interests" to push certain agendas.
"Looking back, the US also got it grossly wrong in Iraq when it claimed it had weapons of mass destruction. Any thoughtful reader (or) thinker will wonder, have lessons been learnt, and what is the US establishment doing about it," Chak said.
"I would encourage an overall US intelligence review from 2000 to now, to look hard at the origins and reasons for all these so-called intelligence failures," he added.
Many Asian countries have criticized the US for claiming Iraq harbored chemical weapons and starting a war against Iraq while deploying chemical weapons in the Vietnam War, among others.