Addressing virus-related mental illnesses
Share - WeChat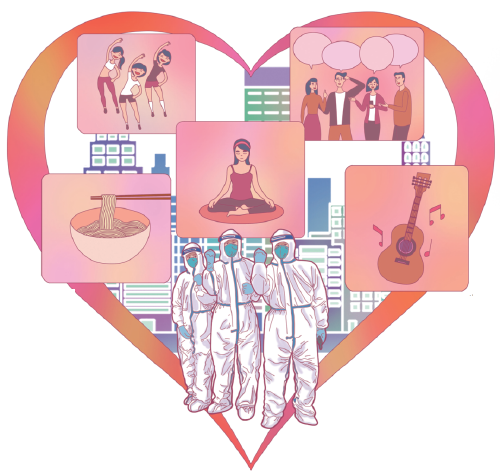 The rise in novel coronavirus cases and the higher transmissibility of the Omicron variant have increased uncertainties, prompting the government to implement stricter prevention and control measures in the country. For example, cities such as Shanghai and Changchun, Jilin province, have been under lockdown for weeks.
Compared with the early days of the pandemic, people now are more worried about the severe impacts of the rising infections on the economy and how to adapt to the restrictions on their movements.
Studies show that about one-third of the people who stay at home due to the strict restrictions are likely to suffer depression, anxiety, insomnia and/or acute stress reaction, and more than 10 percent of them can't fully recover from these mental conditions even after the situation returns to normal.
Therefore, more attention should be paid to people's mental health.
Given the increase in local, sporadic cluster infections, people are more anxious about meeting their basic needs than the threat of the virus, which explains why many suffer depression.
Maintaining social distancing and following other COVID-19 protocols for long, which disrupt normal life and blur the work-life boundary, and the uncertainty over their future could leave even the most mentally strong person highly anxious and stressful.
Those who have to stay at home for long struggle to meet the daily necessities and face all sorts of inconvenience, and face lower income or even unemployment, which could lead to anxiety and other mental problems, including insomnia.
Baidu index shows that since March, the search for "psychological counseling" has surged in Shanghai. Over the past 30 days, the popularity of the term has increased 253 percent year-on-year, which shows that a growing number of Shanghai residents are facing psychological problems.
According to data, since the pandemic outbreak, depression cases have increased by more than 70 million, anxiety patients by about 90 million, and insomnia cases by hundreds of millions. The "psychological battle" against the pandemic is indeed arduous.
The Healthy China Initiative, a key national medical project, focuses among other things on people's mental health. Lei Zhenglong, deputy director of the National Health Commission's Bureau of Disease Prevention and Control, said recently that raising public awareness of mental health is one of the best ways of boosting their mental health.
True, meeting the rising demand for psychological counseling is a challenge. But it is also an opportunity for the industry to improve and expand itself and make more profits by meeting the rising demand.
First, it's necessary to ramp up efforts to raise public awareness of mental health, so they can better cope with the effects of the pandemic by understanding that anxiety, depression and insomnia are normal reactions to the strict pandemic prevention and control measures, and finding ways to overcome them.
Second, there is a need to promote mental self-care techniques and use "cultural tools" to deal with negative thoughts. Meditation and regular exercise, as well as hobbies such as painting, calligraphy, listening to or playing music, and dancing can help divert a person's attention from the pandemic's effects and relieve stress. According to a recent survey, about 27 percent of Shanghai residents have been practicing meditation and those doing so are less anxious and depressed compared with those who don't.
Third, it's important to activate the psychological support system and use innovative means to interact with other people online. Since the strict prevention and control measures have restricted people's movement and reduced face-to-face communication, people cannot meet much of their psychological and spiritual needs in traditional ways. But with the help of the internet, people can maintain contact with their family and friends and get the much-needed social support, and get some spiritual satisfaction.
Fourth, there is also a need to reduce the stigma of mental problems, and encourage people to seek professional counseling and treatment, especially because psychological problems have increased by more than 30 percent since the pandemic outbreak. In short, people shouldn't hesitate to seek counseling, especially if their problems don't subside.
Fifth, it's also important to stay positive and try to share some happy moments with others. The pandemic has impacted the economy, disrupted people's dreams and careers, and undermined social trust, creating psychological problems for some. As such, people should not excessively focus on pandemic-induced problems, and instead think about winning the battle against the virus.
Sharing happy moments will help rebuild social trust, and boost people's confidence that they will eventually win the fight against the virus and pursue a happy life.
Zhang Jianxin is a researcher at the Institute of Psychology, Chinese Academy of Sciences, and head of the Chinese Association of Social Psychology; and Wang Bin is an associate professor of psychology, and Jin Ling is a research associate at Southwest University of Science and Technology.
The views don't necessarily represent those of China Daily.
If you have a specific expertise, or would like to share your thought about our stories, then send us your writings at opinion@chinadaily.com.cn, and comment@chinadaily.com.cn.
Most Viewed in 24 Hours
China Views