China still attractive for foreign capital
Share - WeChat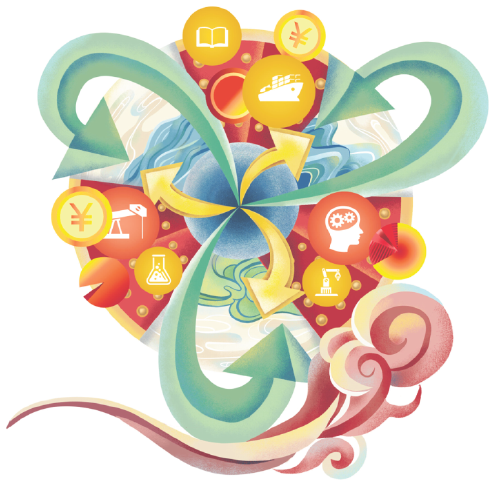 There has been a lot of talk about "accelerated withdrawal of foreign capital from China" recently, with some saying China survived the 2008 global financial crisis but may not be able to survive the recent resurgence of outbreaks.
Is this true?
According to the 2022 China Business Climate Survey Report of the American Chamber of Commerce in China in March, about 58 percent of US companies operating in China saw their revenue grow in 2021, China remains one of the top three investment destinations for 60 percent of companies, 66 percent companies plan to increase investment in China this year, and 83 percent companies have no plans to shift manufacturing out of or procurement from China.
Take the semiconductor industry for example. Last year, the annual revenues of 16 US chip companies in China increased by $32 billion, up 46 percent from 2019. Also, these companies sold more products in China than the United States.
The fundamental factor that determines the flow of foreign capital is the profitability potential in the host country, or the resilience of its economic growth. And China strives to build a new economic development pattern by capitalizing on the potential of the domestic market, giving full play to the advantages of its super-large market, and striving to increase its global influence.
China's GDP in 2021 reached 114.4 trillion yuan in 2021 and per capita GDP $12,500, slightly above the global average of $12,100. China has also moved from the ranks of low-income to upper-middle-income countries, and is approaching the ranks of high-income countries. It has also built a massive market of 1.4 billion people, more than 400 million of whom belong to the middle-income group.
In 2021, foreign capital in China surpassed 1 trillion yuan for the first time, with the actual figure being a record high of 1.15 trillion yuan. According to the Ministry of Commerce, in 2021, China's actual use of foreign capital increased by 14.9 percent in yuan terms to reach $173.48 billion with a significant year-on-year growth of 20.2 percent, much higher than the global average.
Since the beginning of this year, China has seen a steady growth in foreign capital. In the first quarter, China's actual use of foreign capital was 379.87 billion yuan, a year-on-year increase of 25.6 percent, of which the actual use of foreign capital in the eastern, central and western regions increased by 23.4 percent, 60.7 percent and 21.9 percent respectively.
Also, the actual use of foreign capital in 21 provinces (autonomous regions and municipalities) saw double-digit growth, reflecting the confidence of foreign capital in the stable growth of the Chinese market. And the structure of foreign capital has been continuously optimized.
Modern services, high value-added manufacturing, especially high-tech industries, are still the main sectors attracting and utilizing foreign capital. Among them, foreign capital investment increased by 57.8 percent in the high-tech service industry and 35.7 percent in high-tech manufacturing thanks to China's vigorous promotion of high-quality development, implementation of innovation-driven development strategies, and continuous upgrading of industrial and value chains in recent years.
The high consumption potential, well-developed infrastructure, logistics network, industrial division of labor system and improved business environment have given the country comprehensive competitive advantage.
In the short term, China has withstood downward pressure and continues to attract foreign investment despite infection outbreaks, the Russia-Ukraine conflict, intensified global geopolitical games, trade protectionism, and the US Federal Reserve raising interest rates.
The United Nations Conference on Trade and Development has predicted that it will be difficult for global transnational investment to achieve rapid growth in 2022, saying that the reconstruction of international industrial chains is characterized by near-shoring, localization and regionalization, and intense competition for attracting foreign investment, and the international environment for China to attract foreign investment has become more complex.
Given the China-US frictions, the new policy trends of the US and other countries could create new variables for China to absorb and use foreign investment. For example, US lawmakers recently proposed the "National Critical Capabilities Defense Act", which, if passed, may have a profound impact on US investments in China.
But the short-term pressure will not change the long-term trend of China continuing to attract foreign investments. Further opening-up remains China's biggest reform, with the country signing 19 free trade agreements with 26 countries and regions in recent years. China has also applied to join the Comprehensive and Progressive Agreement for Trans-Pacific Partnership and the Digital Economy Partnership Agreement, while the Regional Comprehensive Economic Partnership continues to promote investment growth in the region.
Besides, the process of building a unified national market is also accelerating. To fully stimulate the potential of the ultra-large-scale and unified market, China has to not only clear the obstacles restricting the economic cycle and improve the core ability to allocate domestic and foreign factor resources through institutional opening-up, but also cultivate new talents by gathering global resources.
China should also move from passive globalization to "active globalization" so as to help shift the focus and center of globalization to China.
The author is a senior research fellow of the Institute of American and European Studies, the China Center for International Economic Exchanges.
The views do not necessarily reflect those of China Daily.
If you have a specific expertise, or would like to share your thought about our stories, then send us your writings at opinion@chinadaily.com.cn, and comment@chinadaily.com.cn.
Most Viewed in 24 Hours
China Views