Scrolling the fight against the pandemic
Share - WeChat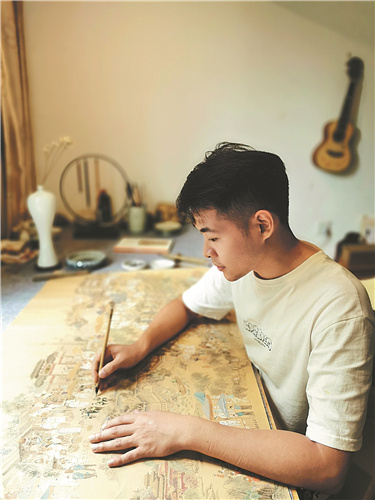 The two paintings, when joined together, are 2.7 meters in length and 75 centimeters in width, including more than 800 characters and 39 landmarks from the two cities.
When he shared the paintings with the group chat that includes the parents of his students, as a sample of the assignment, some of the parents shared the images online, sparking widespread public acclaim.
Many people left comments applauding his artistry and the historical reference value of his paintings. A top Sina Weibo comment says: "This is so awesome. At first, I thought it was an unearthed artifact. But then again, people are the ones who make history."
However, Chen says that he is not satisfied with some of the details and perspectives in the paintings he has created so far. These are merely drafts from which he will re-create a final series of artworks.

When leading Chinese respiratory specialist Zhong Nanshan saw his Guangzhou and Foshan paintings, Zhong wrote down the title "Battling the Pandemic in Solidarity" on the scroll and encouraged Chen to continue creating using this theme, and to do so on a broader, more international scale.
In March, he created another scroll painting, adopting a meticulous painting style and focusing on the medical team from the Chinese mainland dispatched to aid Hong Kong.
"I'm hoping that by the end of the pandemic, I could link all of my scroll paintings together, and tell the stories of the battle against COVID-19 in its entirety," Chen says.
"I want to address the importance of nucleic acid testing through artistic expression. Also, I hope that, using my skills, I can portray our society in this moment, as well as the touching incidents occurring as part of the pandemic controls, so that future generations will know what we went through."
Most Popular