Experienced enabler
Share - WeChat China is helping other developing countries realize rapid digital transformation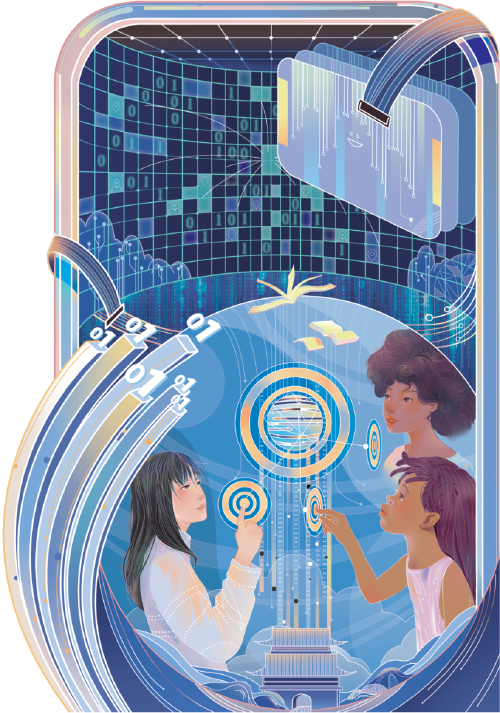 Countries have to keep up with the growth of the digital economy and the growing use of digital technologies in traditional manufacturing and service activities.
As developing countries experience rapid digitalization, there is a need to ensure that this process is well managed and underpinned by strong public policies and social governance, to support sustainable development and social welfare. As pointed out by the United Nations Office for South-South Cooperation, South-South Cooperation is crucial to closing the digital divide and building inclusive and resilient economies.
China has much to share with other developing countries from its experience of rapid digitalization and digital infrastructure construction to support sustainable development and population welfare.
The Digital Silk Road is an important part of China's Belt and Road Initiative. It focuses primarily on improving the quality and reach of information and communications technology within the participating partner countries. The Digital Silk Road enhances digital connectivity from the perspective of universal and affordable access to the internet by developing digital infrastructure. According to a UNCTAD(2021) analysis, least developed countries are suffering not only from low network coverage but high prices. The majority of people, despite having access to a mobile broadband signal, are not using the internet due to the cost. Digital Silk Road related projects are helping to change this situation by successfully expanding coverage and providing affordable services.
China has been rigorously constructing the necessary digital infrastructure such as telecommunication networks, satellite services, financial digitalization, fiber optic cables, and data centers in developing countries through South-South digital cooperation.
The Digital Silk Road facilitates digital connectivity in terms of access to online marketplaces. E-commerce is creating new opportunities for players who have been vulnerable in the traditional trade market.
E-commerce dramatically lowers the barriers for micro- to medium-sized businesses and marginalized entities in developing countries, allowing them to enter larger domestic or global markets. In Kenya, for example, an online shopping website called Killimall, set up by a Chinese businessman in 2014, now hosts 5,000 Kenyan businesses and has reportedly created some 10,000 local jobs.
China has made skills training through vocational and technical education as one of the key elements in the China-Africa Cooperation Johannesburg Action Plan (2016-18). China is involved in the development of open and distance learning and information technology infrastructure either directly or indirectly in some African countries. It is helping to establish the telecommunication infrastructure, and distributing online education programs and the digital tools to make them affordable to the people in Africa.
In Kenya, for instance, under vocational training programs that are part of the Education Action Plan for the Belt and Road Initiative, Huawei launched a project named Seeds for the Future Program in 2008 to teach young Kenyans skills related to 5G, artificial intelligence, cloud computing and other cutting-edge technologies.
In Cameroon, China is working on bringing Information and Communications Technology tools and infrastructure to the country in order to strengthen its digital learning and support its workforce education. Sichuan Telecommunications Construction Engineering Services, a Chinese tech company, has been assigned the task of constructing and equipping digital development centers across several universities in Cameroon, thereby facilitating e-learning and digital education.
China Electronics Technology Group Corp's digital education program in Zambia is another example. With the help from CETC, spoken languages can be translated into eight languages through a simple click. It has benefited over 5,000 teachers and more than 270,000 students in 241 residential areas.
The Digital Silk Road is providing key digital support to global sustainable development with digital integration through e-wallets (making international transactions seamless), and boosting financial digitalization, which is thereby bringing to the low and middle-income countries the very capabilities they need to upgrade their social-economic development model.
Greater connectivity and e-commerce promoted by the Digital Silk Road can impart new life to South-South Cooperation and open new avenues for the social-economic growth and development of participating countries.
The author is a senior research fellow and director of the Centre for Rising Powers and Global Development at the Institute of Development Studies in the United Kingdom.The author contributed this article to China Watch, a think tank powered by China Daily. The views do not necessarily reflect those of China Daily.
Contact the editor at editor@chinawatch.cn
Most Viewed in 24 Hours
China Views