Online exercise puts spring in people's steps
Share - WeChat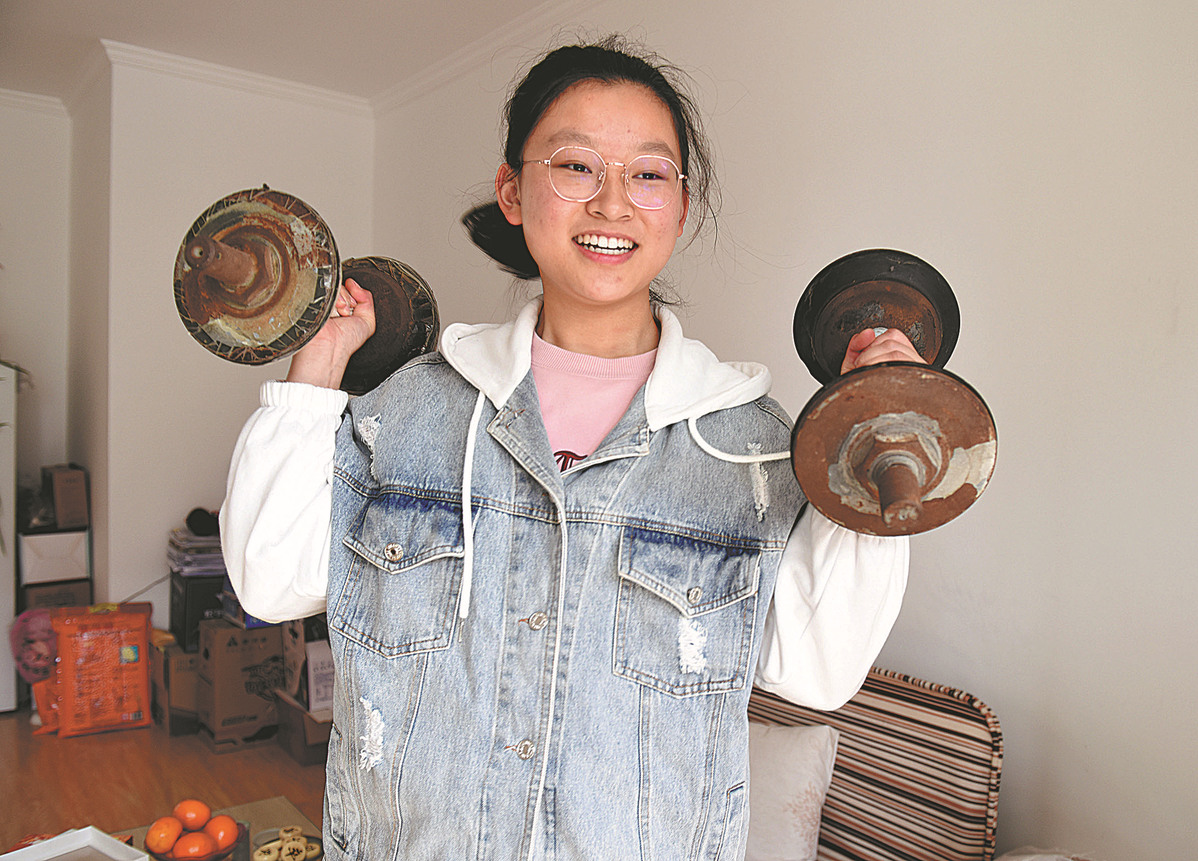 Services for seniors
It's not uncommon to see Chinese seniors doing various workouts in parks, such as brisk walking, playing diabolo, shuttlecock and tai chi. Some short videos that have gone viral online show some advanced exercisers doing pullups on the horizontal bar in public.
For most female Chinese seniors, the best exercise is undoubtedly square dancing, during which they can also rub shoulders with their peers.
Qiu Meixia, 59, of Danyang city, Jiangsu province, is an exception. In November, Qiu's daughter-a regular member of HiLefit, a 24-hour gym chain based in Hangzhou, Zhejiang province-bought her a membership that allows her to enjoy online private coach sessions via HiLefit's app.
The retiree takes two one-hour sessions per week via a video chat with her private coach, who organizes a set of scientific workouts in accordance with Liu's condition and demands, and corrects her movements if she does things incorrectly.
"My aim is to tone my body. It's very convenient to do workouts at home, which are arranged according to my schedule. A coach's supervision helps me overcome inertia," Qiu said, adding that she also does yoga on her own.
"You can ask questions at anytime, and the coach will ask about your physical condition, or whether you've had a meal before each session."
Liu only did stretches when she exercised on her own, but now she's learned about strength-training movements, cardio activities and also the importance of warmup exercises.
She has reduced her waistline and improved her figure a little, so she can wear clothes she had outgrown after gaining some weight when she stayed at home as a result of the novel coronavirus outbreak.
"At my age, it's essential to live a happy, healthy and full life. I keep myself busy with colorful activities such as having afternoon tea with friends, and the must-do is my exercise session," she said.
Zhang Wei, who is in charge of HiLefit's home exercise business, said: "The COVID-19 epidemic has boosted the online exercise business in China and raised people's awareness of health. In addition to offline gyms, our brand also provides diverse online courses of short videos and livestreams for members."
He said many people just want to become more physically active rather than to keep fit. As do seniors, who may feel at a loss about how to exercise when they stay at home.
"Early this year, we unveiled our online fitness service specially for the 'gray generation', based on market demand and potential. Like Qiu, users of such online services are those aged from 55 to 65, who have retired. A lower intensity of scientific workout is suitable for them," he said.
According to Zhang the services provide seniors with products that center on their health-for example, teaching workouts that will strengthen the knees. "The crunch" is popular among younger exercisers, but it's not suitable for older people because improper movements may hurt the waist.
He said online fitness content is growing greatly across the whole market, and it is important to help exercisers form the habit of working out, even without the guidance of livestreams.