Night workers strive to keep Shanghai supplied
Share - WeChat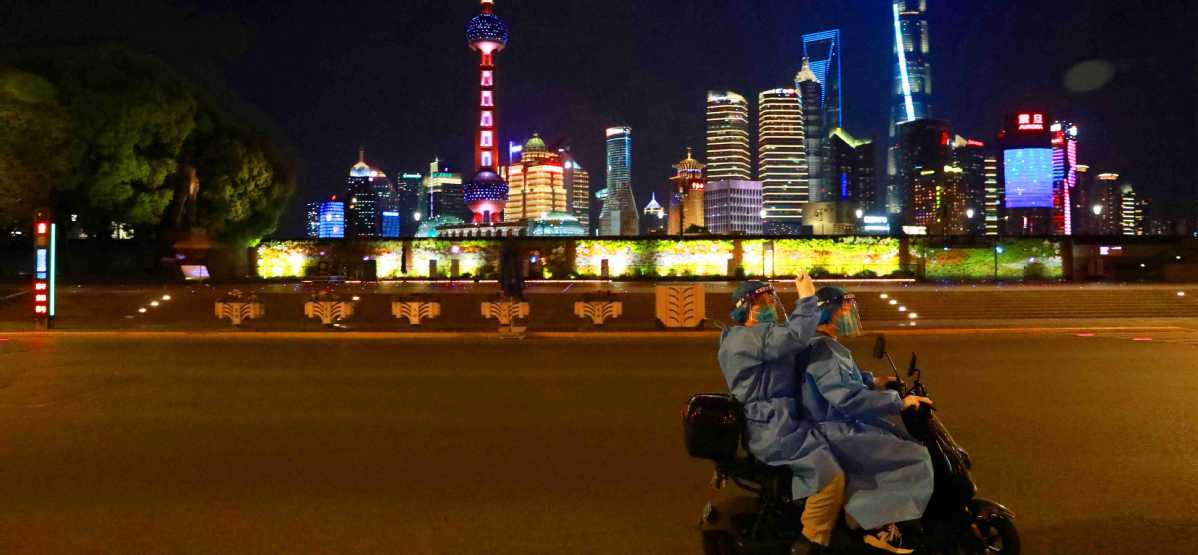 Delivery teams working hard during resurgence of COVID-19
When most people in Shanghai, which is experiencing its worst COVID-19 outbreak since the pandemic emerged more than two years ago, are retiring for the night, others are working to keep the city running.
For example, Long Anhua, 51, delivers daily necessities to neighborhoods across Shanghai. At 10 pm on a recent evening, he had just completed deliveries of fruit and vegetables, and was awaiting further orders from Shanghai Jiaxuan Logistics, the company he works for.
He got back into his delivery vehicle after saying good night to his wife via a video call and then watched short videos she had posted.
Awaiting his next mission, Long said he had not been able to return home and had been living a nomadic life since the city was locked down at the end of last month amid a resurgence of COVID-19 cases.
To curb the fast spread of the Omicron variant, Shanghai has raced against time in the past three weeks by launching a series of efforts. Nucleic acid testing has been stepped up to cope with infections, and the construction of makeshift hospitals has been accelerated to strengthen quarantine for patients.
With a number of local deliverymen placed under a closed-loop management system, and to make daily necessities more accessible to residents in a similar situation, e-commerce giants and logistics companies have replenished stocks and expanded their courier fleets throughout the city. This means that employees such as Long have to work overtime or even through the night.
Watching the lights in nearby buildings being turned off at night and on again in the morning, Long said, "I miss my wife and children."
The native of Hefei, Anhui province, became a truck driver after he arrived in Shanghai in 2008. Before the pandemic, his main job was to deliver automotive parts.
As volunteers at the logistics warehouse loaded Long's truck with radishes, carrots and cabbages at about 1:30 am on April 12, he ate bread in the driver's seat.
He said that in the past he finished work at about 7 pm, but during the pandemic, he does not return to the dormitory provided by the logistics' company until after midnight.
The work schedule during the outbreak also applies to other truck drivers at the company, "as we all want to deliver as many supplies as quickly as possible to residents in lockdown," Long said.
He added that as drivers are on call at night to ensure urgent deliveries are completed, eating and taking naps in the trucks have become routine.
To ensure driving safety, Long and eight colleagues have been assigned by the company to take turns to work the early and late shifts, stopping for a break every few hours.
As Long delivered supplies to his next destination at night on April 12, Ma Wanying, an employee at Shanghai Joinbuy Group, was packing cookies and mooncakes at a shop operated by the company in the city's Jing'an district.
Ma packed food for people in communities that were locked down, for patients in makeshift hospitals and also for medical workers from across China who are helping Shanghai fight the latest outbreak.
Wearing protective clothing, the 24-year-old packs supplies from 8 am to 2 pm every day. Sometimes she goes without water, as taking the protective gear off to go to the bathroom is not easy and slows her work.
Liu Jing, head of the shop, said that before the pandemic she supervised 11 employees in making and selling about 1,200 products per day. But since late last month, she has faced a hard time with four workers in lockdown and online orders soaring.
She said that she and seven colleagues do not close the shop until they have completed some 10,000 snack orders a day. They also need to help delivery agencies load the orders at 4 am or 5 am.