US National Zoo celebrates 'Pandaversary'
Share - WeChat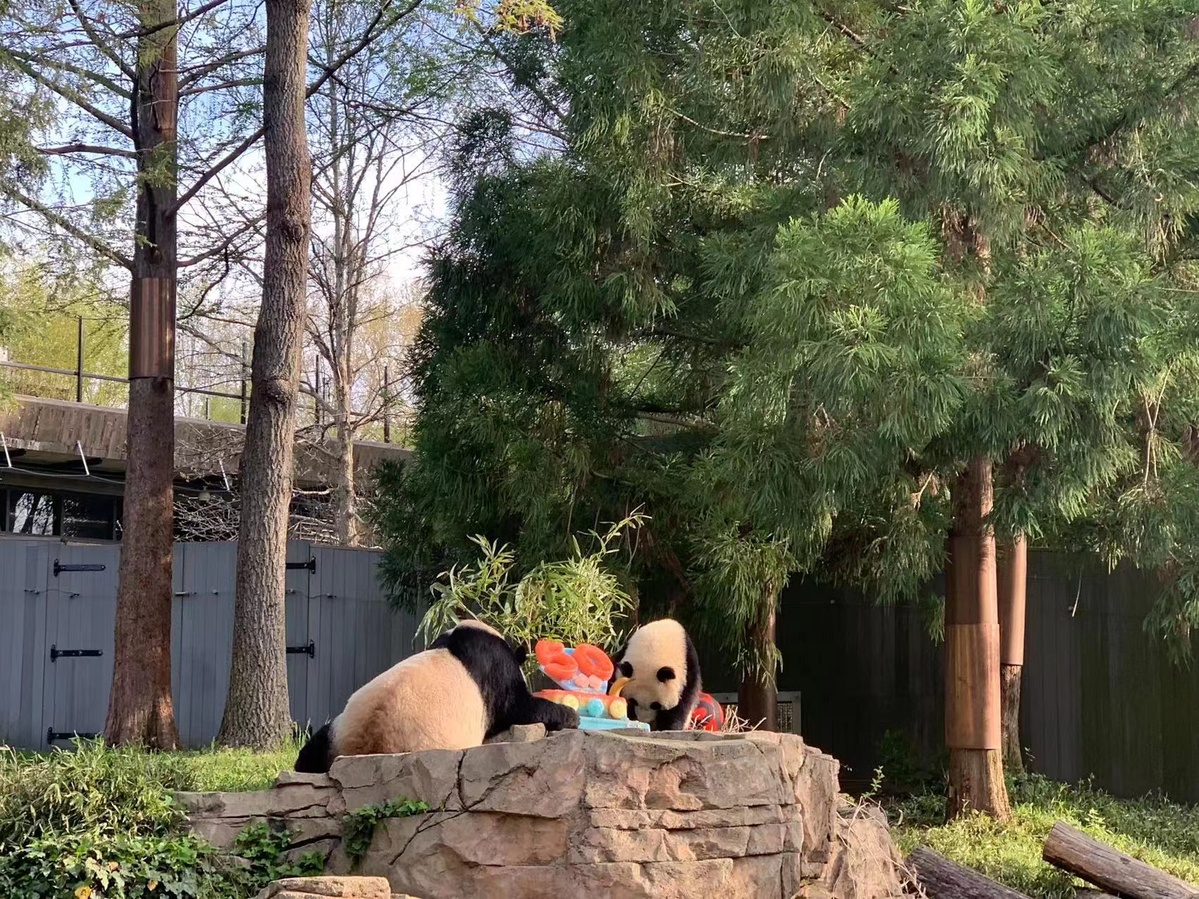 People gathered at the US National Zoo in the nation's capital on Saturday to celebrate the 50th anniversary of the arrival of the first pandas in the United States from China.
The weekend was a full schedule of celebrations and "Pandaversary", the main event of a six-month series of events arranged by the zoo, known officially as the Smithsonian's National Zoo and Conservation Biology Institute.
Ling Ling and Hsing Hsing arrived at the National Zoo on April 16, 50 years ago. Now Meixiang, Tian Tian and their youngest cub, Xiao Qi Ji, are in the zoo. Their other cubs, Tai Shan, Bao Bao and Bei Bei, were returned to China.
China Ambassador Qin Gang and Brandie Smith, director of the National Zoo, delivered remarks Saturday morning, kicking off the "Pandaversary".
Qin said that the arrival of the pandas was one of the most important outcomes of President Richard Nixon's historic visit to China in 1972. The fifty-year cooperation on panda conservation between the US and China "achieved a lot", and the panda is no longer an endangered species., he said. Qin thanked the zoo for making Washington a wonderful home for pandas.
"Pandas are the symbol of friendships. And the successful story of panda conservation is a very good example of China and the United States, that we could cooperate to work together, not only in the area of panda conservation, but we can achieve more in other areas to benefit our two peoples and the peoples of the world," he said.
"So I wish pandas live a happy life forever in DC, and we are looking forward to more cooperation," Qin added.
Smith said that China and the United States have maintained good communications in their giant panda conservation efforts over the years and worked together to save the endangered species. She noted that giant pandas are the best proof that the two countries can work closely together, and they are the messengers of friendship connecting the two peoples.
Smith also expressed her expectation for the future of the US-China cooperation program on pandas.
"The panda is not endangered, but there still are not enough pandas on the planet. We still need more pandas; we still need to look at continuing to save the habitat. And for our program, what we want to do is continue to work with our colleagues in China to work on understanding pandas in the wild and on preserving their habitat, but also work on our plan is to understand more about them as a species," Smith told China Daily.