Russia says Black Sea flagship afloat, fire contained
Share - WeChat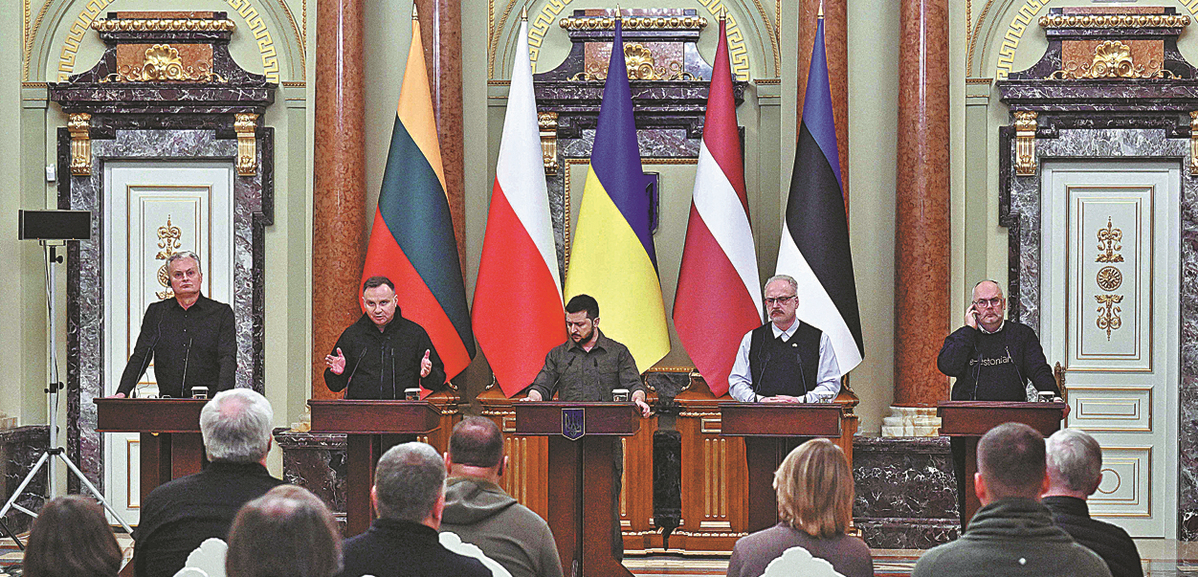 Russia's Defense Ministry says a fire on the Moskva cruiser, the flagship of Russia's Black Sea Fleet, has been contained. It says the vessel remains afloat and will be towed to port.
The ministry said in a statement on Thursday that there is no open fire on the ship anymore and explosions of the ammunition have ceased.
"The main missile weapons were not damaged," the statement read.
In the early hours of Thursday, the Russian Defense Ministry said the ship sustained "serious damage" after its ammunition detonated "as the result of a fire". The ministry did not ascribe the fire to a missile strike.
Ukrainian officials claimed however that the ship was damaged.
Ukraine's southern military command said that it hit the warship with a Ukrainian-made Neptune anti-ship missile and that it had started to sink.
A spokesman for the Odessa military administration, Sergey Bratchuk, said on social media that "according to available data, the cause of the 'serious damage' was 'Neptune' domestic cruise missiles".
The Moskva is believed to be the second major Russian warship to suffer serious damage since Russian President Vladimir Putin ordered a special military operation in Ukraine on Feb 24. Ukraine said last month it had destroyed a large landing ship, the Orsk, in the Azov Sea near the besieged port city of Mariupol.
The Moskva was built in the Soviet era in Mykolaiv, Ukraine, and entered service in the early 1980s, according to Russian media.
With a crew of 510, it was previously deployed in the Syria conflict in which it served as naval protection for the Russian forces' Hmeimim air base.
Russia's navy has launched cruise missiles into Ukraine and its activities in the Black Sea are crucial to supporting land operations in the south of the country, where it is battling to seize full control of the port of Mariupol.
Leaders' visit
The attack on the Russian flagship was carried out as the presidents of Poland, Lithuania, Latvia, and Estonia met President Volodymyr Zelensky in Kyiv on Wednesday and called for increased military support for Ukraine.
Reuters said the European presidents arrived in the Ukrainian capital by train as Russian forces have drawn from the country's north.
"It is our duty to help Ukraine with all kinds of weapons," said Latvian President Egils Levits.
His Lithuanian counterpart Gitanas Nauseda said: "The future of Ukraine will be decided on the battlefield… Ukraine must win."
Zelensky, in a video address on Wednesday, said: "Those four leaders of the four nations are always protecting us, always standing up for us."
He said Russian forces are increasing their activities on the southern and eastern fronts, "attempting to avenge their defeats".
Russian Deputy Foreign Minister Sergey Ryabkov said his country will view US and NATO vehicles transporting weapons on Ukrainian territory as legitimate military targets.
Agencies contributed to this story.