Spurring spending high on agenda
Share - WeChat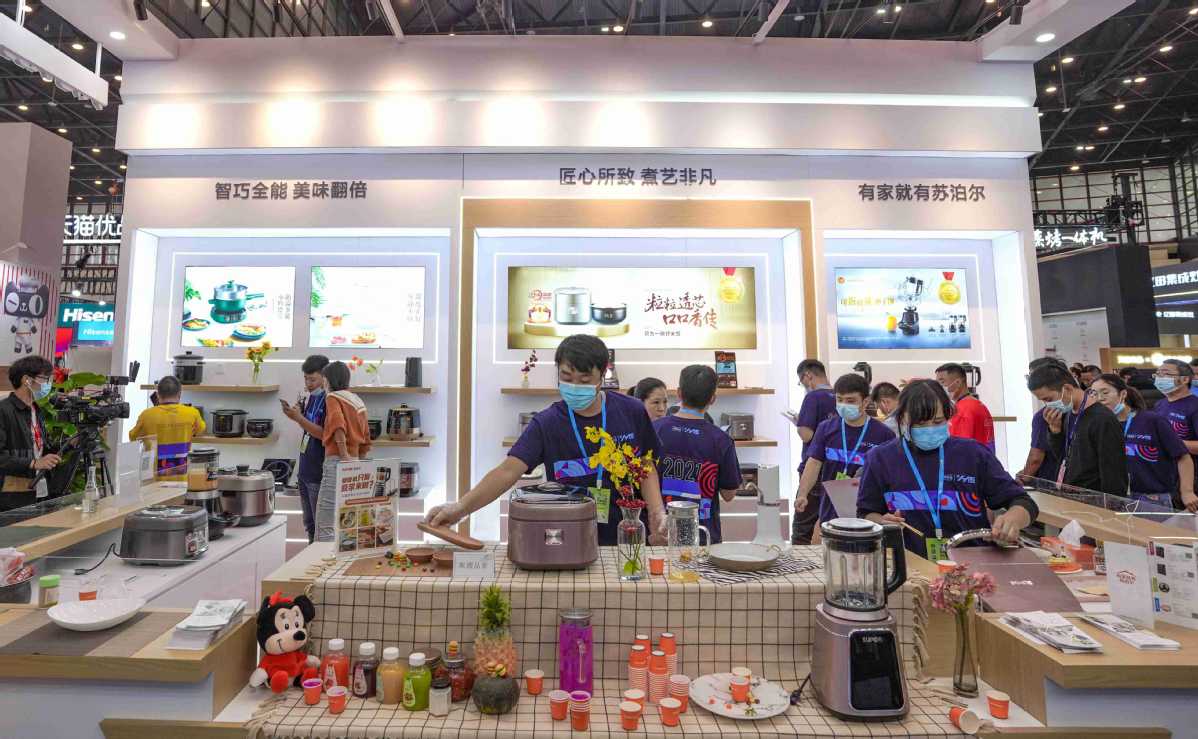 China is making key moves to boost consumption amid headwinds from resurgent domestic COVID-19 cases and mounting uncertainties.
Experts said China's economy is facing manifold issues from home and abroad this year, making it more challenging to stabilize consumption this year.
They warned that resurgent domestic COVID-19 cases in large cities like Shanghai will weigh on household consumption in the near term, and they expect policymakers to take more steps to shore up growth, such as stepping up fiscal and monetary easing, spurring consumption and expanding investment.
Their comments came after it was announced at a State Council executive meeting on Wednesday that China will adopt policy measures to boost consumption as part of efforts to keep economic fundamentals stable to ensure and improve people's livelihoods.
Wen Bin, the chief researcher at China Minsheng Bank, said recent COVID-19 cases have disrupted the consumption recovery, so new measures will help spur and stabilize consumption.
It was announced that relief policies for hard-hit sectors such as catering, retail, tourism, civil aviation, roads and railways will be promptly and fully implemented. Local authorities are encouraged to intensify support and assistance for these sectors to stabilize more market entities in consumer services.
The supply and price stability of essential consumer goods will be ensured, and logistics kept smooth.
Spending on home appliances, automobiles and other big-ticket items will be encouraged. No new restrictive measures on car purchases will be set at the local level, and localities with purchasing restrictions already in place should increase new license plate quotas step by step.
Wang Wei, director-general of the Institute of Market Economy at the Development Research Center of the State Council, said the recovery of consumption, especially the consumption of services, is facing great challenges and difficulties amid the sporadic COVID-19 cases at home.
Specifically, domestic COVID-19 cases and measures to control the virus have weighed on services in fields including catering, tourism, transportation, culture and entertainment, which may be a drag on the recovery of consumption and economic stability, Wang added.
Wang highlighted the importance of expanding domestic demand, saying spurring consumption will be a key move to stabilize the economy as well as ensure and improve people's livelihoods.
In response to the current difficulties for consumption recovery, Wang said the government should make a big push to implement policies to ease pressure on hard-hit industries, keep market entities afloat and ensure prices and supplies of basic consumer goods in cities that have reported new COVID-19 cases.
Wang spoke highly of measures announced during the meeting, including spurring new types of consumption, promoting the growth of online and offline consumption, boosting sales of smart products and services, promoting service consumption in fields like healthcare, eldercare and nursery services and encouraging consumption of new energy vehicles. She said such measures will inject new impetus into expanding domestic demand.
Wang Peng, an associate professor at Hillhouse Academy, which is part of the Renmin University of China, said government measures to boost consumption will help raise industrial production, ensure people's livelihoods and stabilize employment.
Despite facing difficulties from resurgent domestic COVID-19 cases, disruption of supply chains and lower wages of many residents amid the pandemic, Wang said the consumption will gradually recover with the help of a series of government measures to step up monetary easing and increase support for hard-hit enterprises and industries.
He said he is upbeat about China's steady growth this year, saying China has the capability to meet its economic growth target of around 5.5 percent in 2022.