Conflict, sanctions take a toll on the whole world
Share - WeChat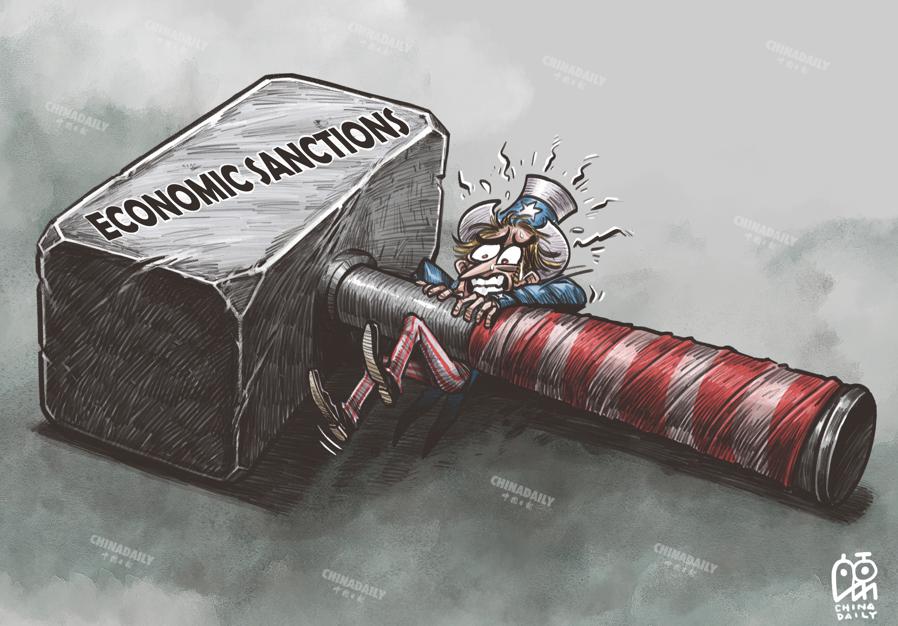 The Russia-Ukraine conflict has triggered widespread concern. However, the huge impact of the conflict and the economic sanctions against Russia on the global economy, especially on least-developed countries, deserve urgent attention, too.
The conflict has dealt a serious blow to Ukraine and, together with sanctions, Russia. In fact, the World Bank said on Tuesday that Ukraine's economy could shrink by up to 45 percent this year while Russia's economy may contract by 11 percent.
Besides, emerging market and developing countries in Europe and Central Asia which have relatively close ties with the two countries could see their economies shrink by more than 4 percent-in stark contrast to pre-conflict forecast of 3 percent growth.
Also on Tuesday, the World Trade Organization marked down its forecast for global trade growth this year from 4.7 percent to 3 percent. And while Oxfam, a global charity organization, said that more than 250 million people could fall into extreme poverty in 2022 WTO Director-General Ngozi Okonjo-Iweala warned of disruptions in supply chains, increased inflationary pressure, lowered growth expectations, and a potential food crisis due to the disruption in exports from Russia and Ukraine, two major suppliers of grains and other commodities that could hit poor countries, especially 35 African countries, the hardest.
The WTO also said that Western sanctions on Russian businesses and individuals are likely to have a strong impact on commercial services, which include the transport sector and container shipping and the passenger airlines.
Amid all this, the European Central Bank has downgraded this year's growth forecast for eurozone from 4.3 percent to 2.3-3.7 percent depending on what happens to oil and gas prices.
After a warning by the World Food Programme that up to 323 million people could become acutely food insecure in 2022 due to the Russia-Ukraine conflict, United Nations Secretary-General Antonio Guterres said on Tuesday that "people caught up in crisis around the world cannot pay the price for the war in Ukraine".
Guterres further said "this is not the time for protectionism" and "all countries must keep markets open, resist unjustified and unnecessary export restrictions and make reserves available to countries at risk of hunger".
In order to help ease this acute economic crisis, more diplomatic efforts should be made to douse, not fan, the flames of the conflict. That's why Austrian Chancellor Karl Nehammer should be applauded for visiting Russia to hold talks with Russian President Vladimir Putin on Monday.
While no breakthrough was achieved at the Putin-Nehammer meeting, more such diplomatic engagements are needed to end the Ukraine crisis and the best, or probably the only way to do so is to find an off-ramp for all sides involved, directly or indirectly.
Western sanctions on Russia have so far proved ineffective in ending or easing the conflict. In fact, many studies show most economic sanctions fail to achieve their goals.
Moreover, many economic sanctions simply end up punishing innocent civilians-and in the Russia-Ukraine conflict it will not be civilians just in Russia but around the world, including in the United States and the European Union. That's also why the Indian prime minister didn't agree with the US president during their virtual meeting on Monday to reduce the import of Russian oil, for that would hurt the interests of more than 1.38 billion Indians.
The secondary sanctions the US and the EU have threatened to impose against countries which do not follow their unilateral sanctions will further affect global growth and food security. The world needs more political wisdom to end the Russia-Ukraine conflict and avoid self-inflicted harms on the global economy, especially on least-developed countries.
The author is chief of China Daily EU Bureau based in Brussels.
If you have a specific expertise, or would like to share your thought about our stories, then send us your writings at opinion@chinadaily.com.cn, and comment@chinadaily.com.cn.
Most Viewed in 24 Hours
China Views