Volunteers reach out to lone seniors in Shanghai
Share - WeChat As Shanghai, a megalopolis with a population of 25 million, remains under lockdown to combat a fierce outbreak of COVID-19, many senior residents living alone have proven to be the most vulnerable group.
With their normal lives disrupted by the epidemic, the seniors are encountering various difficulties: some find it hard to access daily necessities via online shopping as they don't know how to use smart phones; some are seeing their medicines run out; and some are gripped by fears due to poor knowledge of the situation of outbreak.
At such a hard time, many people have reached out to them. Here are some stories interviewed by Meiri Renwu (Daily Figure), a public account on WeChat.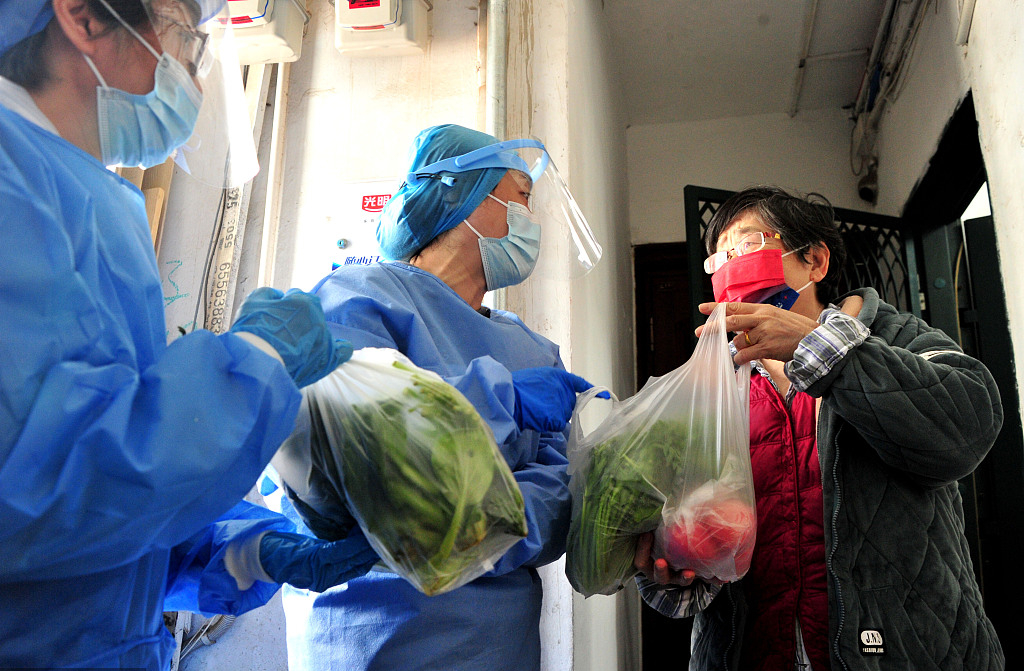 Young man clears roadblock to online purchase
Wang Ye, a post-1995 employee in the education sector, has been living under lockdown since March 22 after one positive case was detected in the residential community he lives in.
Wang said in the building he lives in, there are a total of 10 households with seniors living alone. As many elderly people don't have the habit of stocking up on food, most of them ran out of food in only two or three days and had to wait for government supplies, he said.
To secure enough food, community residents resorted to online group-buying to purchase groceries and necessities. But the group-buying process, usually conducted through a WeChat group, has proven to be complicated for seniors.
"Collection of orders, making payment and picking up stuff, there are too many steps in the group-buying process. If you miss a step, you fall behind. It is not easy for many young people, let along the elderly," said Wang.
Wang and other volunteers put up a notice at the entrance of the building to allow people in need contact them to join the group-buying activity, and helped many elderly people order food they required.
"Some elderly people don't know how to change their name in the WeChat group to their floor number and house number, and some did not realize that they hadn't activated the function of payment in WeChat the moment they needed to make the payment," said Wang.
Wang said the trust between volunteers and the elderly built up gradually.
"At first, an elderly man just stood there as we put up the notice. We thought he did not need help. But later, thanks to another grandpa whom we helped buy food earlier, he came to us and we learned that he also had difficulty in buying food," said Wang.