Sales of NEVs drive up sector's market share
Share - WeChat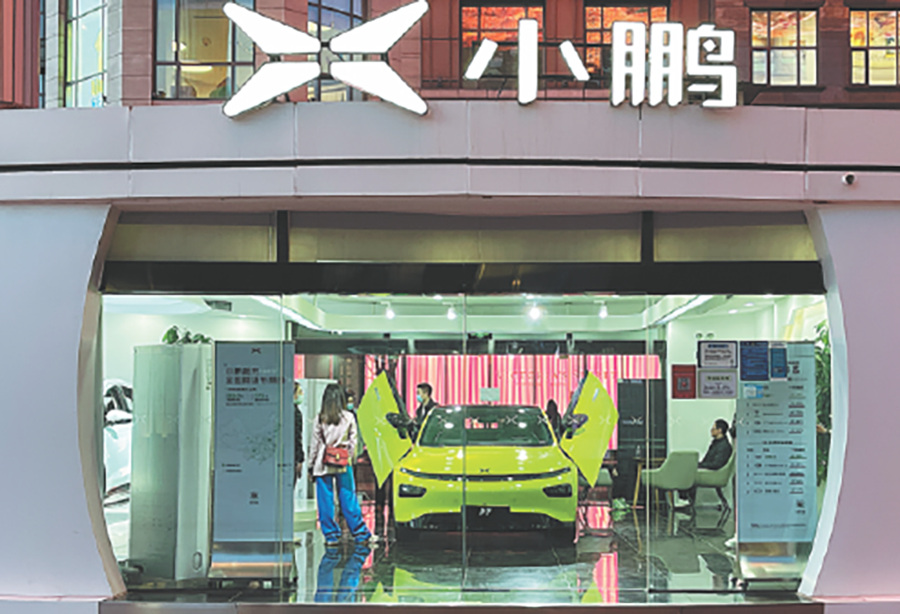 Industry sees strong growth despite global setbacks
New energy vehicles are continuing to gain ground in China, the world's largest car market, driving up sales at both electric car startups and established car giants.
Recent price hikes in raw materials and consequently in vehicles and the COVID-19's impact on production may have their effect, but the shift toward NEVs is obvious and unstoppable, said analysts.
Carmakers have raised prices on dozens of electric models this year by thousands or tens of thousands of yuan.
However, four Chinese startups-Xpeng, Li Auto, Nezha and Leapmotor-saw their monthly deliveries exceed 10,000 units last month.
New York-listed Xpeng topped the list with 15,414 vehicles, and Leapmotor was the latest to reach the milestone.
The Hangzhou, Zhejiang province-based startup sold 10,059 units in March; nine times the figure in the same month last year. It has filed for an IPO on the Hong Kong Stock Exchange.
Nio, the first Chinese startup to launch its vehicles, delivered 9,985 vehicles in March, up 37.6 percent year-on-year.
The company delivered 25,768 vehicles in the first quarter, an increase of 28.5 percent year-on-year.
"We are doing a pretty good job. We are selling all we can produce," said Ma Lin, Nio's corporate communication chief.
Nio is scaling up production of the ET7 sedan it has started to deliver, and their growing number of deliveries will boost the carmaker's sales in April, he said.
Ma said the company is speeding up work on plant renovations. "When completed around midyear, our annual capacity will reach 240,000 units," Ma said.
Chinese automaker BYD made history in March by becoming the first carmaker to sell more than 100,000 NEVs a month in the country.
In the same month, the carmaker backed by Warren Buffett stopped producing and selling conventional gasoline-powered vehicles, becoming the first in the auto industry to quit the still sizable segment.
"Their sales beat our expectations," said Lin Rixin, an analyst at Orient Securities, in a weekly research note.
Lin said the effect of price hikes in raw materials and recent plant closures because of the COVID-19 outbreaks may become apparent in May or June.
Tesla, one of the most popular electric car brands, has closed its plant in Shanghai since late March because of the latest wave of the pandemic in the city.
Orders on the Model 3 will be delivered in 20-24 weeks, said Tesla on its website.
"But electric cars have become a serious choice. So we believe sales will continue growing in the second half of the year. We maintain our estimate that sales this year would reach 5.4 million to 6 million units," said Lin.
Last year, their sales were 3.5 million in China, the world's largest market for such vehicles, according to the China Association of Automobile Manufacturers.
Xin Guobin, vice-minister of industry and information technology, said more efforts will be made to encourage the use of NEVs and to accelerate the development of domestic resources to cope with price increases in raw materials for batteries.
At an industry forum in late March, he said the ministry will help accelerate the development of domestic resources, crack down on unfair competition activities-such as hoarding and speculation-and guide companies along the industrial chain to strengthen cooperation and help ease prices of key raw materials.
A relatively complete and controllable industrial chain of NEVs also provides strong support for the growth of the industry, said Cui Dongshu, secretary-general of the China Passenger Car Association.
China's production and sale of NEVs is expected to double and take 65 percent of the global market in the first quarter of this year.
The penetration rate of NEVs in China rose from 6 percent in January 2021 to 22 percent by the end of that year, an average increase of 1.3 percentage points per month, said Wang Chuanfu, chairman of BYD.
He said China's electric vehicle industry is mainly driven by the market thanks to their longer driving ranges, growing number of models available in the market and an increasingly enhanced user-friendly environment.
Yet gasoline vehicles are expected to take the lion's share in the overall vehicle market for some time to come.
The CAAM said it expects NEV sales this year to reach 5 million vehicles in the country, up from 3.5 million units in 2021.
That would account for around 18 percent of an estimated 27.5 million vehicles to be sold in China, the world's largest NEV market, said the association.
The sale of NEVs is expected to match conventional gasoline vehicles by around 2030, said Ouyang Mingao, a professor at Tsinghua University.