Welcome to school, say 'Hi Apple' to the principal
Share - WeChat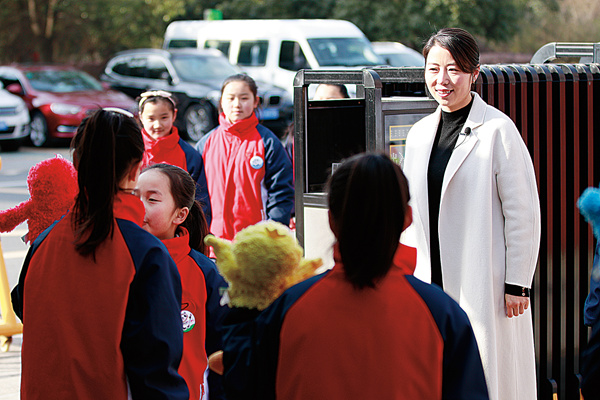 On the campus of the Zhenlong Primary School in Guangde, a county-level city in Anhui province, there is an enclosure that has a stable for two ponies and some cages for rabbits.
During a break between classes, some students volunteer to care for the animals.
"Personally speaking, I don't like hairy animals, but the kids love them," says Hong Liu, 36, the private school's principal.
When she takes a stroll on the campus, many students approach her and greet her without any hesitation or fear. In fact, while some address her as "Teacher Hong" in Chinese, others prefer to say "Hi Apple" in English.
"I know Apple sounds silly, but it is an easy name for the students to remember," says Hong, who began teaching English at the school in 2007 and became the principal in 2018.
Just then, some students, among them Hong's daughter, rushed past her to the sports ground for their kung fu class.
The school was founded in 1999 on the premises of an abandoned factory. It started as a martial arts school, with just seven students at first.
It transformed into a regular primary school and moved to its current location in 2004. It now has more than 1,000 students.
At the school's entrance is a famous quote by Chairman Mao Zedong: "Civilizing one's spirit and savaging one's body".
"We still make use of the martial arts tradition to improve students' physique," says Hong.
Governed by the province's Xuancheng city, Guangde has many rural areas. However, in the eyes of the principal, Zhenlong is just a small school. "But a small school can also do big things, right?" says Hong.
She says proudly that the school focuses on imparting four major lessons-filial piety, martial arts, English and equestrian sports. "Many of the students are from rural areas, some of whom are the so-called left-behind children, meaning children who are left behind when their parents migrate to big cities for work," says Hong.
These children may lack confidence and a competitive spirit to do well in exams, like in the national college entrance exam.
Throughout her career, Hong has always wanted to help such children.
In 2017, when she became the school's deputy principal, she established a non-profit English-speaking corner in the school, which is free and open to all teachers and students in Guangde.
Until the pandemic struck, Hong used to organize face-to-face communication activities every two weeks, giving the participants an opportunity to speak up and become more confident.
In a rural area of Guangde, the school runs an equestrian training center, which has readied two horse riders for the China Youth Equestrian Team.
The walls of the school's buildings are decorated with many sentences from Chinese classics promoting filial piety.
An important part of Chinese tradition, filial piety involves codes of conduct guiding people on how to behave with their older family members. Hong says its essence can help students better understand and respect their parents and receive the family's affection, which is crucial for a child's development.
Most Popular