Guangxi taps potential of cultural exchanges under RCEP
Share - WeChat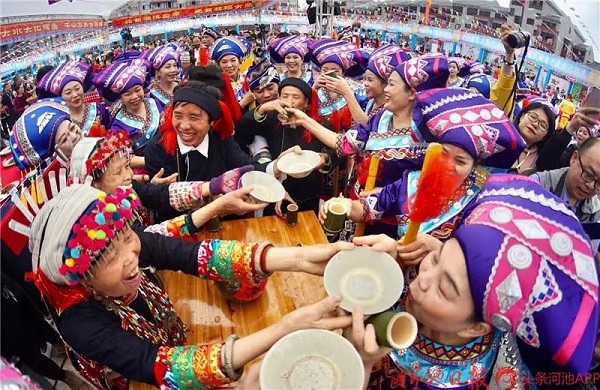 The Regional Comprehensive Economic Partnership agreement, which has been in effect since Jan 1, can only have a positive outcome on trade and cultural exchanges among the participating members.
With economic and cultural exchange between China and the Association of Southeast Asian Nations growing, China's Guangxi Zhuang autonomous region has been at the forefront of cooperation with ASEAN nations for over 30 years. Its rich experience can be used to promote the region's ethnic culture to RCEP members.
Guangxi is inhabited by 12 ethnic groups. Their ethnic cultures and distinctive characteristics are an important part of Chinese culture and world civilization.
As early as in the 1960s, China's first musical movie, Liu Sanjie, telling the story of a legendary folk singer of Zhuang people in Guangxi, was an instant hit not only in China, but also in Japan and some Southeast Asian countries.
In the past decade, Guangxi has been playing a vital role as bridge between China and the ASEAN countries. Capitalizing on its geographic advantage, it has organized an array of seminars, expos and exhibitions in order to promote cultural cooperation between China and the ASEAN countries.
In recent years, top-down approaches have been adopted to boost cultural exchanges between Guangxi and ASEAN in terms of traditional arts, publications, entertainment, education, anime and comics.
Further, most Chinese television dramas that are adapted for ASEAN viewers are historically themed. A large number of television dramas focusing on modern China, too, are generating a lot of interest in those countries.
Guangxi Radio and Television has cooperated with television stations in Cambodia, Laos, Myanmar, Vietnam, Thailand and Indonesia to translate and broadcast Chinese TV programs. An online gala produced by Guangxi Daily, an official daily in Guangxi, to celebrate the 2022 Lunar New Year has been a big hit in ASEAN countries. Many TV viewers, especially from the younger generation, are impressed by Chinese culture.
As the world's largest free trade agreement, the RCEP covers nearly a third of the global population and about 30 percent of its global gross domestic product. The coming into force of the agreement is of great significance for further promoting intra-region trade, investment and cultural exchanges among China and other member countries.
Guangxi will draw lessons from the experience gained from such cultural exchanges with ASEAN countries to boost large-scale cooperation and seek long-term opportunities under the framework of the RCEP.
The author is associate research fellow at Guangxi University of Finance and Economics. The views don't necessarily reflect those of China Daily.
The views don't necessarily reflect those of China Daily.
If you have a specific expertise, or would like to share your thought about our stories, then send us your writings at opinion@chinadaily.com.cn, and comment@chinadaily.com.cn.

Most Viewed in 24 Hours
China Views