Beijing Starbucks Foundation donates $1m to help ethnic minority rural women
Share - WeChat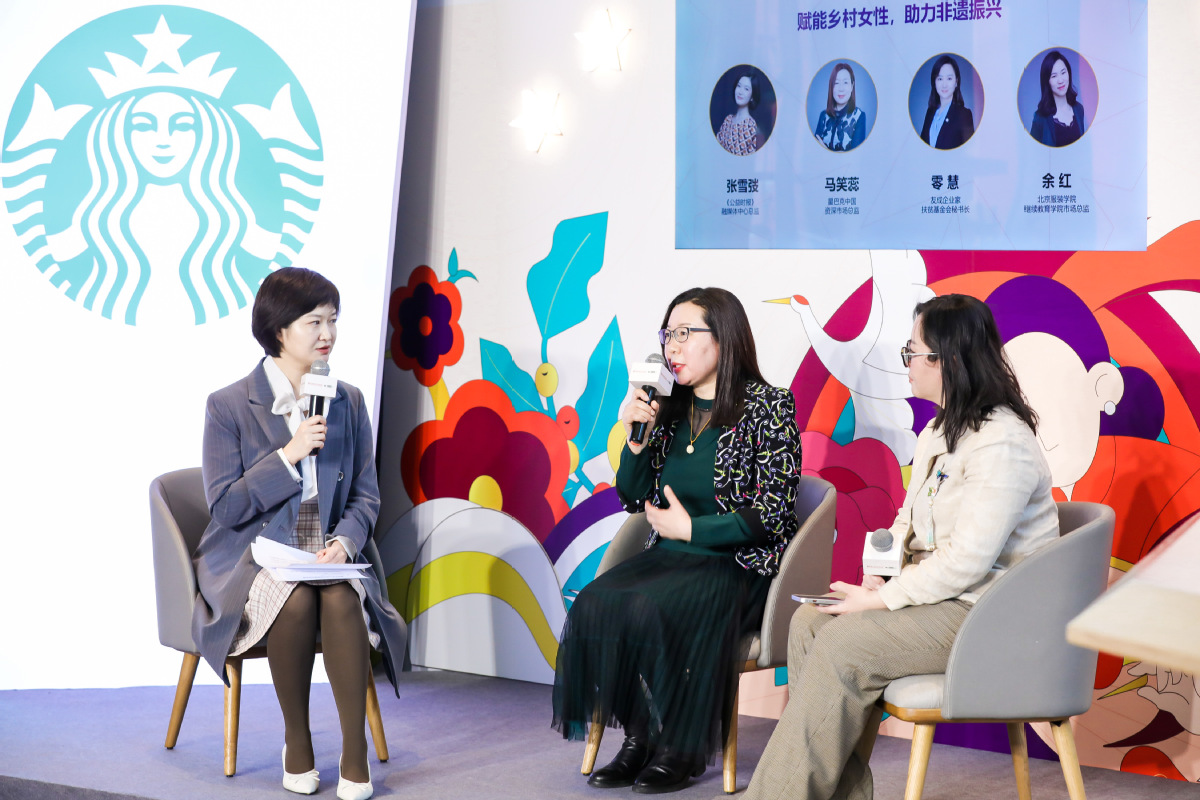 The Beijing Starbucks Foundation on Wednesday announced its donation of 6.35 million yuan ($1 million) to YouChange China Social Entrepreneur Foundation to jointly launch the latest edition of its social impact project aimed at supporting ethnic minority rural women while enhancing the intangible cultural heritage in the country.
The project plans to select 50 female leaders in intangible cultural heritage, and to support the cooperatives they lead in creating job opportunities for 1,250 women in three years.
In addition, it will focus on empowering, incubating and promoting 15 teams of rural women entrepreneurs, to create more jobs and promote entrepreneurship that will enable the sustainable development of the industry while bringing intangible cultural heritage to more people.
Yang Shuzhen from Paika village in Guizhou province is one of the applicants to the project. Shortly after giving birth, Yang left her hometown to work in factories making shoes and tea products, leaving her child to the care of her parents-in-law.
As time passed, Yang felt the urge to be close to her growing child. In 2008, Yang returned to her village to start a shop selling Miao ethnical embroidery products, but her business faced challenges in product design, marketing channels and financial support.
This year, Yang was selected as a candidate for the foundation's project to empower intangible cultural heritage entrepreneurship and address the challenges faced by ethnic minority rural women, enabling them to live a good life without leaving their hometown.
"Behind every stitch by the rural women lies their deep love for their families, and their yearning for better lives. Their handiwork is also a vivid display of traditional Chinese culture," said Charles Wu, president of the Beijing Starbucks Foundation and regional general manager of Starbucks in North China.
"We are delighted to continue empowering rural women, to help them realize their simple desire of earning incomes for their families while also raising their children, using their traditional handicraft skills."
The project, a collaboration between the government, universities and Starbucks, seeks to recruit rural women with a talent for traditional handicraft, improve the design and promotion of intangible cultural heritage products, and cultivate leaders with high potential for building competitive products and brands.
"Rural women are one of the important forces in rural revitalization, and this group needs the support of different parties from all walks of life," said Tang Min, counselor of the State Council and vice-president of YouChange China Social Entrepreneur Foundation.
The leading global coffeehouse chain has successfully incubated 10 intangible cultural heritage cooperatives since launching the Rural Women Accelerator Project in May 2020, providing training in management, sales, innovation and skills for more than 200 rural women.