Biden pushes Europeans on Russia action
Share - WeChat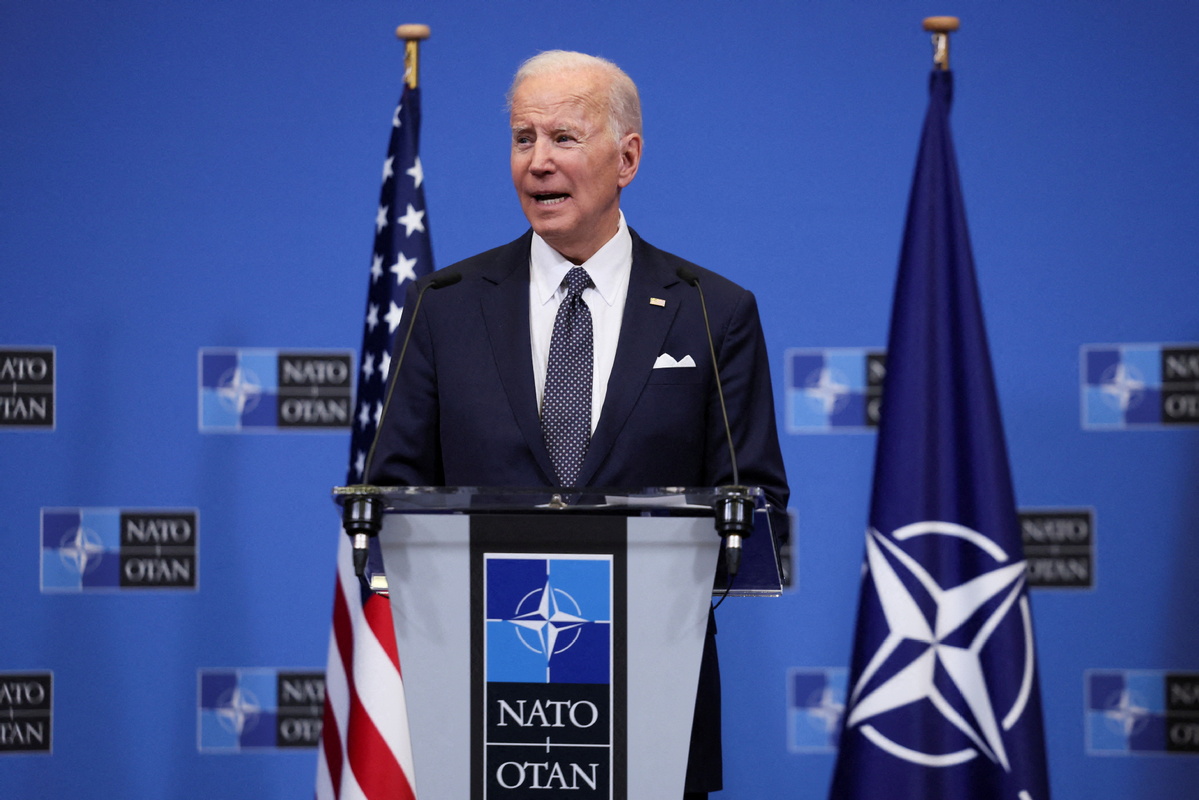 While US leader seeks fresh measures at summits, experts see dangers for EU
US President Joe Biden was busy in Brussels with three summits on Thursday in which he was seeking to rally European allies for more economic action against Russia, but observers believe that a steeper escalation will only make the European Union poorer and weaker.
At a NATO emergency summit that ended early in the afternoon, the alliance's leaders agreed to bolster their eastern flank amid the Russia-Ukraine conflict.
A joint statement released after the meeting said that the allies remain "united and resolute" to oppose Russia's actions, "aid the government and the people of Ukraine, and defend the security of all allies".
They also agreed to set up four more battlegroups in Bulgaria, Hungary, Romania, and Slovakia.
NATO will provide additional support to Ukraine, which includes protective equipment against the potential use of chemical and nuclear weapons in the country as well as additional cybersecurity assistance.
Russia has accused the United States of collaborating on biological weapons programs in Ukraine, allegations that the US called disinformation that could serve as a possible pretext for Russia's potential use of such weapons.
Shortly after the NATO summit, Biden attended a G7 leaders' meeting, called by this year's chair Germany. The leaders of the US, Germany, the United Kingdom, France, Canada, Italy and Japan were expected to announce some sanctions mechanisms.
In the late afternoon, Biden was scheduled to attend a European Council summit focused on energy in relation to the Ukraine crisis.
In his invitation to leaders of the 27 EU member states, European Council President Charles Michel noted that in their recent meeting in Versailles, near Paris, they agreed to phase out their dependency on Russian gas, oil and coal imports as soon as possible.
While the US and the UK have announced a plan to phase out Russian energy, EU member states are sharply divided in their approaches, fearing that a ban on Russian energy will cause huge damage to their economies.
German Chancellor Olaf Scholz said on Wednesday that an immediate ban on Russian energy would trigger a recession in Germany and across Europe.
US National Security Adviser Jake Sullivan told reporters on Wednesday that the US is looking to surge supplies of liquefied natural gas to Europe to decrease its dependency on Russia gas.
"Tomorrow, I will discuss with President Biden how to prioritize LNG deliveries from the United States to the European Union in the coming months," European Commission President Ursula von der Leyen said on Wednesday, before meeting with Biden on Thursday.
Ukrainian President Volodymyr Zelensky spoke virtually to the NATO summit and was expected to do the same at the EU summit.
"The crisis in Ukraine has resulted in a significant erosion of European strategic autonomy to the US which has used the situation as a means to increase its influence over the continent," said Tom Fowdy, a British international relations analyst. "We see that Germany has all but discarded the balanced foreign policy legacy of Angela Merkel," he said.
"While many of these responses are inevitable to the situation, it is quite obvious Europe will be poorer and weaker."
Martin Jacques, a former senior fellow at Cambridge University's Department of Politics and International Studies, said: "Biden is clearly very keen to mobilize European countries against the Russian action. So far he has been very successful with big policy shifts in many countries, most notably Germany."
He said the summits were aimed at cementing "US-European relations in this endeavor with increased defense spending, more military aid to Ukraine, and further sanctions against Russia".
After Brussels, Biden is scheduled to visit Poland on Friday.
Agencies contributed to this story.