Peak attraction
Share - WeChat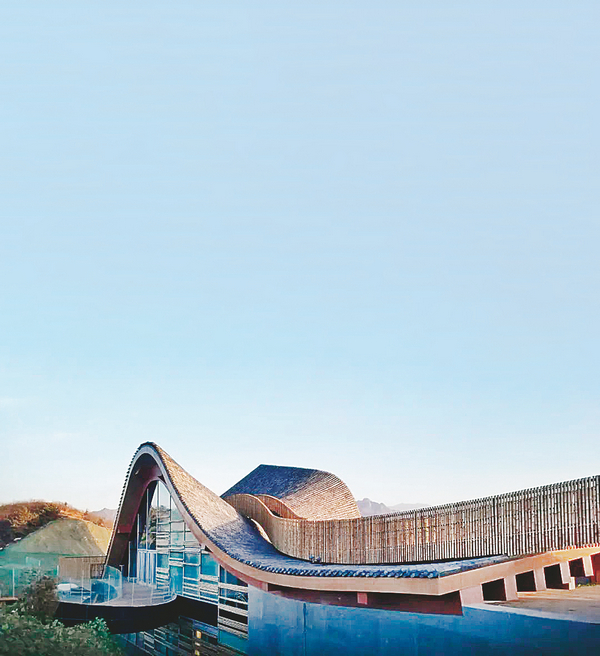 At the opening ceremony of the 2022 Beijing Winter Olympics, the Hilltop Art Gallery designed by Li Daode showed up in a video twice. In the footage, the building located on a peak of Yanshan Mountains between Beijing and Chengde, Hebei province, was shown, revealing both its outside and inside.
The architect has been exploring the expression of digital architecture in the context of China's local characteristics, and he says he feels honored to receive such encouragement of his work.
"There is no fixed standard for good architecture. It is neither about style or form, nor just about function, but about architecture that brings pleasure and emotion to people. What the architect ultimately presents is not only an understanding of space and place, but also an attitude toward people, nature and our living environment," Li says.
Born in 1981 in Kaifeng, Henan province, Li studied architecture at the School of Architecture of the Central Academy of Fine Arts in Beijing from 1999 to 2004. He received his master's degree from the Architectural Association School of Architecture in London in 2006. Li first came across digital architecture during his study in Britain. He learned that design is no longer just an artistic expression of the "designer's ego", nor simply a functional arrangement. It is, though, based on digital technology and allows buildings and people to integrate with their surroundings, such as wind, sunlight, traffic flow. Consequently, buildings and cities are no longer static, but should be updated and evolve in response to changes in external parameters.
Li worked at Foster+Partners, the British architectural design and engineering firm based in London, for about three years. In 2009, he returned to China and founded his own firm, dEEP Architects. "'D' for digital, 'e' for elegance and emotive, and 'p' for practical."
Li recalls when he and the team stood on a peak of Yanshan Mountains, exploring the potential site of his new design project, they were stunned by what they saw. The mountain gently embraced them, and the Jinshanling Great Wall stood opposite in silence. He felt the insignificance of human beings in front of nature, and the majestic vitality of the place. Li claims he experienced static and underlying dynamism there. Then he decided to design a building, which would "grow out of the mountain, as if developed by a crustal movement".
Li mentions Tao Te Ching, written by Chinese philosopher Lao Tzu from the Spring and Autumn Period (770-476 BC). Li agrees with the idea stated in the 51st chapter, saying that behind all formation, there is a momentum.
Most Popular