At National Zoo, celebrating 50 years of giant pandas' presence
Share - WeChat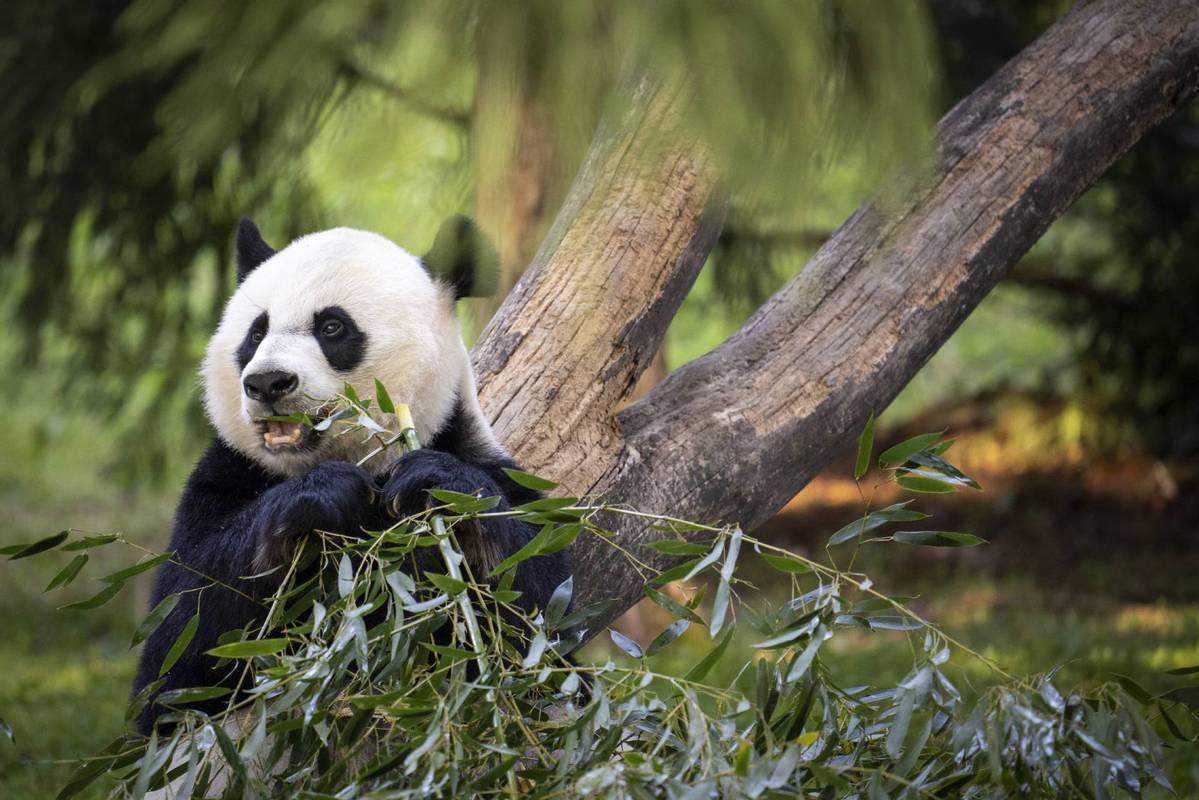 The National Zoo kicked off a six-month celebration on Wednesday of the 50th anniversary of the arrival of two giant pandas, cherishing the close cooperation between China and United States in panda exchanges and preservation.
The first pandas from China in the US — Ling Ling and Hsing Hsing — arrived at the Smithsonian National Zoo and Conservation Biology Institute on April 16, 1972.
"We are going to have six months of celebrations both online and at the zoo. People can come to see the cubs and the mom and dad," Brandie Smith, director of the National Zoo, told China Daily.
Annalisa Meyer, the zoo's deputy director of communications, said the celebrations will run through Aug 27. The zoo will hold online and on-site events, which include Pandaversary: 50 Years of Conservation and Cuteness on April 8, and Celebrating 50 Panda-mazing Years, at which visitors can meet the people behind the pandas!" on April 21.
"And some of the biggest highlights, we're going to have a screening of the film, The Miracle Panda, which is our story of the giant pandas at the National Zoo. And we also are going to have an event with the Chinese embassy. [The embassy] is going to come and provide treats for people as they see the pandas," Smith said.
The world premiere documentary The Miracle Panda, by the Smithsonian Channel, will be screened for a limited time at the zoo's Visitor Center Theater, free and open to the public on April 16 and 17.
Also on April 16, from 9 am to 2 pm, visitors can enjoy lion dance performances, panda-shaped Bao buns and calligraphy demonstrations. They also can speak with the zoo's scientists who study giant panda biology and ecology and watch the pandas receive special enrichment treats.
(A complete list of all the events and stories about the pandas can be found on the zoo's website (https://nationalzoo.si.edu/animals/celebrating-50-years-giant-pandas).
The Giant Panda Family Tree Photo Gallery in the outdoor giant panda exhibit has already been set up, allowing visitors to explore the zoo's successful giant panda breeding program and to follow how cubs born at the zoo contribute to their species' survival in China.
In 1972, then-US president Richard Nixon and first lady Pat Nixon made a historic visit to China. Mrs. Nixon went to the Beijing Zoo to visit pandas the second day they arrived.
At an appreciation dinner before they left China, Premier Zhou Enlai told Mrs. Nixon that China would present the US with two pandas, which surprised and delighted her.
The two pandas, Ling Ling and Hsing Hsing, lived at the National Zoo for more than 20 years. Their arrival not only brought warmth and joy to tens of millions of Americans but also launched the US-China giant panda program.
Now the current panda couple, Mei Xiang and Tian Tian, and their cub Xiao Qi Ji ("little miracle"), born in August 2020, live at the National Zoo.
Mei Xiang and Tian Tian's other three cubs, Tai San, born in 2005; Bao Bao, born in 2013; and Bei Bei, born in 2015, were returned to China.
Smith recalled that Bao Bao is "more like its own girl", while the boys, Bei Bei and Xiao Qi Ji are "more outgoing".
"I met these pandas; I know them so well, I remember the moments all of the cubs were born here. And one thing is that we know when they are born that they're going to go to China to be part of the group breeding program," she said.
"So it's almost like any baby. When any baby grows up, you don't want them to stay with you if you want them to go out and to succeed, and so our cubs will go to China, and they will have their cubs and help contribute to the conservation of the species."
Smith said she has been impressed by the cooperation with the zoo staff's counterparts in China.
"I have really loved working with the giant pandas; they're incredible animals to work with and get to know them as a species. But also, one of my favorite parts is it's not just about working with these animals. It has been about working with colleagues in China," she said.
"So working with our scientists and other contributors in China to share knowledge about pandas, their habitat and their culture has really been an incredible experience for me."
The COVID-19 pandemic has created obstacles for in-person communications.
"Normally we go to China several times a year, and our colleagues are trying to come here to visit us. With the pandemic, it's been hard because we haven't been able to see each other in person, but the good thing is that we still have emails, video calls and other ways to communicate," Smith said.
"And from my perspective, it has been as good as it always is. Because we've had such a good relationship over so many years, we respond to each other so well."
She said she hoped the program "could last for at least another 50 years".
During the interview with Smith, Mei Xiang and Xiao Qi Ji frolicked in an outdoor field of the panda house, while Tian Tian leisurely chewed on bamboo in another field as visitors streamed in to observe the pandas.
Brooklyn, a 3-year-old girl, told China Daily that she wanted "more panda mommies and panda babies" to come to the zoo.
Sue, 62, who was on her annual family vacation, had just visited the pandas at Zoo Atlanta and was now seeing some in Washington.
"I have been to Chengdu (home of the Panda Reserve) for vacation," she said, adding that pandas were her "number one" reason to visit. "So you know I am a real fan of pandas. I hope China could continue to loan pandas to us."