Solid growth bodes well for firm recovery
Share - WeChat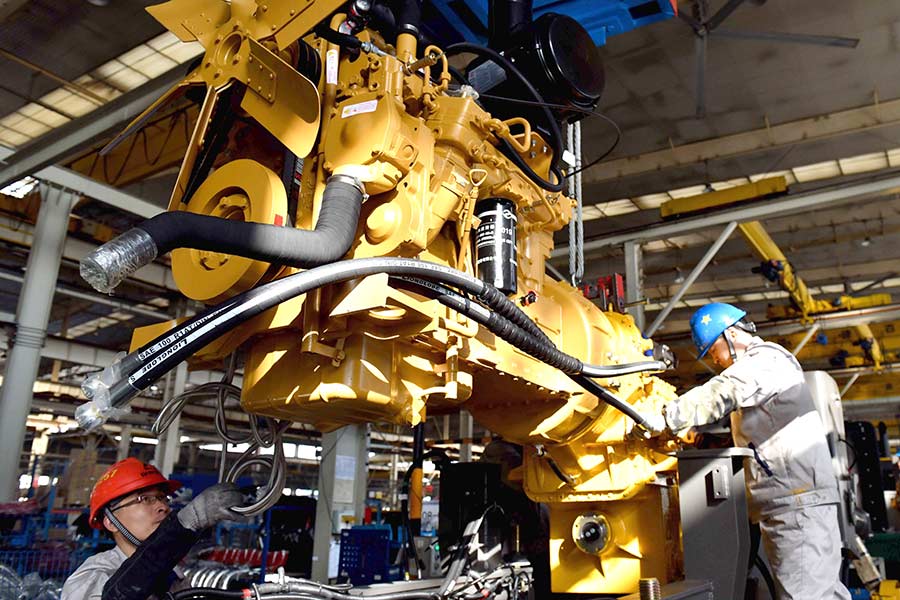 Progress to continue, but challenges expected from other issues, experts say
China's economic growth was better than expected in the first two months of the year, boding well for the steady recovery of the world's second-largest economy in the first quarter, officials and experts said on Tuesday.
They said China's economy has shown strong resilience and had favorable conditions to maintain steady and sustained growth in the first quarter. The country stands a good chance of keeping its economic operations within a reasonable range in 2022, the experts added.
However, they warned that the economy also faces new downward pressures and challenges due to the complicated external environment and domestic COVID-19 cases. Further easing of fiscal and monetary policies is expected in order to meet the annual GDP growth target of around 5.5 percent.
Fu Linghui, a spokesman for the National Bureau of Statistics, said at a news conference that China has the conditions to meet the annual growth target, and the strong January-February economic indicators have boosted confidence for recovery over the entire year.
Value-added industrial output rose by 7.5 percent year-on-year in the January-February period, 3.2 percentage points higher than in December, and 1.4 percentage points higher than average growth over the past two years, the bureau said on Tuesday.
Retail sales grew by 6.7 percent in the first two months on a yearly basis, compared with 1.7 percent in December.
Fixed-asset investment rose by 12.2 percent year-on-year in the January-February period, up from 4.9 percent for the whole of 2021, the bureau said.
Considering the better-than-expected economic performance, Wen Bin, chief researcher at China Minsheng Bank, said China is likely to keep economic operations "within a reasonable range" in the first quarter.
Wen said China's high-tech industries are gaining traction and providing strong impetus to economic growth.
During the first two months, the added value of high-tech manufacturing grew by 14.4 percent year-on-year. Investment in high-tech manufacturing and services jumped by 42.7 percent and 16 percent, respectively, during the January-February period, according to the bureau.
Luo Zhiheng, chief economist at Yuekai Securities, said consumption, manufacturing and investment in new infrastructure are expected to be key drivers of growth.
He said more efforts are needed to increase financial support for industries and businesses heavily hit by the COVID-19 pandemic, spur consumption and expand effective investment in infrastructure, urbanization and key projects.
Tommy Wu, lead economist at Oxford Economics, said that while China's economy had a good start to the year, the recent COVID outbreak and renewed restrictions will weigh on consumption and cause short-term supply disruptions.
Despite the promising economic data, experts said policymakers still need to step up fiscal and monetary support to prepare the economy for headwinds like the COVID-19 surge as well as a spike in commodity prices amid geopolitical tensions in the coming months.
The A-share market seems to have reflected the lingering downward pressures. The benchmark Shanghai Composite Index slumped by 4.95 percent to 3,063.97 points on Tuesday, its lowest level in more than a year and a half, market tracker Wind Info said.
Lu Ting, Nomura's chief China economist, said economic activity could weaken in March amid restrictions to combat the outbreak and a still weak property market, necessitating possible measures. These could include an interest rate cut in April and a reduction in the reserve requirement ratio in the upcoming months.
Zhu Qing, a professor with Renmin University of China's School of Finance, said fiscal policy will play an active role in stabilizing the economy, with the expansion of budgeted fiscal spending of more than 2 trillion yuan ($313.6 billion) to bolster domestic demand. Tax refunds worth 1.5 trillion yuan are also expected to revitalize small-business growth.
An executive meeting of the State Council chaired by Premier Li Keqiang on Monday determined that all key tasks laid out in the Government Work Report must be effectively implemented with a clear division of responsibilities and solid steps to facilitate stable economic performance while overcoming difficulties. The meeting stressed the need to coordinate the COVID-19 response and economic and social development, intensify cross-cyclical adjustments, place steady growth in a more prominent position and deepen reform and opening-up, to accomplish the economic and social development goals and tasks for the year.