Photo awards capture Chinese culture
Share - WeChat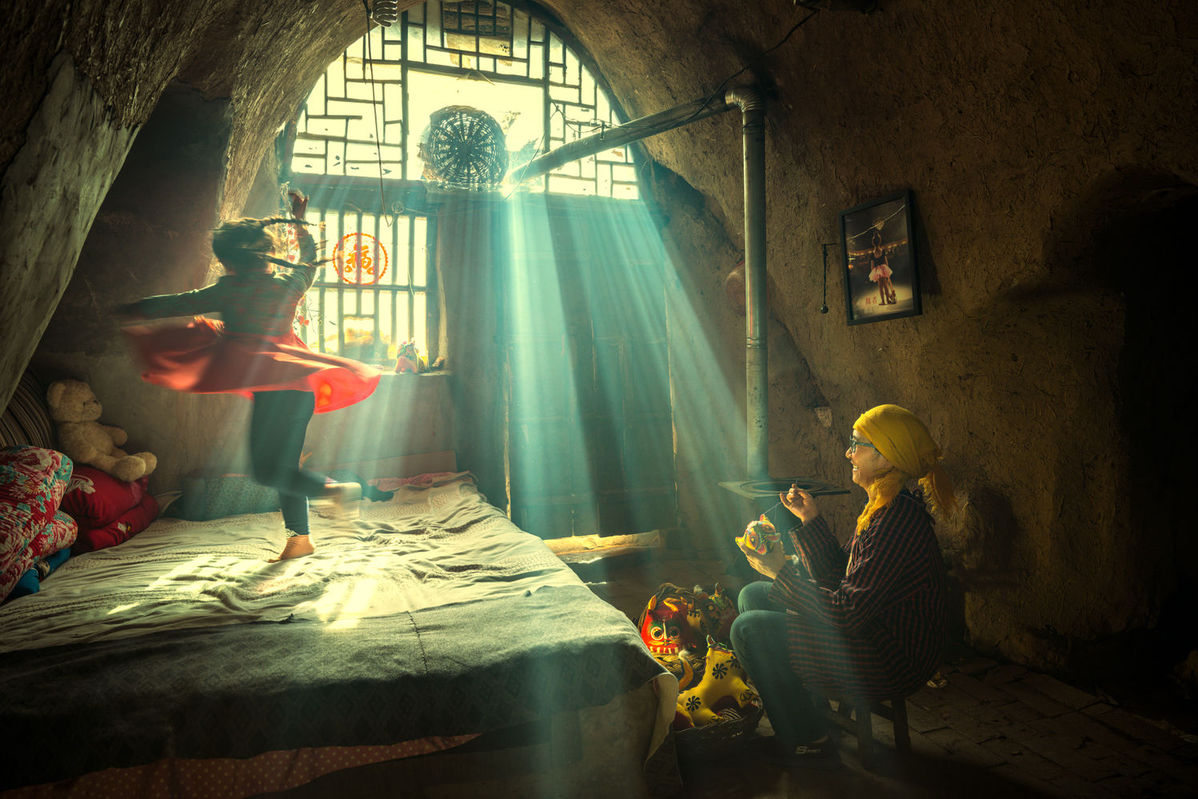 A photograph described as "a moment of joy" has been selected as overall winner of an international competition celebrating pictures of Chinese culture.
Chinese photographer Li Huaifeng's image, titled The Dancing Dreams of a Mountain Girl, shows a young girl dancing for her grandmother, who is making toy tigers in a small rural village in China. It took the overall winner prize at the Global SinoPhoto Awards 2021.
The judges said the winning image captured "a moment of joy – almost other-worldly vision of the child in the sun's rays. It is as if grandma is watching the child in a hologram".
Organizers said the competition attracted professional and amateur photographers from around the world, from a range of backgrounds and nationalities, who told Chinese stories and inspired connections between Chinese culture and the rest of the world.
Now in its second year, awards were handed out in four categories, including 'water' because 2022 is the Year of the Tiger with the added element of water.
Yintong Betser, founder and director of the Global SinoPhoto Awards, said water is also integral to Chinese culture, through Confucianism and Taoism.
The other categories were 'home', 'environment', and 'work and play'.
The water category was the only one that did not have to have a Chinese theme.
"We want to communicate Chinese culture to the world with the three categories. The fourth one, water, we want to absorb the creativity from the world and enrich the Chinese culture and connect people and culture," Betser said. "We want to connect the world together and explore the common values we all have. And we need to understand each other and have more empathy."
More than 2,000 entries were submitted to the competition.
Other winners were Family Stuff – The Golden Anniversary Couple by Huang Qingjun, Seasonal Sea – an Environmental Image by Yang Tongyu, and Seekingby Huang Jianjun.
British photographer Adrian Bradshaw was highly commended for his photograph Swimmerin the water category.
The overall winner will receive a 2,888-euro ($3,175) cash prize while category winners will each receive a 366-euro cash prize and membership of the Societies of Photographers.
The winning photographs will be exhibited at the Museum of East Asian Art, in Bath, until May 14 and will also be on display at other locations throughout the year, including the Lau China Institute, Kings College London, and the World Architecture Festival China, in Chengdu in November.