French cuisine puts ties on menu
Share - WeChat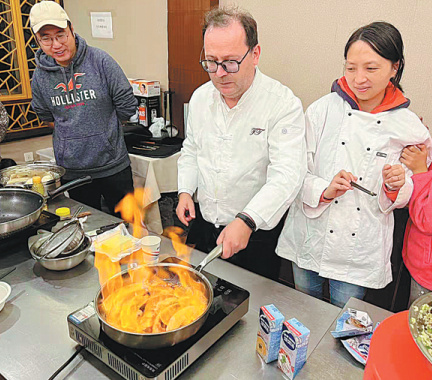 Frederic Toumazet may be a math whiz but the Frenchman spends a considerable amount of time these days dealing with a frying pan instead of numbers.
Since 2019, Toumazet, who is currently the dean of Shanghai Jiao Tong University-Paris Elite Institute of Technology, has been holding cooking classes for Chinese students and showing them the beauty of French cuisine.
Conducting these classes on campus in Shanghai's Minhang district is a way of "bridging relations between China and France", says Toumazet, who will be preparing French cuisine for guests attending French Culture Day at the institute this month.
"Two things can bring people closer-stories and food, and the cooking class covers both aspects," he says.
International exchange has been a part of Toumazet's life in China. In his role as the dean of the institute, Toumazet spearheads efforts to bolster higher education cooperation in engineering between Shanghai Jiao Tong University and universities in France.
Thanks to his efforts, the Shanghai institute launched a doctoral double-degree program last year to nurture talent and strengthened its ties with longstanding international industry partners, including French auto parts supplier Valeo and Belgian materials and specialty chemicals company Solvay, as well as Shanghai-based facility and environmental solutions provider Aden Group.
Toumazet also initiated a revision of the institute's curriculum after observing the difficulties students faced in juggling their internships and writing their theses. This year, which marks the 10th anniversary of the institute's establishment, Toumazet aims to set up computer simulation labs so that students can better utilize technology in their projects.
Fredy Tabourin, a coordinator in the institute's French department, says Toumazet is "an experienced, efficient and inspiring leader who has successfully led the institute in tackling challenges and reaching new heights of excellence".
Before moving to Shanghai to take up his role at the institute in 2018, Toumazet had spent many years as a computer science professor before becoming the vice-president of international cooperation and school-enterprise relations at the University of Marne-La Vallee in Paris.
His first trip to China, however, took place in September 2005 when he spent three weeks in Shanghai and got to experience China's National Day. During the trip, he visited the memorial of the site of the First National Congress of the Communist Party of China and scenic spots in Qibao town.
Over the next decade, he returned to China many times for work and liked many things in the country, including the "geometric "organization of the streets in Beijing, the tea culture in Hangzhou, Zhejiang province, and the hospitality of Chinese people, he says.
"I want to understand the country even more," he says. "The story of China can be complicated and difficult to understand for some people. What I've observed so far is a country that is determined to improve lives, reduce poverty and create job opportunities."