Croat authors 'open a door' to Chinese history
Share - WeChat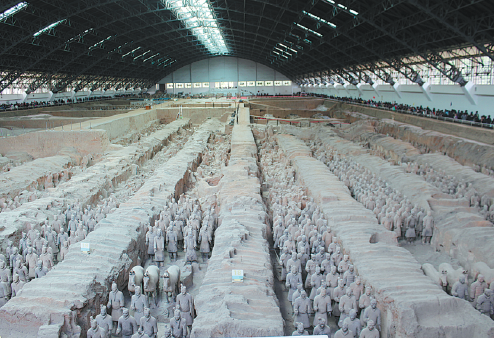 Terracotta Warriors at Emperor Qinshihuang's Mausoleum Site Museum in Xi'an, capital of Shaanxi province. The picture is included in Silk, Dragons and Paper, a book co-authored by Zvonimir Stopic and Goran Durdevic, two Croatian expats in Beijing. CHINA DAILY
Silk, Dragons and Paper is a comprehensive work on China's history and archaeology that can serve as an eye-opener for academics, diplomats and businessmen in the Southeastern European country, Tareq Zahir reports.
China undertook the Peljesac Bridge Project in Croatia under the Belt and Road Initiative last year. The two countries are also part of the"16+1 framework" (or 16 Central and Eastern European countries plus China mechanism), which helped the member states realize that cooperation with China is facilitating balanced development in Europe. However, people in the two countries may not know much about each other.
Some Croats think China is a romantic country where people, like the protagonists in the movies they have watched, have old-fashioned sensibilities. Some others think of China as a technological giant. "Some of my friends even ask me if we have flying taxis here?" jokes Goran Durdevic, a Croat lecturer and assistant professor of Beiwai College at Beijing Foreign Studies University.
Maybe the Chinese know Croatia a little better. Inspired by some World War II movies on Yugoslavia, such as Battle of Neretva and Walter Defends Sarajevo, a greater number of Chinese tourists were visiting Croatia before the COVID-19 pandemic broke out.
However, not many know that Croatia and other countries in Southeastern Europe, which were part of the erstwhile Yugoslavia, share important ties with China. In the 18th century, Ferdinand Augustin Haller von Hallerstein, also known as August Allerstein or by his Chinese name Liu Songling, an ethnic Slovenian, visited China. Because of his proficiency in astronomy and mathematics, the Qing Dynasty (1644-1911) emperor of the day anointed him the head of the Imperial Astronomical Bureau and Board of Mathematics. He is said to be the first demographer to calculate the exact size of the Chinese population-in those days-and even served as a mandarin from 1739 to 1774.
"More recently, in the 1930s, Andrija Stampar and Berislav Borcic were doctors who came to China and tried to help establish the Chinese health system," says Durdevic.