Light entertainment
Share - WeChat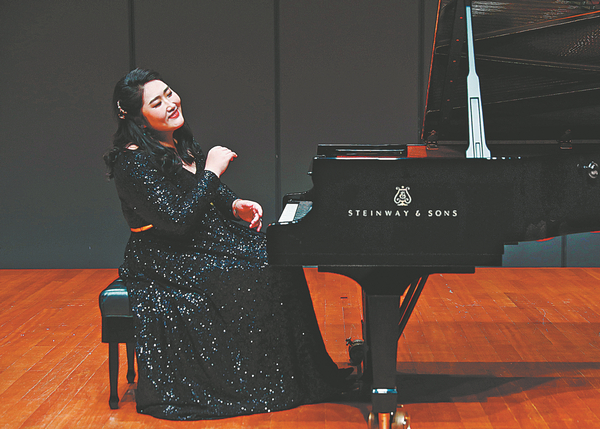 When pianist Tian Jiaxin was invited to perform at the annual TV show by China Central Television to celebrate Lantern Festival, which was broadcast on Feb 15, she didn't arrange a conventional music piece.
By working with artists of traditional Chinese operas: Huangmei Opera, Cantonese Opera, Hebei Bangzi and Peking Opera, she presented a performance titled Meng Hui Yuan Xiao (Dreaming of Lantern Festival).
"Lantern Festival, a traditional event in China, is a special occasion for families to get together and have sweet glutinous rice balls. The combination of the Western musical instrument with traditional Chinese opera offers the audience a sense of both freshness and nostalgia," says Tian.
The performance also featured the recitation of works by four ancient Chinese poets: Ouyang Xiu, Li Qingzhao, Su Shi and Xin Qiji, all from the Song Dynasty (960-1279).
Tian decided to adapt Flute and Drum at Sunset, an old pipa (a four-stringed Chinese lute) song. The composition is a song with captivating and elegant tones that portray the beautiful landscape of southern China. The pianist combined it with Piano Concerto in A Minor by Norwegian composer Edvard Grieg and a popular Chinese folk song, Xiu Jin Bian (Embroidered Gold Tablet).
"The process of adapting and combining the three musical works was very challenging, yet interesting. It was the first time that I performed with artists from traditional Chinese operas, which offered me a closer and deeper look at their art and techniques," says Tian.
"In ancient China, poems were often recited to the music of traditional Chinese instruments, such as guqin (the seven-stringed Chinese zither). The piano and poems went well together. It's a show that took me back to thousands of years ago," she adds.
Born in Beijing in 1986, the pianist says the sounds of traditional Chinese operas are not new to her, since her family attended some Peking Opera shows when she was a child.
She also loves to use the piano to imitate a variety of traditional Chinese musical instruments, such as pipa, guqin, drums, and traditional Chinese bamboo flute.
"I hope the sound will enable the audience to imagine something really amazing," she adds.
Tian was introduced to music by her parents-her mother is a soprano and her father is a composer and conductor.
She started to learn to play the piano at the age of 3 and at 18, she entered Shenyang Conservatory of Music and studied under Wei Danwen. Upon graduation, Tian furthered her studies at the United States' Manhattan School of Music, under the tutelage of Jeffrey Cohen.
Tian has since won awards for her performances in the US, including the 2011 Dora Zaslavsky Koch Concerto Competition, and the First Young Artist Competition in Long Island. She was also selected to perform with the New York Concert Artists Symphony Orchestra through their Rising Artists Concerto Presentation in 2011. Her achievements attracted the attention of several record companies.
In May 2012, she received her master's degree in classical performance from the Manhattan School of Music.
She won acclaim for her solo performance of Mozart's Piano Concerto No 20 in D Minor K 466 at the Rising Artists Evening event organized by the New York Concert Artists& Associates at Carnegie Hall in New York on June 2,2012. On July 6, 2012, she returned to China and held her solo concert at Beijing Concert Hall.
As a touring artist, she slowed down and spent much more time at home after the COVID-19 pandemic hit. She launched a series of lessons online for charity and, after the pandemic eased, she started to work with Chinese symphony orchestras as a soloist.
"I often include Chinese music pieces in my concerts abroad because I want to introduce those great pieces to audiences worldwide. When I play in China, I gain more experience by working with Chinese composers, which is inspiring," she says.
This year, Tian plans to tour nationwide and record a new album featuring music works by German composer Felix Mendelssohn.
Contact the writer at chennan@chinadaily.com.cn