A monument to heroes
Share - WeChat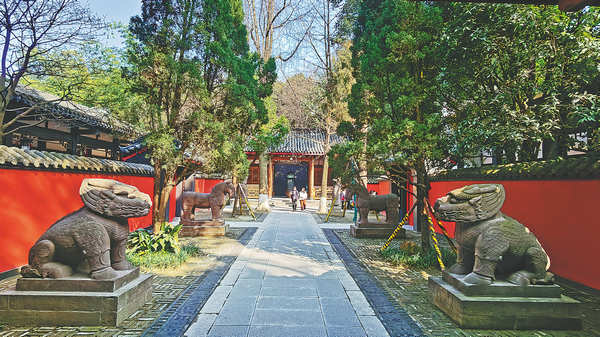 Despite fewer visitors to Chengdu during the pandemic, its centuries-old Temple of Marquis Wu remains a draw for Sichuan residents, Huang Zhiling and Xie Jiaqian report.
Cabbies in Chengdu, Sichuan province, complain about sluggish business in the aftermath of COVID-19.As a tourist city, Chengdu has much fewer visitors from outside Sichuan than before, they tend to say.
But residents of the province visiting the centuries-old Temple of Marquis Wu, also known as Chengdu Wouhou Shrine, find themselves amid bustling crowds.
Visitors to the temple can see cultural relics pertaining to the Three Kingdoms (220-280) and the War of Resistance Against Japanese Aggression (1931-45). They also appreciate red plum blossoms and orchids and eat snacks.
The temple, covering 140,000 square meters, is China's only shrine where a subordinate is enshrined with his emperor. It consists of a cultural relics area, a park and a bazaar in the ancient construction style of west Sichuan, says Tan Lina, a senior guide.
Marquis Wu, or Zhuge Liang (181-234), was a legendary premier and strategist of the Shu Kingdom (221-263) during the Three Kingdoms period, but the temple is not exclusive to Zhuge. As China's largest museum for the history of the Three Kingdoms period, it also houses the tombs of Liu Bei (161-223), first emperor of the Shu Kingdom, and Liu Xiang (1888-1938), a patriotic general who led the Sichuan army out of the province to fight against the invading Japanese army during the War of Resistance Against Japanese Aggression.
Wandering through the temple, visitors feel the spirit of loyalty, bravery and wisdom.
In Zhuge's youth, the royalty of the Eastern Han Dynasty (25-220) was weak and warlords were entangled in fighting which led to the division of the country into three kingdoms, Wei, Shu and Wu.
Resolved to help restore the dynasty's power, Zhuge, now China's personification of wisdom and loyalty, lived on a remote mountain, analyzing the situation and waiting for the opportunity to give play to his talents.
Liu Bei, a distant but ambitious relative of the royal family, was defeated repeatedly by other warlords and his spouses were held captive many times due to the lack of a capable strategic adviser, Tan says.
Admiring Zhuge's abilities, Liu paid him three visits in 208, asking for strategies to unify the country and inviting him to be his top adviser.
In an exhibition about the duo in the museum, visitors can see a replica of Zhuge's cottage which Liu visited on those three occasions. Likenesses of Liu and Zhuge are displayed in the cottage.