Poetic imagery
Share - WeChat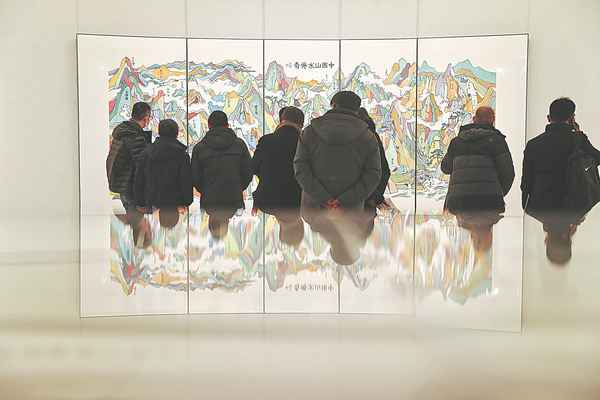 Exhibited works of Fang Jun display his devoted research on classical Chinese painting, Lin Qi reports.
Atmospheric poetry of the Song Dynasty (960-1271), considered a peak of Chinese literature, nurtured Fang Jun, the late ink artist and a former professor at Nanjing University of the Arts.
Fang, who specialized in classical Chinese landscape painting, created an output visualizing the feelings expressed in Song poetry, which is marked by elegance, splendor and a vivid imagery.
Jiangnan, or the lower reaches of the Yangtze River, where Fang grew up, lived and worked throughout his life, was another subject of creativity for him. The region, known for its scenery and prosperity, was where Song poetry and ink art thrived.
Fang followed in the footsteps of historic painters, consistently hailing the ever-changing beauty of Jiangnan in his work. Like the artists of ancient China, he accentuated a poetic sense to present varying views of nature, partially idealized, which still comforts viewers.
Most Popular