US, other nations sending defensive missiles to Ukraine
Share - WeChat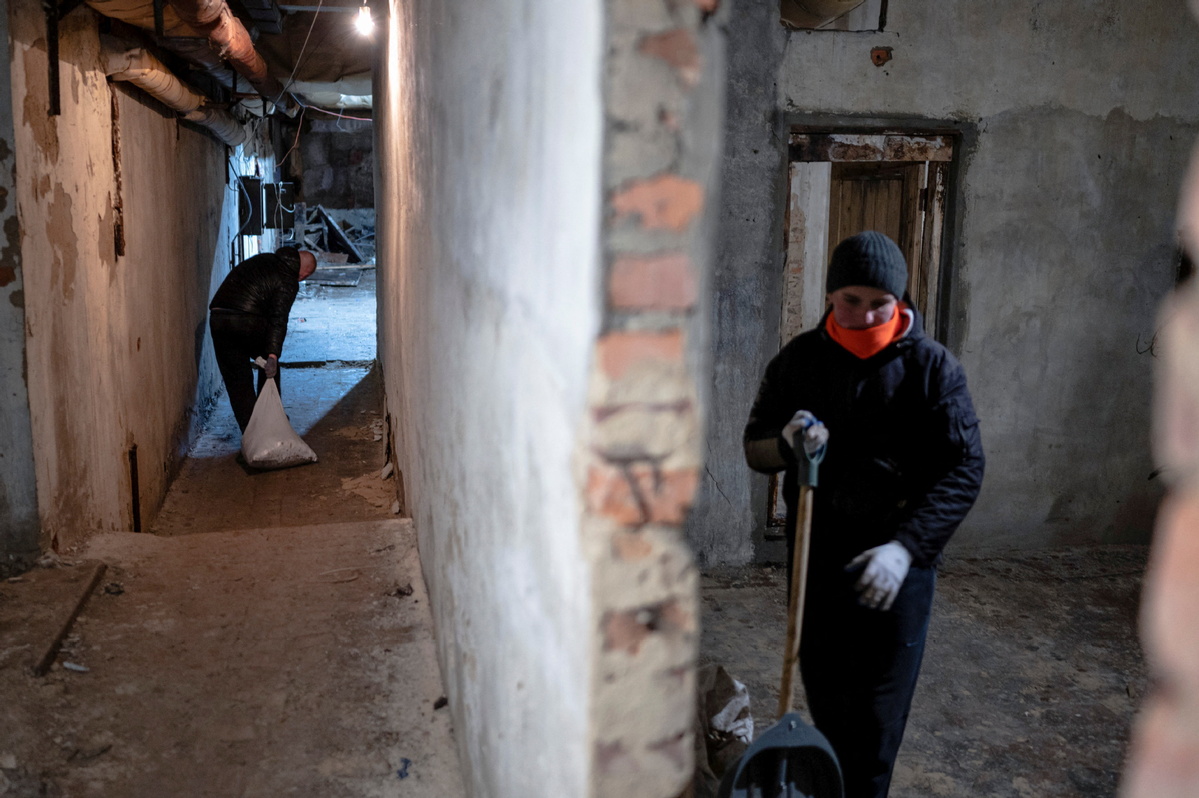 The United States and other Western nations are pouring in advanced weapons to Ukraine amid its conflict with Russia.
A direct delivery of Stinger missiles to Ukraine was approved by the White House on Friday. The timing of the delivery is not known, but officials say the US is working on the logistics. The officials agreed to discuss the development only if not quoted by name, The Associated Press reported.
The decision followed Germany's announcement that it will send 500 Stinger missiles and other weapons to Ukraine.
The Stingers are highly accurate and are used to shoot down helicopters and other aircraft. Ukrainian officials have been asking for more of them.
The Stingers are made by Tucson, Arizona-based Raytheon Missiles & Defense, a subsidiary of Raytheon Technologies Corp, based in Massachusetts. Each missile has an estimated cost of about $117,000.
"The Stinger-Reprogrammable Microprocessor, or RMP, missile has … supersonic speed, agility and a highly accurate guidance and control system (that) give the weapon an operational edge against cruise missiles and all classes of aircraft. The system is also used on Apache helicopters for air-to-air engagements," the Raytheon website says.
US President Joe Biden on Saturday also authorized the State Department to send another $350 million in weapons, including Javelin anti-tank weapons.
"Javelin is probably quite effective against most Russian armored vehicles, and it is probably more capable against heavy armor (like tanks) than any other missile system available to Ukraine that can be carried by an individual soldier," Scott Boston, a senior defense analyst at RAND Corp, told Euronews Next.
The Javelin is produced jointly by Raytheon and Lockheed Martin, based in Bethesda, Maryland. Each Javelin missile costs about $175,000, according to the Pentagon's 2021 fiscal year budget.
"These weapons will be extremely useful even if Russian forces are able to seize cities like Kyiv, and Ukrainian forces shift to insurgent operations," Seth Jones, senior vice-president and director of the international security program at the Center for Strategic and International Studies, told USA Today.
Jones said there is some risk that using US and other Western arms against Russian soldiers could escalate the war. He noted that the US provided weapons to insurgents in Afghanistan, who used them against Soviet troops after they invaded in 1979.
Dmitry Medvedev, the deputy head of Russia's Security Council, said Saturday that Moscow may respond to Western sanctions by opting out of the last nuclear arms deal with the US, cutting diplomatic ties with Western nations and freezing their assets, RT reported.
US Secretary of State Antony Blinken said in a statement Saturday that providing the materiel support for Ukraine "is another clear signal that the United States stands with the people of Ukraine as they defend their sovereign, courageous, and proud nation".
On Friday, Pentagon spokesman John Kirby said, "we're very actively engaged in those efforts to help them better defend themselves through both lethal and non-lethal assistance".
"The airspace over Ukraine is contested; the Russians don't have superiority of it," Kirby said.
US Secretary of Defense Lloyd Austin told House lawmakers that the US is considering ways to train Ukrainian soldiers remotely if Russia seizes Ukraine, Axios reported.
The European Union also will fund weapons for Ukraine, top EU officials said on Sunday.
"For the first time ever, the European Union will finance the purchase and delivery of weapons and other equipment to a country that is under attack," European Commission President Ursula von der Leyen said Sunday.
"Another taboo has fallen. The taboo that the European Union was not providing arms in a war," EU foreign policy chief Josep Borrell said in a statement before a meeting of EU foreign ministers.
In a major shift from Germany's longstanding policy of banning weapons exports to conflict zones, Berlin announced it will supply Ukraine with 1,000 anti-tank weapons and 500 Stinger missiles.
"The Russian invasion of Ukraine marks a turning point. It is our duty to do our best to support Ukraine in defending itself against Putin's invading army," German Chancellor Olaf Scholz said on Saturday.
"Germany has just announced the provision of anti-tank grenade launchers and Stinger missiles to Ukraine. Keep it up, Chancellor Olaf Scholz!" Ukrainian President Volodymyr Zelensky tweeted.
Estonia has been providing Ukraine with Stingers since January, for which it received US permission.
The Netherlands announced it will send anti-tank weapons to Ukraine, its defense ministry said. The Dutch government will provide 50 Panzerfaust-3 anti-tank weapons and 400 rockets, the ministry said in a letter to parliament.
The Netherlands is also jointly considering with Germany sending a Patriot air defense system to a NATO battle group in Slovakia, it said.
Kyiv had pleaded with Germany to send weapons.
"Damn it, it's finally time to help us," Ukraine's Ambassador to Germany Andriy Melnyk told Reuters in an interview at the Ukrainian embassy. "We need air defense, and we need a no-fly zone."
Berlin's refusal to approve arms deliveries and a previous decision to send just 5,000 helmets sparked derision, with Kyiv Mayor Vitali Klitschko calling it "a joke", Al Jazeera reported.
On Saturday, Berlin also changed its position about imposing restrictions on Russia's access to the SWIFT international payment systems, joining other Western nations in support of tougher sanctions.
"Now there is a lot of talk against the banking sector," Belarus President Alexander Lukashenko said on Sunday. "Gas, oil, SWIFT. It's worse than war. This is pushing Russia into a third world war," he said, adding that a nuclear conflict could be the final outcome.
On Tuesday, Germany halted the Nord Stream 2 gas pipeline, which was designed to transport Russian natural gas to Germany.
The Associated Press and Reuters contributed to this story.