Industry in hot pursuit of cold weather profits
Share - WeChat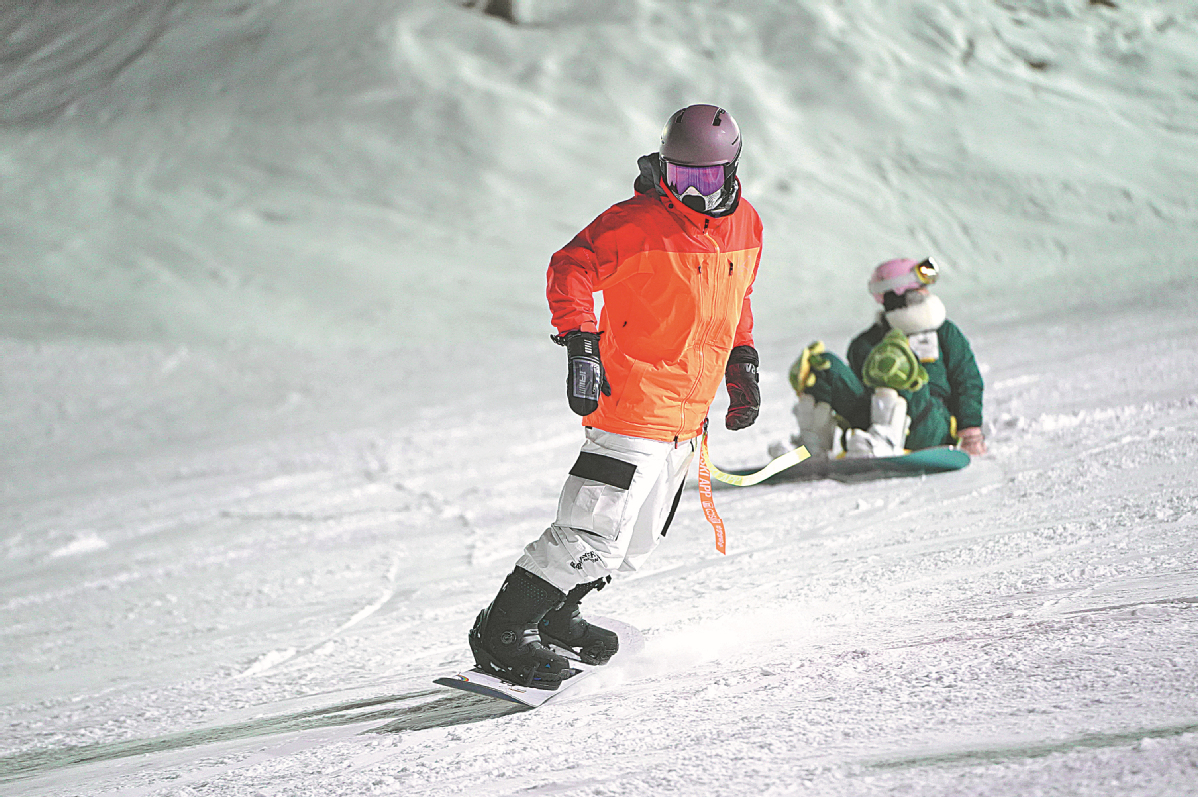 Nationwide enthusiasm fires up sector's radiant prospects
Li Song, a marketing executive in Beijing, started to learn snowboarding late last year. He shows his enthusiasm for the hobby the moment he steps on a board.
"A few trips down the slopes exhilarate me. I enjoy the speed and the wind on the mountain," Li said. "Snowboarding is a very awe-inspiring sport. It is about concentrating, taking a risk and facing fear."
Soon, instead of relying on rentals, he bought his own jacket, goggles, bindings, boots and a snowboard from Burton, a leading snowboard brand from the United States, for about 20,000 yuan ($3,162).
With more people joining in snow sports, leading ski and snowboarding brands are in hot pursuit of the market.
"It was crazy at the store," said Li, in his 30s, describing the difficulty he experienced in locating the gear he wanted. "Popular bindings are quickly sold out. Sometimes it takes a month of waiting to obtain a lot of the snowboarding equipment."
Li has made 15 visits to Nanshan Ski Resort, one of the largest ski destinations in Beijing, which is about 90-minute drive for him.
He also uses Goski, a leading ski application and an online community used by about 1.5 million skiers and snowboarders, where they can log their activity. Li has accumulated a total distance of 60 kilometers of snowboarding and is able to handle intermediate-level trails and slopes.
Wei Lixin, a snowboarding coach in Songhuahu, a renowned ski resort in Jilin province, said the success of gold medalists Su Yiming and Gu Ailing in the Beijing 2022 Winter Olympics has also pushed enthusiasm for winter sports to a new level. Also, the scale of public participation has boosted coaching and tourism businesses at ski resorts nationwide.
"This winter season, I've seen an unprecedented number of visitors, four or five times at least the number of visitors to the resort last year," said Wei, 37, who is known as Black Heart K on social media. His account has nearly 1 million followers. The veteran coach makes 1,000 yuan an hour and works four hours a day, offering snowboarding lessons to groups and individuals. Skiers have to book Wei's lessons a month in advance.
Wei said many young enthusiasts prefer to buy their own apparel and equipment, costing between 20,000 yuan and 30,000 yuan, even before they step out onto the snow.
Gear sales of the 2021-22 winter season until end-January had grown 51.9 percent year-on-year. Tickets to ski resorts had grown 131.5 percent and to ski tourism sites 95.2 percent, according to information from the Ministry of Commerce, gathered from key e-commerce platforms in China.