Beijing's green Olympics had corporate press seeing red
Share - WeChat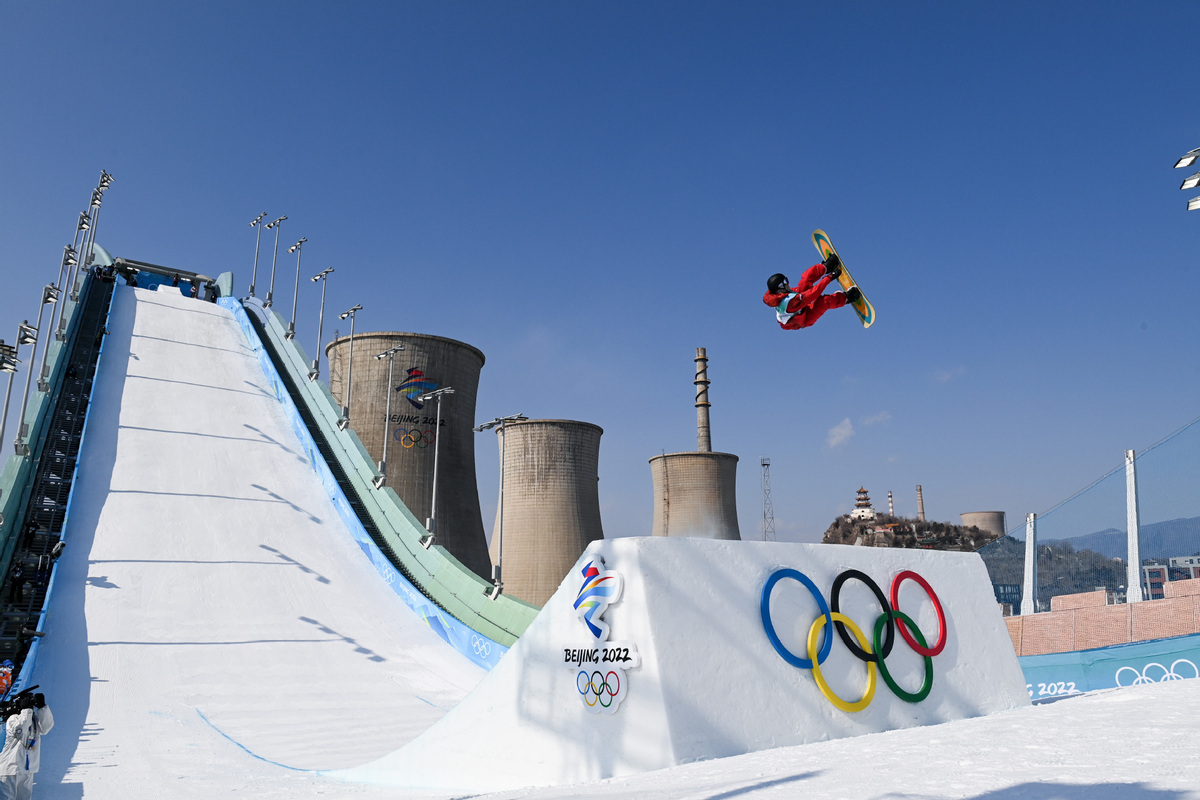 The most important story from the recently concluded Beijing Winter Olympics didn't take place during any sporting event. It wasn't one of the many moments of brilliance we witnessed over the last month, as athletes performed at their peak to make their countries proud.
No, the biggest story was one media in the US and elsewhere pretended didn't exist, and the one with the biggest implications for the future of our planet — these Olympics were the very first to be completely carbon-neutral.
Vehicles transporting personnel between cordoned-off areas of the Olympic "bubble" ran on clean fuels, with a majority powered by hydrogen fuel cells. Key buildings from the 2008 Summer Olympics, thanks to continued upkeep and regular use, were brought up to green spec and reworked for this year's events. New construction, of which there was comparatively little, met the highest environmental standards.
These Games pioneered CO2 as a natural alternative to refrigerants with hydrofluorocarbons, a practice which on its own mitigates 26,000 tons of carbon emissions. A new grid operating entirely on wind and solar power was also built for all 25 sporting venues.
Did any of that matter to the naysayers in the corporate press? Absolutely not. If the Games' commitment to the environment was brought up without the US media's typical disdain and condescension — a miracle unto itself — it was little more than a footnote.
Conversely, the moaning started right away. Straight out the gate, they ignored all the city's achievements to tar and feather one of the new sites, the Big Air Shougang ramp for aerial stunts. Some thought it was a nuclear plant (it wasn't — more on that later). Others dismissed the scene as a post-apocalyptic eyesore, using desaturated photos to make the area look like something out of Cormac McCarthy.
What got lost in all the recriminations over the "dystopian" scenery was what the venue really represented. Big Air Shougang was built on a former industrial zone, a Shougang Group steel mill which had its facilities moved out of Beijing's Shijingshan district to cut down on pollution before the 2008 Summer Olympics. The abandoned site was repurposed into a public park and scenic area, with the cooling towers of the mill as its most prominent features.
The view those narrow-minded prigs decried as a hellscape is actually a prime example of urban renewal, a former black spot of industrial pollution transformed into recreational facilities for all and a museum commemorating the site's history. Many of the mill's former workers found new employment at the reclaimed zone, which also incorporated the headquarters for this year's Games.
I myself visited last October when interviewing short track speed skating champion and Beijing 2022 organizer Yang Yang, and was struck by the bold juxtaposition of disused industrial relics with clean green spaces suitable for walking, running or cycling. Since I'd actually been there and seen how impressive it was, the level of vitriol aimed at what would in any other country be deemed an audacious, unique experiment stuck in my craw.
To be fair, some reporting took this into account. But the articles in question made sure to front-load the complaints, using potshots from random miscreants on social media as their source — or more prominent figures piggybacking on the moment to shore up their anti-China bona fides. If there was any explanation of the broader significance of Shougang Big Air, it was saved for the middle or end of the story. Considering how few people read past the first couple of paragraphs of any given article — if they even get past the headline — all most readers would see is unbridled negativity.
On other environmental issues, the media was far less circumspect. Outlets seized on the presence of artificial snow at this year's Winter Olympics, decrying it as dangerous to athlete safety and a pox on the environment. But the 2018 Games in Pyeongchang used an estimated 98 percent artificial snow, and the 2014 Sochi Olympics about 80. There's no percentage for the 2010 Games in Vancouver, but stories at the time indicated it was high. These inconvenient facts were brought up deep in the bodies of the stories about Beijing's snow, if reporters saw fit to mention them at all.
Why? Because that context would diminish the media's scare tactics.
Previous reporting on artificial snow in Pyeongchang — a city, coincidentally, in a country that is a US ally — downplayed environmental concerns and acknowledged many athletes prefer artificial snow surfaces because they are more consistent than natural powder. They had no problem admitting this before, yet you'd be hard-pressed to find this brought up in any of the reporting on Beijing.
As for the sustainability complaints, these were also addressed — though you'd have to search hard to someone brave enough to do it. The snow machines for Beijing's Games ran on renewable energy, and the water they used came primarily from rainfall and surface runoff. Once the Olympics and Paralympics are over, the snowmelt will be kept in reservoir for agriculture and tourism. Rather than being a tremendous resource suck, as was screamed from every headline in the run-up to the Games, the snowmaking process was one big recycling loop that ensured waste was kept to a minimum.
The number of Olympic venues that can rely on a steady flow of natural snow is getting vanishingly small thanks to climate change. It is not a Beijing Winter Olympics problem, or a China problem, it is a global problem — one much of the world is dragging its feet on. That's a real story, one which would use a current event to explore a slow-moving crisis that is already affecting us all. But providing a broader perspective would have required those same disingenuous writers to recognize this year's Games as a historic moment for green sporting events. That simply would not do.
Instead of accepting reality and sharing how Beijing managed to pull off a net-zero Olympics in the middle of a pandemic, the press chose to put an electron microscope over whatever minute issues it could scrounge up — if it wasn't inventing them out of whole cloth.
But this isn't anything new. At this point it's practically paint-by-number. All China can do is continue on its way to a zero-emissions future, and this Olympics was a model for how large-scale events can be hosted with the environment kept firmly in mind.
If commentators want to continue tossing around irate smears, they're welcome to do so. Maybe they can figure out a way to turn all that hot air into clean energy — at least then they'd be serving a useful purpose.

The author is a US writer with China Daily. The opinions expressed here are those of the writer and do not represent the views of China Daily and China Daily website.
If you have a specific expertise and would like to contribute to China Daily, please contact us at opinion@chinadaily.com.cn , and comment@chinadaily.com.cn
Most Viewed in 24 Hours
China Views