Girl power: China's women grab limelight
Share - WeChat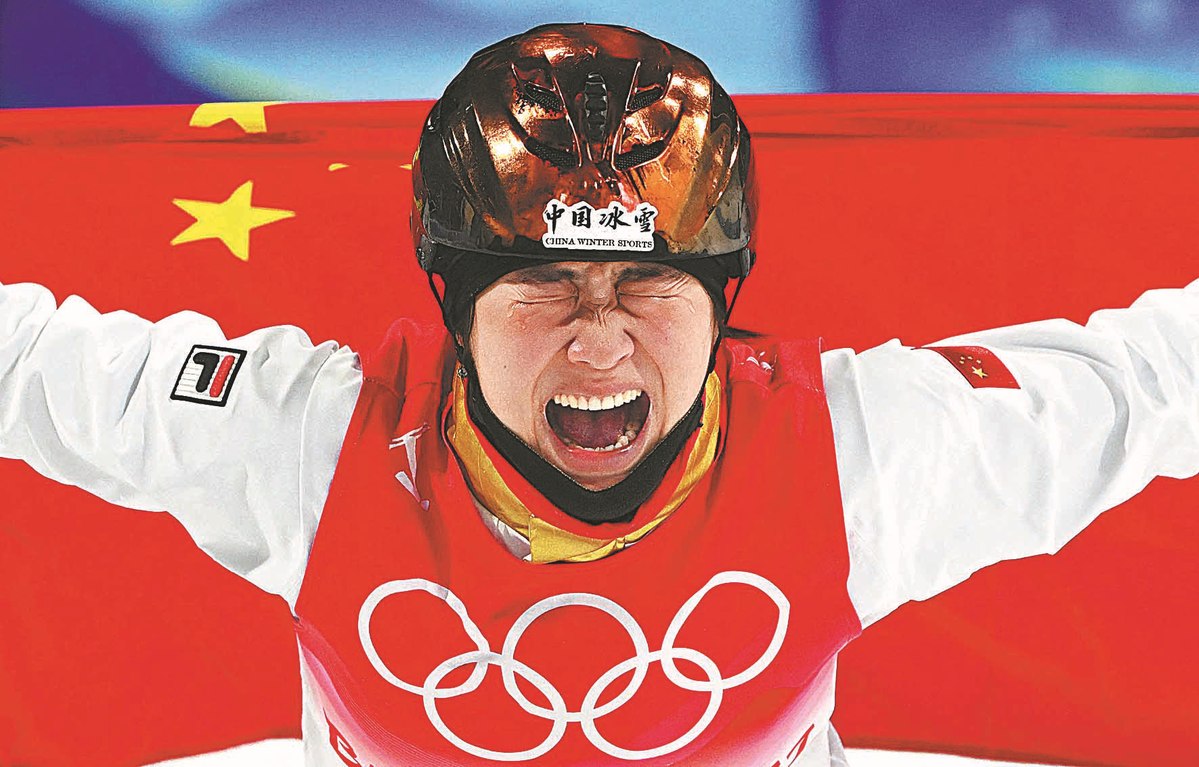 Host's female athletes shine with medals and breakthroughs
Late Chairman Mao Zedong famously once said that "women hold up half the sky", and that certainly could be said of China's female athletes at Beijing 2022.
Xu Mengtao, one of Team China's flagbearers at Sunday's closing ceremony, exemplified the Chinese women's fighting spirit.
With a near-flawless jump, freestyle skier Xu finally got her hands on individual Olympic gold by claiming the aerials title on Feb 14.
China has long been a medal contender in women's aerials, however, the team has been waiting for a gold for 24 years since Xu Nannan won silver at the 1998 Games in Nagano, Japan.
"I made it to the top of the podium thanks to my love for aerials, my belief in becoming an Olympic champion and the support from my country," Xu said.
She also won silver with teammates Qi Guangpu and Jia Zongyang in the mixed event on Feb 10.
It was Xu's first time to be a flagbearer-a duty she shared with men's 500m speed skating champion Gao Tingyu.
The closing ceremony honor was also recognition for all Team China's female athletes.
Among the host's 15 medals, four were contributed by female athletes on the snow.
In traditional Chinese culture, powerful women are often represented as phoenixes, while men are dragons.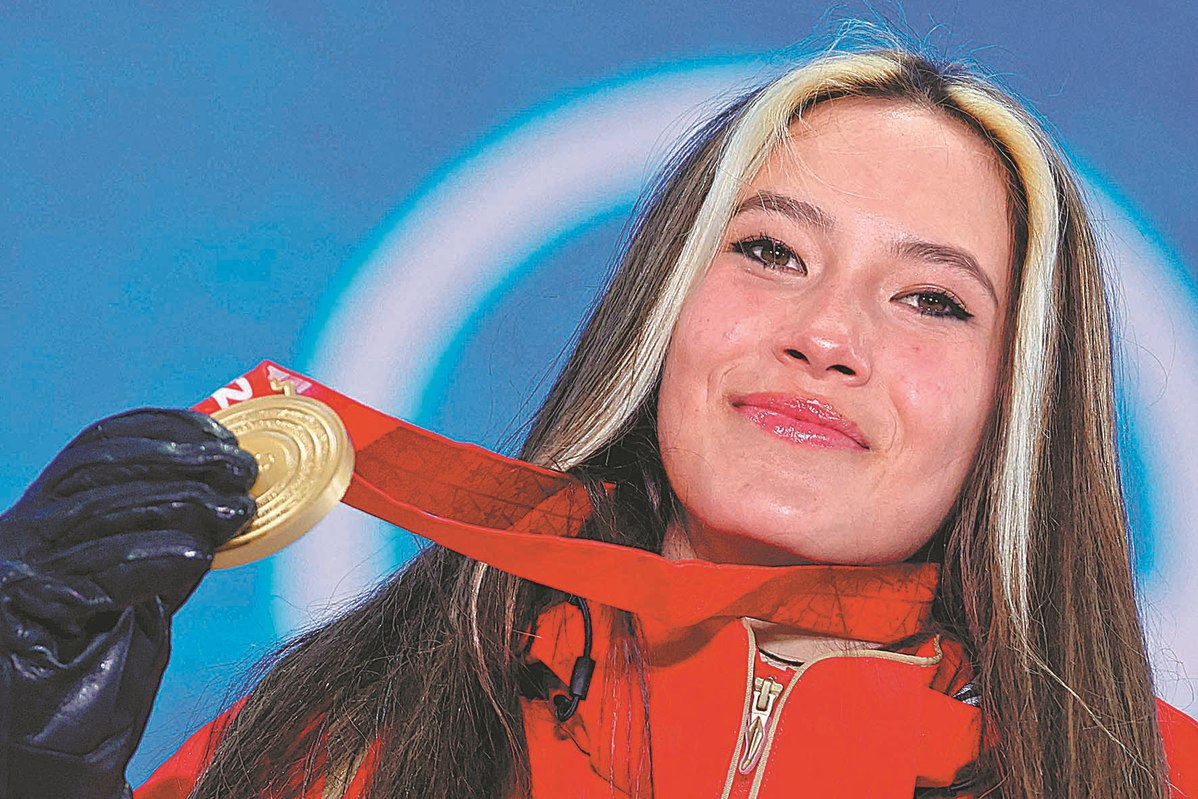 But China's freeski sensation Gu Ailing, who won gold medals in Big Air and halfpipe and silver in slopestyle, chose the latter for a message-"Dragon amongst people"-that adorned her skis at the Games.
"Girls can be dragons too," the 18-year-old said. "I want to show young women that they can also break the mold and pursue whatever dreams they want."
In all, nine Chinese women freestyle skiers and snowboarders advanced to the finals of their respective disciplines, almost double the number from the Pyeongchang Olympics four years ago. At the snowboarding and freeski halfpipe events, six Chinese women advanced to the final stage, compared to three at the previous Games.
Chinese women also made plenty of breakthroughs at the Games.
When Zhang Kexin picked herself up after a bad fall during the women's freestyle skiing halfpipe finals on Friday, she received the same prolonged applause from the spectators and fellow competitors as her teammate Gu did after her almost-perfect run. The 19-year-old landed back-first at the bottom of the pipe after attempting a 1080(triple rotation) at Genting Snow Park in Zhangijakou.
For a few minutes, she didn't move at all and the whole stadium went silent. After being treated by medical staff, she stood up and skied down to complete the run while the crowd cheered and applauded her.
Her bravery and determination became a trending topic on Chinese social media.
"I actually surpassed my own expectations at Beijing 2022. I produced my best performance. More importantly, I love freestyle skiing and halfpipe. I will always try my best," Zhang said afterward.
First-time Olympian Feng He raced in the women's snowboard cross on Feb 9, making her the first Chinese woman to ever compete in the event at the Olympics.
"I feel so excited to be here. I have learned a lot by training and competing with these elite athletes from around the world. I will keep training harder and harder in the future," said the 17-year-old, who was the youngest of all the participants in the event.
Nine Chinese women participated in the biathlon and cross-country skiing events.
Chi Chunxue achieved significant overall progress in all five of her cross-country events compared to her results at the 2018 Pyeongchang Games.
Chi and her teammates Li Xin, Bayani Jialin and Ma Qinghua also helped China to a best-ever finish of 10th in the women's 4 x 5km relay.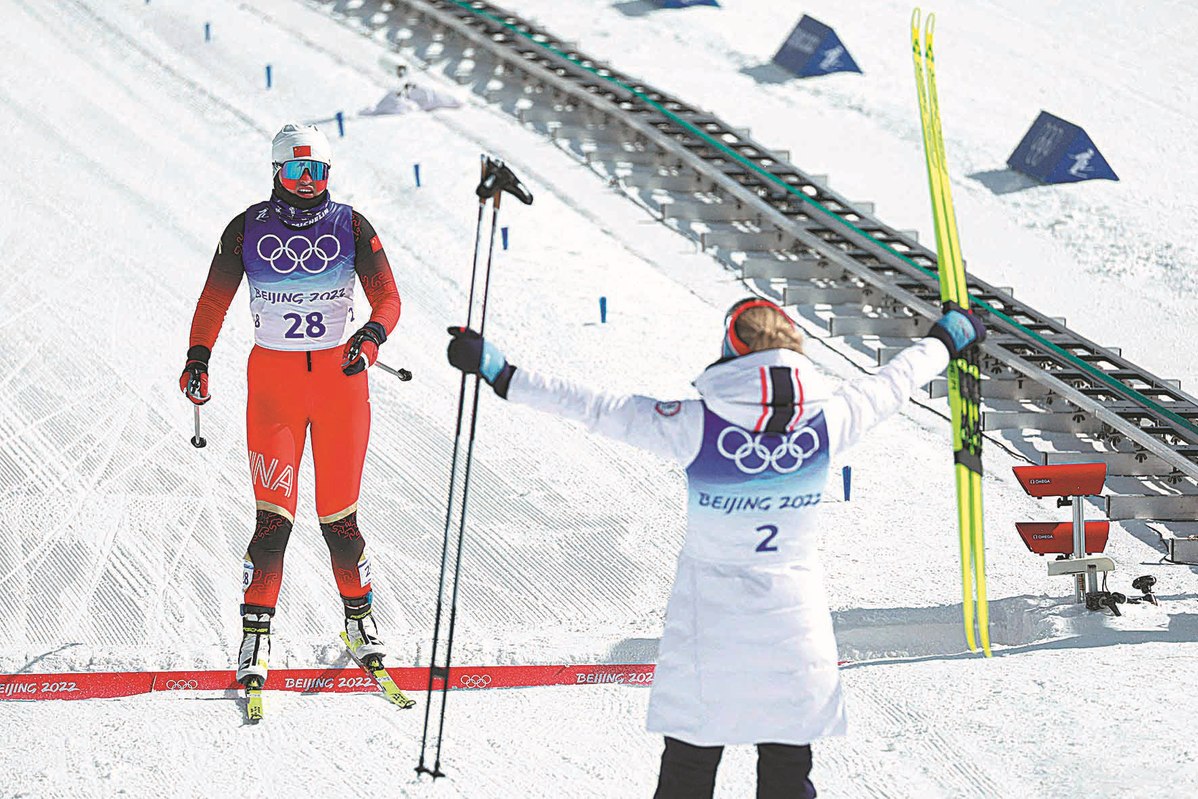 On Sunday, Dinigeer Yilamujiang of China finished last in the cross-country women's 30km mass start free race at Zhangjiakou. Therese Johaug of Norway, who finished 25 minutes ahead in first place, gave Dinigeer a hug as she crossed the finish line, and said: "You've made it!"
Speaking about her encouragement for Dinigeer, Johaug said: "I was so proud of the Chinese girls. They were training and working so hard for these Olympic Games. They have been in Norway a lot, training there, and they have been away from their families for many years.
"I'm so proud that they are here today and that she finished the race."
The 20-year-old Dinigeer also earned acclaim on social media for managing to complete such a tough race in extremely harsh weather conditions.