It's snow time on Guizhou's slopes
Share - WeChat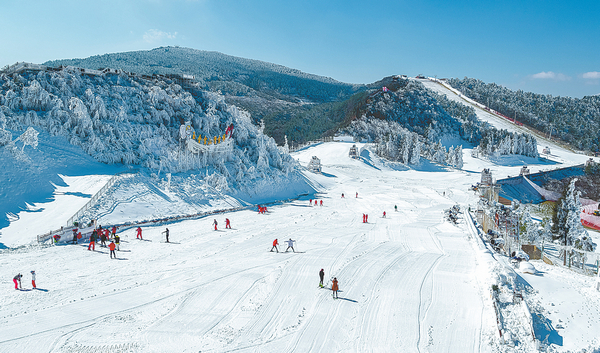 The province is warming up to winter tourism, report Yang Feiyue in Beijing and Yang Jun in Guiyang.
A southwestern city in China has been dishing up diverse experiences to satisfy a growing public enthusiasm for winter activities.
Major ski resorts in Liupanshui in Guizhou province saw full capacity during this year's Spring Festival holiday. Resorts in the city received more than 46,000 visits between Jan 31 and Feb 6, according to local authorities.
Old-time skiers were pulling stunts on intimidating tracks at Meihuashan ski resort while beginners were fumbling their way through the flattened snowfield. Cheers and screams came about at short intervals.
"People are not satisfied just sightseeing on ice and snow but are leaning toward winter sports," says Zhang Jianping, general manager of Meihuashan.
The ski resort is one of the biggest of its kind in the region and covers an area of 1.09 million square meters, including 91,700 square meters of snow tracks. It can host up to 5,000 guests at one time. The resort has rolled out Olympic-themed activities to spice up winter tourism experiences for visitors.
"Many people are coming to ski, despite the impact of the pandemic," Zhang says.