Honor's rise heats up smartphone market
Share - WeChat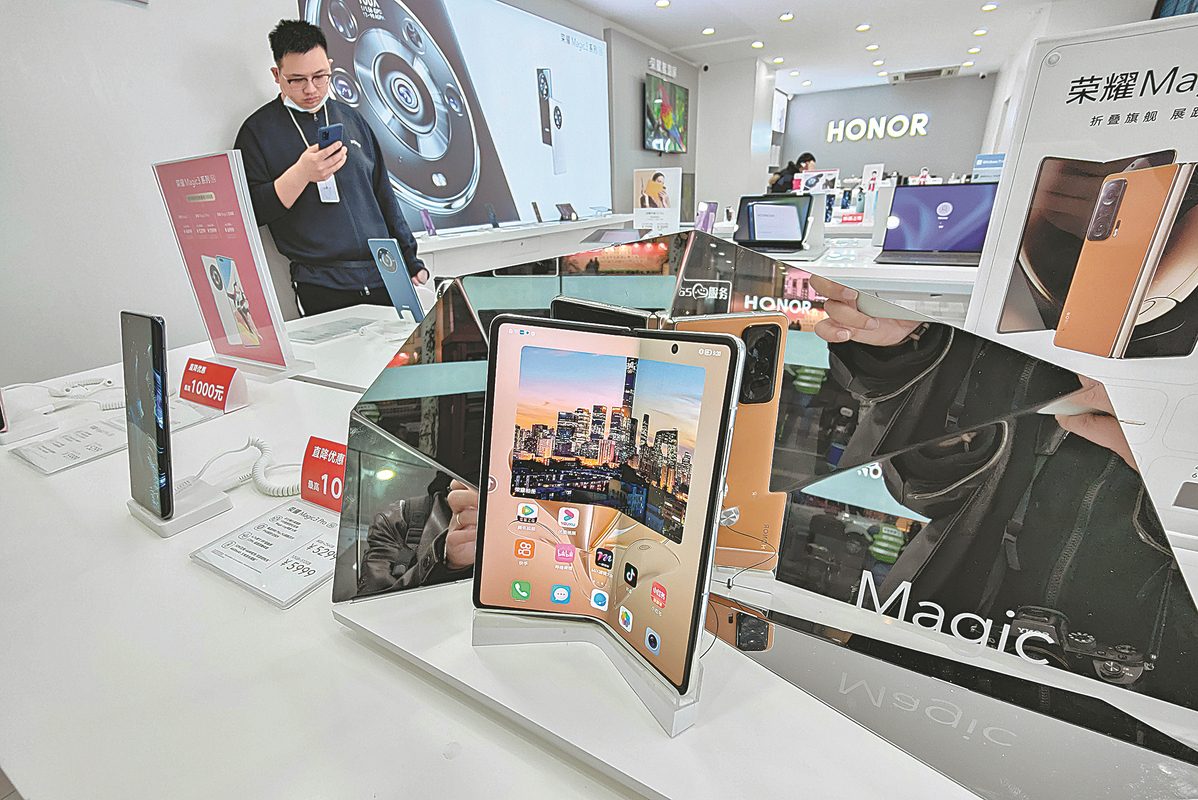 Ex-Huawei brand, now independent, emerges with second-largest share
Honor Device Co Ltd's shipments have surged to make the company China's second-largest smartphone maker with a 16.7 percent share of the market, a new industry report from Counterpoint, a market research provider, showed.
Honor won the second spot for the first time after it was spun off from Huawei Technologies Co in 2020.
Its rise in the smartphone sector shows the battle for market supremacy is heating up, device industry experts said.
Counterpoint data showed Honor increased its market share by more than two times from a year earlier in the fourth quarter of last year.
Archie Zhang, an analyst at Counterpoint, said Honor's mid-range to high-end products helped drive the brand's sales, with its model Honor 50 retaining the top spot in the $200-$599 price band for five months after its launch in June.
In comparison, Apple was the largest smartphone vendor in China with a market share of 21.7 percent, as the iPhone 13 dominated the premium segment, thanks to its comparatively lower launch price. Oppo came in a close third with a market share of 16.6 percent.
"Coming into 2022, we expect Honor to maintain its growth momentum with the help of the newly launched products such as the Honor 60 and its foldable smartphone, the Magic V," Zhang said.
According to Counterpoint's weekly China sales data, Honor enjoyed strong momentum, with its sales in the last two weeks of January increasing 32 percent over the first two weeks. Its market share reached a record 17 percent in the week to Jan 30.
Even though China's smartphone shipments dropped 11 percent year-on-year in the last quarter of last year, major players kept expanding their premium product portfolios. Such devices include Vivo's X70 Pro, Xiaomi's Mix 4 and Honor's Magic 3 and the Magic V, Counterpoint said.
Foldable smartphones are another hot option for smartphone makers that seek to target the premium segment with differentiated products. In December, Huawei, Honor and Oppo all unveiled their flagship foldable smartphones.
Canalys, a market research provider, forecast that foldable smartphone shipments will likely increase by a compound annual growth rate of 53 percent between 2021 and 2024, to exceed 30 million units in 2024.
Runar Bjorhovde, a research analyst at Canalys, said: "The key catalyst for foldable smartphones has been the booming use of large-screen devices during the COVID-19 pandemic. As consumers are constantly looking for a better experience on their day-to-day mobile devices, the bar has now been set even higher by the productivity and entertainment experience on large screens."
Other sector experts said Apple is yet to enter the foldable smartphone segment, which could present an opportunity to other players to get a head start.
This year, Chinese smartphone companies such as Honor, Vivo and Oppo will likely seek to expand in the premium segment, in order to reclaim some of the market share gained by Apple in 2021, experts said.
The companies are expected to introduce more premium products in Western Europe, a region that already has a relatively large premium smartphone user base and can help Chinese companies boost their brand image in more overseas markets, said Zhang from Counterpoint.