New cases on the slide worldwide
Share - WeChat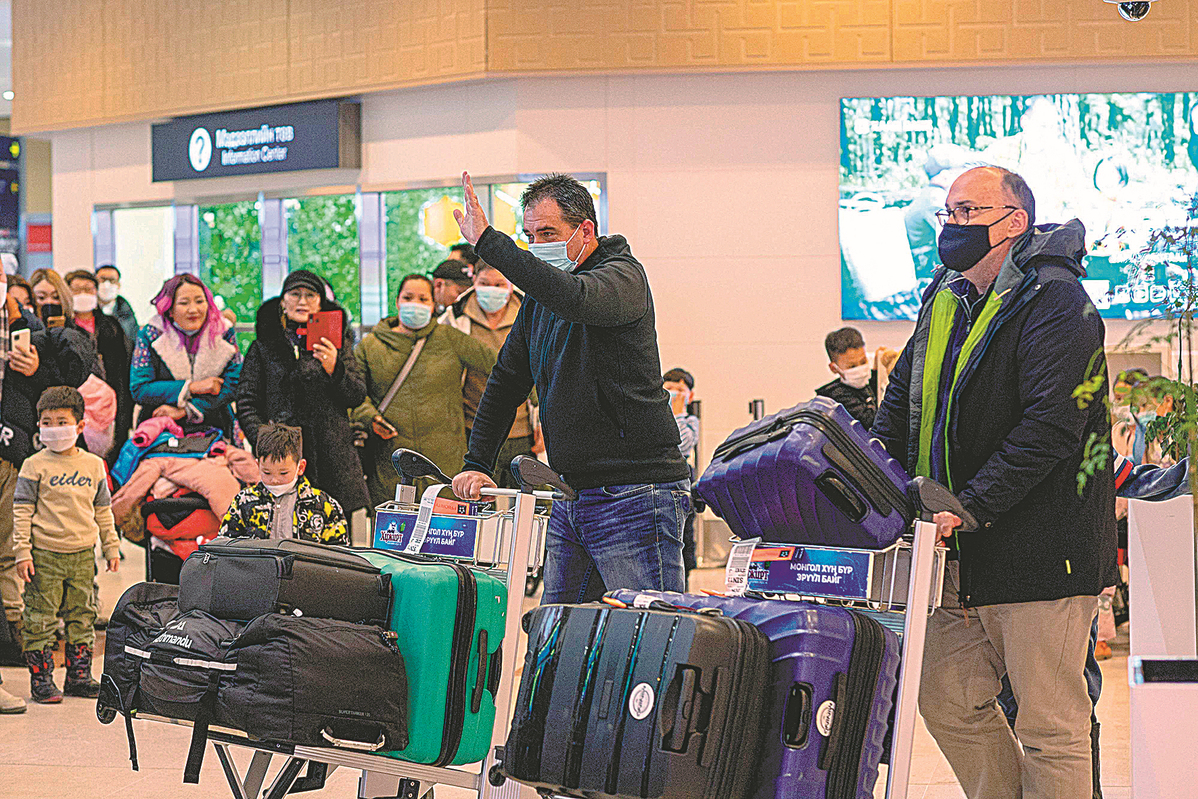 While infections slump 19% for week, Omicron still gains ground, WHO says
GENEVA-The number of new coronavirus cases globally fell 19 percent last week while the number of deaths remained stable, according to the World Health Organization.
The UN health agency has said in its weekly report on the pandemic that just over 16 million new COVID-19 infections and about 75,000 deaths were reported worldwide last week.
The Western Pacific was the only region to report a rise in new weekly cases, an increase of about 19 percent, Southeast Asia reported a decrease of about 37 percent, the biggest drop globally. The number of deaths rose by 38 percent in the Middle East and by about a third in the Western Pacific.
The WHO said that all other coronavirus variants continue to decline globally as Omicron crowds them out. Among the more than 400,000 COVID-19 virus sequences uploaded to the world's biggest virus database the last week, more than 98 percent were Omicron.
The WHO said the BA.2 version of Omicron appears to be "steadily increasing" and its prevalence has risen in South Africa, Denmark, Britain and other countries.
Health officials have noted, however, that Omicron causes milder disease than previous variants and in countries with high vaccination rates, hospitalization and death rates have not increased substantially, even with the variant's spread.
The WHO's Africa director, Matshidiso Moeti, said last week there was "light at the end of the tunnel "for the continent and that despite low vaccination rates, Africa was transitioning from the acute pandemic phase of COVID-19.
That optimism contrasts sharply with warnings from WHO Director-General Tedros Adhanom Ghebreyesus, who has said repeatedly the pandemic is not over and that it is premature for countries to think that the end might be imminent.
The US Centers for Disease Control and Prevention is reviewing its mask guidance, shifting its focus to COVID-19 hospitalizations as a key measure of the severity of the outbreak and a future guide for determining whether health safety protocols need to be tightened, according to CDC Director Rochelle Walensky.
"We must consider hospital capacity as an additional important barometer," Walensky said in a White House COVID-19 update on Wednesday.
The CDC currently recommends that people wear masks in indoor public places regardless of their vaccination status if they live in an area with high viral transmission. Nearly every US county has high transmission. People are required by federal law to wear masks on planes, buses, trains and other forms of public transportation.
Curbs easing
As new infections from the Omicron variant rapidly decline from their peak levels in January, the authorities, including in California, Connecticut and Illinois, have announced that they are loosening indoor mask requirements.
Similarly in Asia, Japan announced on Thursday it will ease its tough COVID-19 border controls by increasing the number of people allowed to enter each day and reducing quarantine requirements following criticism that its current policy is unscientific and xenophobic.
Prime Minister Fumio Kishida said the daily entry cap will be raised to 5,000, including Japanese citizens and foreign residents, from the current 3,500 beginning March 1. The decision is good news for foreign scholars, exchange students, business travelers and technical internship workers who have been unable to enter, but does not cover tourists.
Mongolia has reopened its borders to fully vaccinated international travelers, media reported.
Mongolia's cabinet approved a resolution downgrading the pandemic "state of readiness" from orange to yellow, effectively lifting all restrictions on business operations, state news agency Montsame reported on Monday.
Agencies via Xinhua