Deep Sea No 1 gas field reaches 1 bcm milestone
Share - WeChat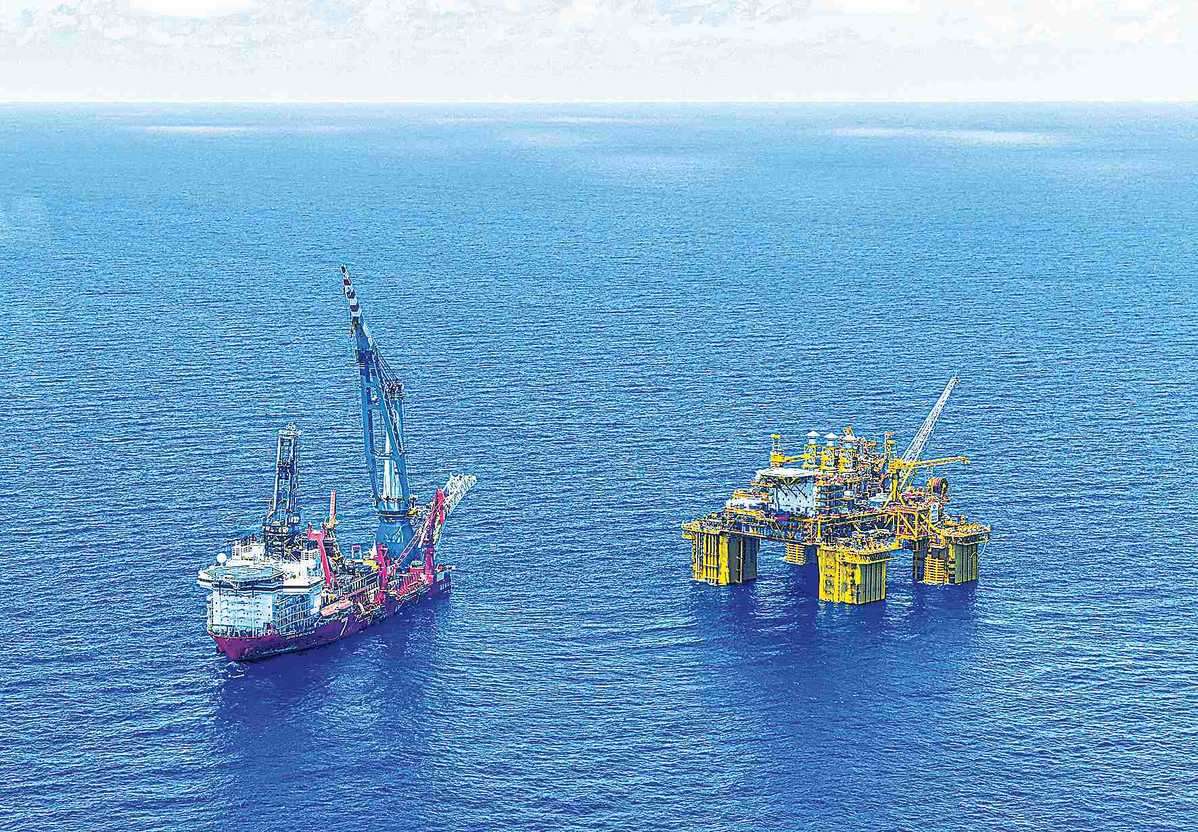 Deep Sea No 1, the first large-scale, ultra-deepwater gas field independently explored and developed by China, has produced over 1 billion cubic meters of natural gas as of Sunday since it was put into operation on June 25, its operator China National Offshore Oil Corporation said on Monday.
The gas field, whose maximum operational water depth exceeds 1,500 meters, will provide more than 3 bcm of natural gas annually to regions including South China's Guangdong and Hainan provinces and the Hong Kong Special Administrative Region, CNOOC said.
The gas field, with proven geological reserves of natural gas exceeding hundreds of bcm, will play an integral part in the nation's efforts to achieve carbon neutrality by 2060, it said.
While the gas field, which is located 150 kilometers from South China's Hainan island, is an important source of clean energy for the Hainan Free Trade Port and the Guangdong-Hong Kong-Macao Greater Bay Area, it has also been the most difficult to exploit.
Closely following the changes in upstream and downstream production of gas fields, the operations team has overcome a series of obstacles, and ensured safety amid strong deep-sea currents and self-debugging of the ethylene glycol recycling system, said Pei Jianxiang, manager of the Department of Exploration and Exploitation of the Hainan branch of CNOOC.
Deep water is a term that refers to ocean areas more than 300 meters below sea level; areas more than 1,500 meters below the sea level go by the term ultra-deep water.
According to CNOOC, the difficulty in laying undersea pipelines, a vital part of offshore oil and gas production systems, increases as depths deepen, while seabed movement, geography, pressure and temperature also pose engineering challenges.
According to Li Ziyue, an analyst with BloombergNEF, China has been stepping up domestic oil and gas production over the past few years, with significant results from offshore.
"China's offshore oil and gas output has great upside potential. CNOOC's oil and gas production is expected to rise more than 6 percent each year during the 2022-24 period to play a critical role in China's energy supply security."
The cumulative output of over 1 bcm has proved the capability and reliability of China's self-made systems for exploration, exploitation, production and operation of deep-sea gas and oil reserves, said Yuan Yuan, director-general of the gas field.