Experts put Madagascar on path to food self-sufficiency
Share - WeChat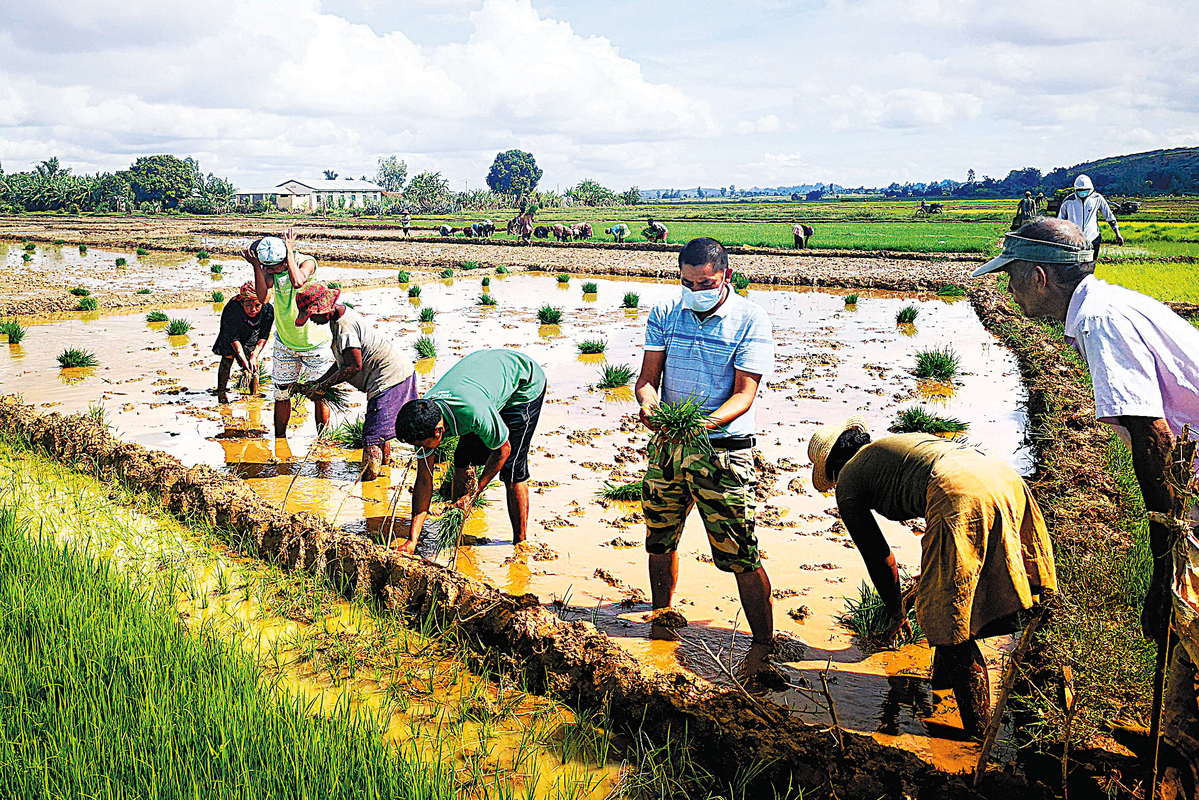 China has supported Madagascar's efforts to tackle a food crisis amid challenges posed by severe drought and the COVID-19 pandemic in recent years, experts said.
A team of nine agronomists from Hunan province has helped promote rice-planting techniques, agricultural machinery, livestock production and the formation of industrial chains since arriving in the East African country in September 2019.
Rice is a major grain for the island nation, which had a population of 27.7 million in 2020.
However, it had to import large amounts of rice as the yields of domestic varieties were relatively low due to poor irrigation infrastructure and field management, the leader of the expert team, Jiang Bomao, said.
"Before the pandemic, Madagascar imported more than 200,000 metric tons of grain each year," he said, adding that the goal is for the country to achieve self-sufficiency in food supplies.
The pandemic has exacerbated food shortages in the past two years because rice imports were affected.
In May last year, when he was Madagascar's agriculture, livestock and fisheries minister, Lucien Ranarivelo said the main difficulty faced in the development of rice production in the country was the lack of good varieties, and hybrid rice seeds and technical support from China would greatly increase rice production.
Jiang said the expert team provided guidance to Madagascan farmers on the planting of hybrid rice and farmland management, and offered online and offline instruction in planting skills. The yield of a new rice variety has reached an average of 11.87 tons per hectare, up from just 2.8 tons before the project was launched, he said.
"However, farmers were not willing to take part in the training at first unless they were offered specific benefits, such as a sheep or fertilizers, as rewards," Jiang said.
When some of them witnessed the significant increases in grain output achieved by pioneer households, they decided to join in, he added.
Sandra Tojofanantenana, a farmer in the town of Mahitsy, about 30 kilometers from Antananarivo, Madagascar's capital, who has three children aged from 6 to 16, was one of those who benefited from switching to a hybrid rice variety provided by a Chinese seed company. She also learned planting skills and field management from Chinese experts.
Last year, her family of five planted 1,600 square meters of rice and harvested 1.55 tons of grain.
"The grain production last year was enough to feed my family until the next harvest season," she told the expert team. "We used to face food shortages in the last few months before harvesting, and had to raise a cow to sell milk to buy grain. Now, food is not a problem and we can pay for the children's tuition fees and living costs with the money made from selling milk."
Hanta Rafaravololona, another farmer who attended a training program launched by the Chinese experts, achieved a rice yield of 10.17 tons per hectare, much higher than the 8 tons she expected.
"Grasping the technique was not difficult, but it required a lot of inspiration," she said. "I plan to increase the planting area. Rice farmers must get rid of traditional cultivation methods and use hybrid rice varieties because the profit is pretty good."
Jiang said the hybrid rice sells for the equivalent of $1.20 a kilogram, roughly double the price of the regular variety grown by farmers.
About 771 households have benefited from the two-year project, he added.
To promote the use of agricultural machinery, the team arranged for technicians to teach farmers how to operate and maintain small rotary cultivators, tractors and harvesters.
In Antsiranana, a city in northern Madagascar, the livestock sector was susceptible to natural disasters such as severe droughts.
"Most of the farmers in the region earn grain from selling their livestock, but forage shortages in the dry season and traditional raising methods are among major challenges for local livestock development,"Jiang said.
With the team's support, farmers achieved levels of cultivated forage grass output 10 times that of natural grass, alleviating dry season shortages of livestock fodder.
The Madagascar project is run under the auspices of the China-FAO South-South Cooperation program, involving China's Ministry of Agriculture and Rural Affairs, Madagascar's Ministry of Agriculture, Livestock and Fisheries, and the United Nations' Food and Agriculture Organization. The Foreign Economic Cooperation Center of the Chinese ministry was among those who implemented the project.
"This technology is widely used in several countries and is one of the conditions that has allowed China to be self-sufficient in food," Ranarivelo said at a harvest ceremony in May. "The collaboration affects the technical aspects of seed production in Madagascar."