Similarity of frescoes to winter sports raises intrigue
Share - WeChat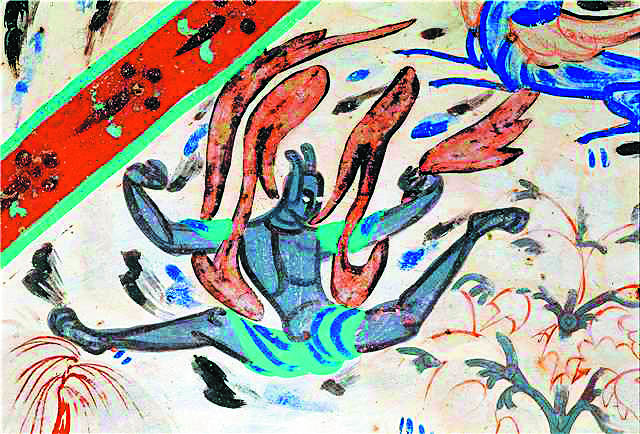 The Beijing 2022 Winter Olympic Games opening ceremony on Friday deepened Chinese netizens' fascination about the similarities between modern winter sports and depictions of flying apsaras on frescoes at the Mogao Grottoes, Gansu province.
"It's eye-opening to observe that some modern winter sports gestures look almost the same as those of the flying apsaras on the ancient fresco," said netizen Dimple and Smile on Sina Weibo. "Such a coincidence is interesting, and all the gestures show a certain beauty and grace."
Her insight isn't baseless.
For example, the image of a figure at the top of Cave 249 at the Mogao Grottoes has two wings and big ears pointing upward. His jumping and rotating in the air look very similar to a figure skater performing a spin.
On the north side of Cave 249, a hunter pulls a bow and aims an arrow at a tiger. To shooters participating in the winter biathlon, which has its origins in military patrols in snowy conditions, the marksmanship skills probably seem familiar.
A malla, or strong man in Buddhism, also seen on Cave 249, turns his head upside down in one fresco, with his contorted body resembling that of a freestyle skier in midair.
The dynamic movements of flying apsaras depicted on the top of Cave 257 could also remind some people of a frenetic hockey game.
The Mogao Grottoes in Dunhuang consist of 735 caves and 2,415 clay-colored sculptures, while its frescoes cover an area of 45,000 square meters. It boasts one of the finest collections of Buddhist art in the world and was listed as a UNESCO World Heritage site in 1987.
Zhang Yuanlin, deputy director of the Dunhuang Academy, said almost all categories of modern sports can be observed in Dunhuang's fresco art. "The frescoes preserve various sports of ancient Chinese ethnic groups living along the Silk Road, such as archery, wrestling, gymnastics and swimming."
Many aspects of the sports can be seen in Cave 290 and Cave 249.
"The (ancient) painters made use of daily life scenes including ancient sports activities to express their thoughts," Zhang said. "Some gestures and movements of the figures they painted were exaggerated, which reflected their wish to break human body limitations, which is consistent with the Olympic motto-'Faster, Higher, Stronger and Together'."
Dunhuang elements can be noticed in other designs of the Beijing 2022 Winter Olympics, such as "Flying", the official torch of the Games. It uses the flowing ribbons of flying asparas and resembles a ribbon spiraling upward.
Big Air Shougang, the new outdoor venue in Beijing for snow sports, was also inspired by the flying apsaras, with its track resembling an elegant ribbon.
"Dunhuang elements are not only adopted in sports, but also in clothes, architecture and many daily necessities," Zhang added.
"Flying apsaras embody freedom and beauty. All that can touch hearts and bring joy will be welcomed. ... People of different nationalities and cultures nowadays should achieve understanding and show tolerance by participating in the Games."