Luxury stores in robust expansion
Share - WeChat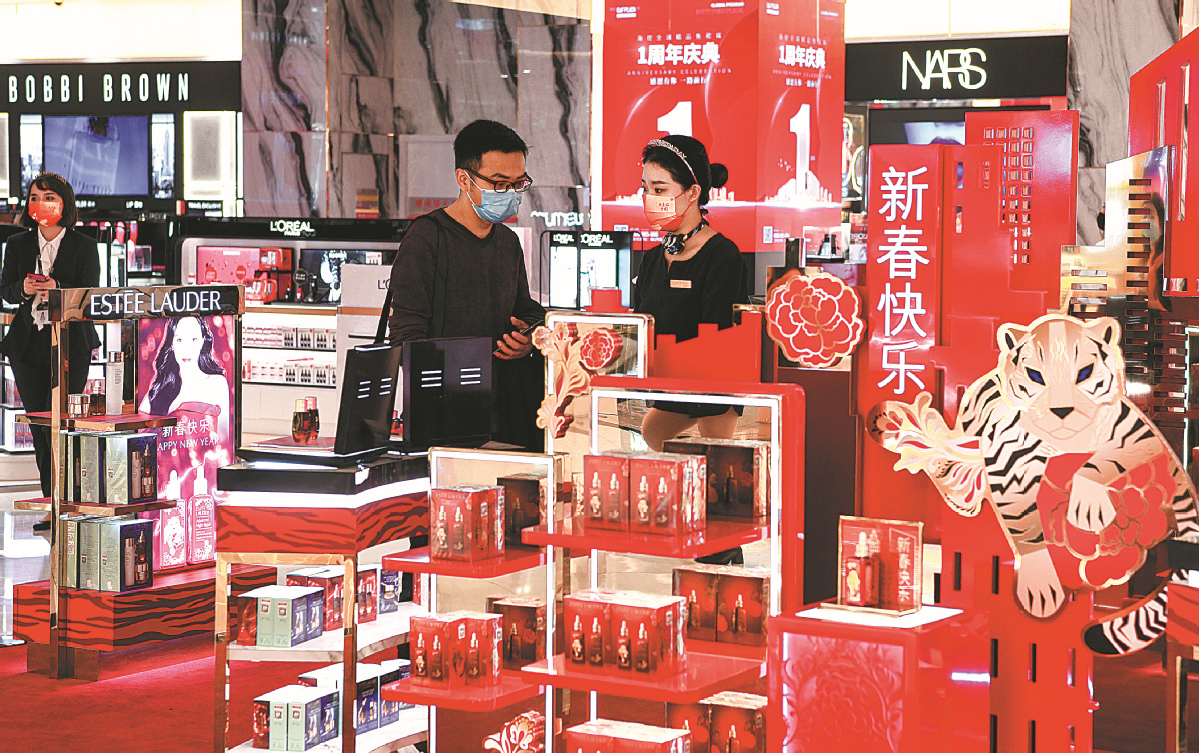 Global revival in the personal luxury goods market has been powered by the dynamism of consumption in China and the US
Shopping online is serving as key channels for the luxury sector's recovery worldwide in the pandemic era.
But in China, luxury brands continue to strengthen their control over retail distribution channels by working together with leading shopping malls in first and second-tier cities as consumers prefer to shop nearby.
At the end of last year, Christina Wang, an executive at an online travel platform, decided to reward herself with a luxury bag and a wool and cashmere coat.
She bought the first one at SKP department store in Beijing, a leading high-end luxury shopping center, and the latter at the Hainan duty-free store.
"I often miss the days of being able to shop luxury items at better prices in France or Italy. But due to the pandemic, now my best option is to look for a good deal at domestic shopping malls," said Wang, a frequent overseas traveler.
Last year, Wang's spending at SKP in Beijing for bags, apparel and cosmetics hit more than 60,000 yuan ($9,450).
Most of the items are purchased during SKP's shopping festival for its members held twice a year, where points collected from previous shopping can be converted to coupons for the next round of buying.
The store is also her favorite hang-out place with friends and colleagues during the work week.
"It is very close to where I work at the World Trade Tower area," said Wang, 36."I am attracted by its good service, wide range of brand selections and new restaurants."
Wang said although the prices are higher for luxury or other higher-end brands in Beijing than those purchased overseas, SKP provides a strict requirement for COVID-19 prevention measures and a thoughtful shopping environment.
According to the commercial property complex retail sales ranking compiled by West South Cloud, Beijing SKP tops the chart at 23.9 billion yuan ($3.73 billion) in 2021. The figure in 2020 stood at 17.7 billion yuan.
The Guanggu World City in Wuhan, Hubei province, ranks second at 20.8 billion yuan and the third place is Beijing China World Mall at 20.2 billion yuan. The 40 complexes listed are mostly located in Beijing and Shanghai, with four in Hangzhou, and three each in Nanjing, Jiangsu province, Shenzhen, Guangdong province, and Wuhan, Hubei province.
Beijing SKP made its reputation in 2020 by surpassing Harrods in London to top world department store in terms of retail sales.
With 15 million person times in visits, the store has achieved an annual growth rate of 15 percent. Its single store retail revenue and sales per square meter both rank No 1 in the world.
Beijing SKP is never just about shoppers from the capital city. It covers the northern luxury retail market as well.
In 2020, its sales in Beijing and Xi'an grew at 15 percent and 36 percent respectively. To have a store debut at SKP is a big deal for international luxury brands. In recent years about 38 percent of global leading luxury brands opened their first store in the country at Beijing SKP.
The shopping mall giant is expanding with more store numbers and a new business format.
SKP-S Beijing, the youth-culture focused, luxury retail brand of SKP, opened its second store in Xi'an, Shaanxi province, in December.
The store offers a unique lifestyle destination that combines technology, art and fashion with a story specifically created for Xi'an. Two years ago, SKP opened its first SKP-S store in Beijing, creating a huge buzz on social media in the youth culture of Beijing.
Within SKP-S, the SKP Select Beauty is a platform that mixes multiple cosmetic brands and introduces nearly 60 new lifestyle brands, with more than 40 brands making their debut in China or the Northwestern region of the country.
SKP Select also introduced about 80 different fashion designer brands. International fashion houses, including Prada, Jil Sander, Rick Owens, offer a range of exclusive store designs as well as products specifically created for SKP-S Xi'an, with more limited editions and personalized products in the pipeline.
Feng Lun, a leading property expert, said luxury brands provided tailored products and often debuted their goods at SKP. By cultivating local brands through well-designed display and supply chain as well as the store layout, SKP and SKP Select have provided local brands with shopping experiences on the same level as international brands. A top team of buyers who have strong capacity in pricing and in selecting merchandise of niche brands from abroad add more incentives for trend following buyers.
In addition to domestic shopping centers, international retailers have stepped up their investment in the sector.
Galeries Lafayette, a leading French department store player, accelerated its expansion in China with plans to open a new store in Shenzhen, Guangdong province.
The move is part of the group's strategic scaling-up plan which aims to have 10 stores in the country by 2025. The high-end retailer entered the country in 2013 by opening a store in Xidan, Beijing, followed by another in Shanghai. Galeries Lafayette said it plans to open a store in Guiyang, Guizhou province, in the spring.
The new outlet is located in the Futian district of Shenzhen. It is scheduled to have a soft opening by the fourth quarter of 2022.
After Beijing and Shanghai, Galeries Lafayette is striving to make its presence in the southern region and spur competition in the fashion and retail sector in the Guangdong-Hong Kong-Macao Greater Bay Area, said the company, which has a total of 65 stores worldwide.
The department store is expected to open a branch at UpperHills, a new international urban complex developed by State-owned company Shum Yip to offer visitors an upscale shopping, dining and leisure experience. The new store will focus on a unique design and a highly curated multiband selection targeting the city's young, dynamic shoppers, the retailer said.
The acceleration in attracting domestic luxury consumers is in line with the country's rising local consumption for high-end merchandise.
China's share of the global market has almost doubled in two years to 21 percent last year, according to the consultancy firm Bain & Co. In 2021, the majority of offline retailers suffered from a decline of customer traffic due to the impact of COVID-19.
"Consumers who would have gone shopping abroad in the normal course but are now buying luxury goods in China as they can't travel overseas due to the COVID-19 situation, have supported the high-end shopping centers. Such places now offer terrific shopping experiences to their target consumers," said Jason Yu, managing director of Kantar Worldpanel China.
Bain & Co's Luxury Goods Worldwide Market Study which was released in December said the global revival in the personal luxury goods market has been powered by the dynamism of local consumption, particularly in China and the United States, which now form a dual engine stoking the gains of the sector.
The Chinese market has experienced remarkable momentum, with its size nearly doubling since 2019, entirely due to the repatriation of Chinese purchases from abroad, said the report.
Luxury went local most dramatically on the Chinese mainland, whose market is forecast to grow by 36 percent to about 60 billion euros ($67.98 billion).
Duty-free shopping has likewise gained from its opportunities. In the island province of Hainan, it reported 49.5 billion yuan of offshore duty-free shopping in 2021, up 80 percent year-on-year. More than 70 million items were bought by 6.72 million shoppers. The per capita shopping amount registered in the offshore duty-free shops (DFS) of Hainan was recorded at 7,368 yuan, an increase of 20.2 percent compared to the level in 2020.
Cosmetics, watches, and jewelry were among the top three items sold by the shops.
Luxury consumers in China also prefer a good bargain. The business performance of outlets has seen a rosier picture this year thanks to discount prices offered on international luxury brands.
Florentia Village, a company owned by RDM Asia, this year opened an outlet as part of its second phase in Pudong district in Shanghai with an additional 2,000 square meters which included 110 branded shops, marking a total coverage of nearly 70,000 square meters and more than 300 shops.
Last year, the outlet logged sales revenue of 2.7 billion yuan, and was visited by 4.5 million person times thanks to a booming recovery in the local economy.
The outlet operator opened its second phase in Chengdu, Sichuan province, in September to meet the rising demand for luxury products in West China. Its seven outlets in the country posted revenue of more than 10 billion yuan in 2020, up 7 percent year-on-year. The RDM group plans to open two more outlets in China with an investment of $200 million.