Light show in Cairo celebrates Beijing Winter Olympics
Share - WeChat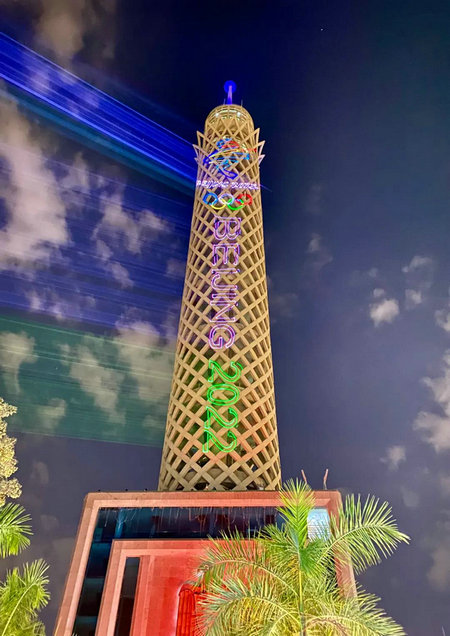 On the evening of Jan 24 — 10 days before the Beijing Winter Olympics by local time — the Landmark Cairo Tower in Egypt's capital staged a light show.
The words "Beijing Winter Olympics", "Beijing 2022" and "see you in Beijing in 10 days" and the emblem of the Beijing Winter Olympics were projected on the tower in Chinese, English and Arabic, forming a beautiful illuminated picture.
Chinese ambassador to Egypt, Liao Liqiang; secretary-general of the Egyptian Olympic Committee, Chlef Alyan; cultural counselor of the Chinese embassy in Egypt and director of the China Cultural Center in Cairo, Yang Ronghao and the public relations director of the Cairo Tower Management Committee, Hani Atala, attended the light show launch ceremony.
Ambassador Liao Liqiang said China is ready to present safe and splendid Olympic Games to the world. The public support offered by the Egyptian Olympic Committee for China's hosting of the Winter Olympics last year, as well as the light show in Cairo today, fully express the good wishes of the Egyptian people for the Beijing Winter Olympics. Ambassador Liao called on the world to share the Olympics together and wished athletes of all countries success.