Country to relentlessly prevent and mitigate financial risks
Share - WeChat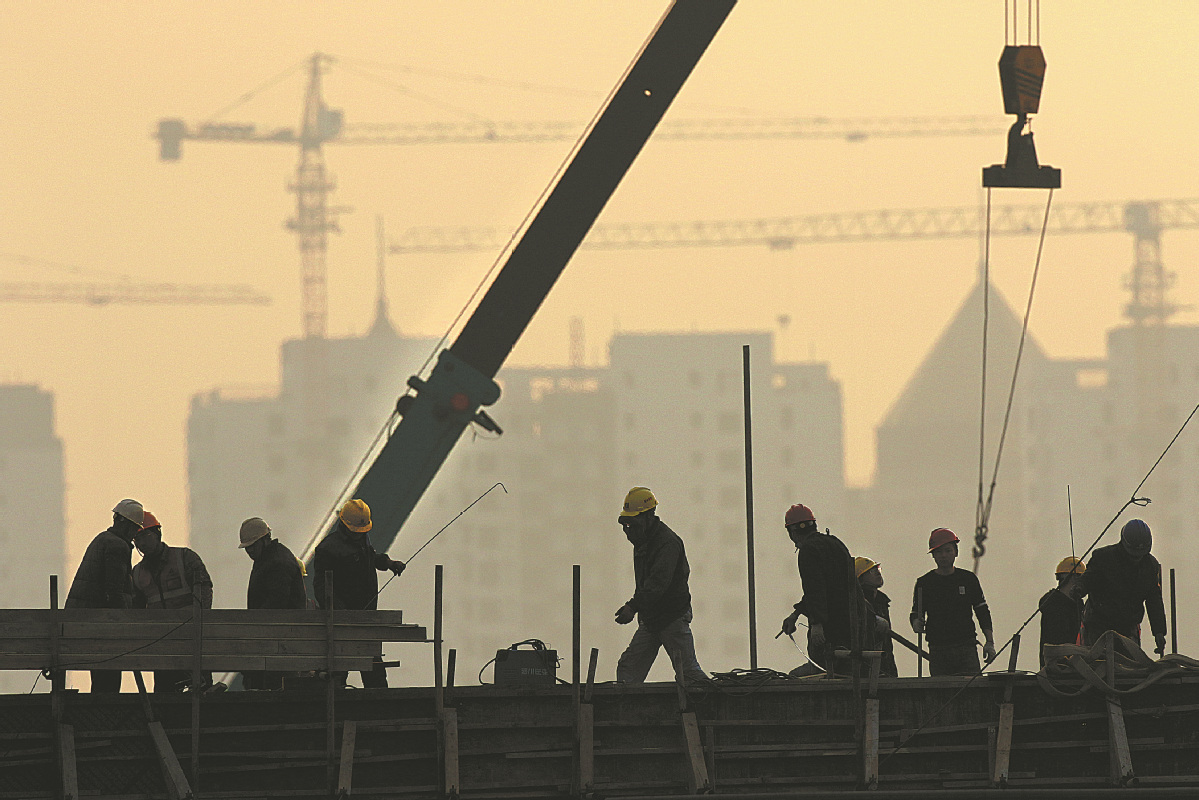 CBIRC: Fostering healthy development of real estate sector also a work target
China will relentlessly prevent and mitigate financial risks, promote healthy development of the real estate sector and deal with possible issues at high-risk financial institutions in an orderly manner, regulators and industry experts said.
Following the basic policy of "stabilizing the overall situation, making overall plans and coordination, implementing policies by category and accurately dismantling 'bombs'", the China Banking and Insurance Regulatory Commission will safely dispose of risks and stick to the bottom line of avoiding systemic financial risks, the regulator said in a videoconference on Monday.
The CBIRC said it will adhere to the principle that "houses are for living in, not for speculation", improve the long-term mechanism of stabilizing land prices, home prices and market expectations, and implement city-specific policies to promote a virtuous circle and the healthy development of the real estate sector.
"Promoting the healthy development of the real estate sector is a very important task for China's financial sector this year. It will play a positive role in stabilizing economic growth and preventing transmission of risks from the real estate sector to the financial system," said Zeng Gang, deputy director-general of the National Institution for Finance and Development.
"China will carry forward the disposal of risks associated with some real estate developers based on market-oriented principles and the rule of law. The size of their bank loans is not huge and it has so far brought limited direct risk to financial institutions. The regulators can effectively control spillover of risk in the real estate sector by consolidating responsibilities of local governments and business entities, coupled with financial institutions' cooperation with them on risk mitigation," Zeng said.
During the videoconference, the CBIRC also said it will properly handle a potential rebound in nonperforming assets.
As of the end of the third quarter last year, the outstanding balance of nonperforming loans of China's banking sector was 2.83 trillion yuan ($447.62 billion) and the NPL ratio was 1.75 percent, falling 0.01 percentage points quarter-on-quarter and 0.21 percentage points year-on-year, according to the regulator.
"The pressure from the banking sector's nonperforming assets still remains controllable although the Chinese economy is facing downward pressure. Banks should prevent and mitigate potential risk by supporting better development of the real economy, continuing to step up writing off nonperforming loans, strengthening asset quality management, maintaining a relatively high level of provisions for impaired loans and consolidating their risk resistance capacity," Zeng said.
Last year, China's banking sector disposed of 3.1 trillion yuan of nonperforming assets, reaching a new record after the amount hit 3.02 trillion yuan in 2020, the CBIRC said.
In addition, the regulator vowed to continuously dismantle high-risk shadow banking activities. By the end of 2021, China's shadow banking sector contracted by 4.2 trillion yuan from the beginning of the year.
Moody's Investors Service, a provider of credit ratings, research and risk analysis, said China's shadow banking assets will continue to decline on regulators' continued focus to contain systemic risk in the financial sector.
The CBIRC stressed it will promote the disposal of risk in high-risk financial institutions in an orderly manner. It has been tackling the problems of some risky financial institutions since 2017.
"Financial institutions must carry out self-reform to further improve corporate governance mechanisms and enhance their internal institutions and capabilities of risk prevention. In addition, China should improve the financial regulatory system of local governments, pushing local governments to play a major role in territorial risk disposal," said Dong Ximiao, chief researcher at Merchants Union Consumer Finance Co Ltd.
Hong Kong-listed China Huarong Asset Management Co, a manager of distressed assets, completed the issuance of nearly 39.22 billion domestic shares on Dec 30 to CITIC Group, China Insurance Rongxin Fund, China Cinda and ICBC Investment, coupled with 1.96 billion H shares to China Life, raising a total of 42 billion yuan.
Through the introduction of strategic investors and more capital, Huarong will replenish its core tier 1 capital, enhance its capital regulatory indicators and shareholder structure, improve its risk resistance capacity and consolidate the foundations of sustainable development, said Wang Wenjie, executive director and vice-president of Huarong AMC.