NATO ramps up troop movements as tension on border increases
Share - WeChat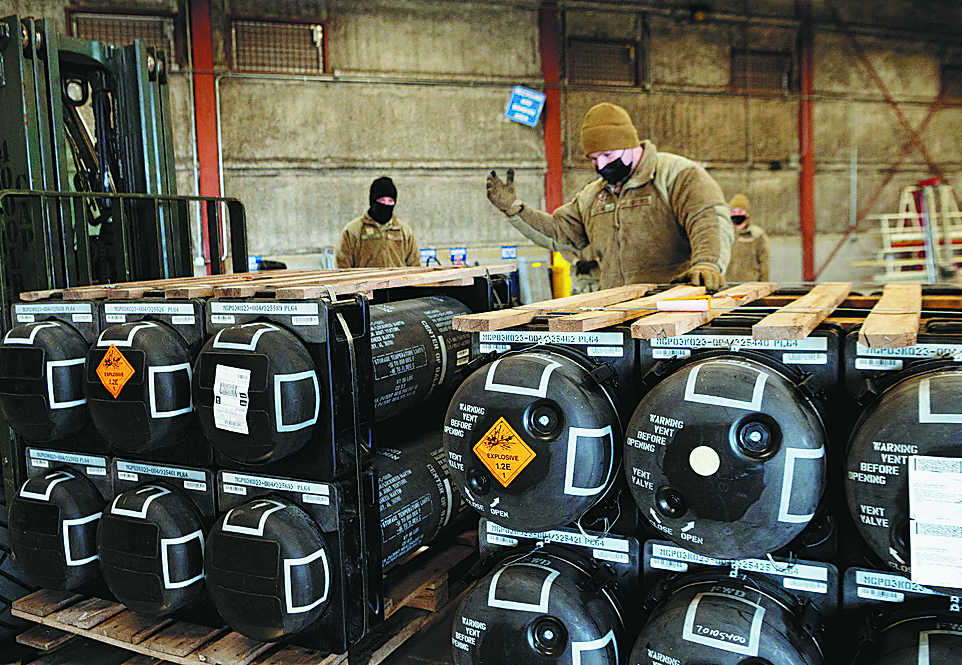 BEIJING/WASHINGTON-NATO members are increasing military activities in Eastern Europe amid tensions over Ukraine, despite Russia's warning that a strengthened Western presence near its borders poses a national security threat.
In the past days, Denmark, Spain, France, and the Netherlands have begun sending ships, planes or troops to NATO's deployments in the region. Already present on the ground are the United Kingdom, Canada and Germany, NATO said in a statement on Monday.
NATO has not made a decision to activate the Response Force, which consists of about 40,000 troops from multiple nations.
Meanwhile, the Pentagon said that nearly 8,500 US troops had been put on higher alert for a possible deployment due to escalating tensions on the Russia-Ukraine border, but there has been no decision on formal deployments.
Pentagon press secretary John Kirby said those US-based troops are being put on alert for possible deployment-not to Ukraine but to NATO territory in Eastern Europe.
"What this is about is reassurance to our NATO allies," Kirby told a news conference, adding that no troops are intended for deployment to Ukraine, which is not a member of the alliance but has been assured by Washington of continued US political support and arms supplies.
If NATO does decide to activate the Response Force, the United States will contribute a range of military units, Kirby said.
Responding to NATO's move, Kremlin spokesman Dmitry Peskov said on Monday that the Russian military cannot ignore the Western alliance's increased military activities as tensions remain high.
In addition to the NATO maneuvers, Ukrainian authorities are massing forces on the line of contact with the two self-proclaimed republics in Donbass, he noted.
The threat of provocations by Kiev in the Donbass region in eastern Ukraine is now higher than ever, Peskov said.
The current escalation of tensions was caused by the US and its NATO allies, which have launched a propaganda campaign full of lies against Russia, he added.
NATO, the US and Ukraine have accused Russia of having assembled heavily armed troops near the eastern border of Ukraine with a possible intention of "invasion".
'Planned provocations'
Denying any intention to attack any country, Russia has warned NATO that its activities near Russia's borders "are a national security threat", while Moscow reserves the right to move forces on its territory. It says Western accusations are merely a cover for NATO's own planned provocations.
The tension helped fuel instability in global markets, while Russia's main stock index plunged and the central bank suspended foreign currency purchasing after the ruble slumped.
France has announced that Russian and Ukrainian officials would meet, along with French and German counterparts, in Paris on Wednesday to try to find a way out of the impasse.
In another development, the US and Britain are withdrawing some staff and dependents from their embassies in Ukraine, stoking fears that a conflict is looming.
But the European Union and the Ukrainian government said any withdrawal of foreign embassy personnel was premature.
Ukrainian political analyst Igor Chalenko said the two Western powers have no grounds to withdraw some of their staff from their embassies in Kiev as the security situation at the Ukrainian border is relatively stable.
According to the expert, the US and Britain are possibly withdrawing diplomats' families from Kiev in a move to facilitate the supply of weapons to Ukraine.
Xinhua - Agencies