Macron's pandemic policies seen key to election hopes
Share - WeChat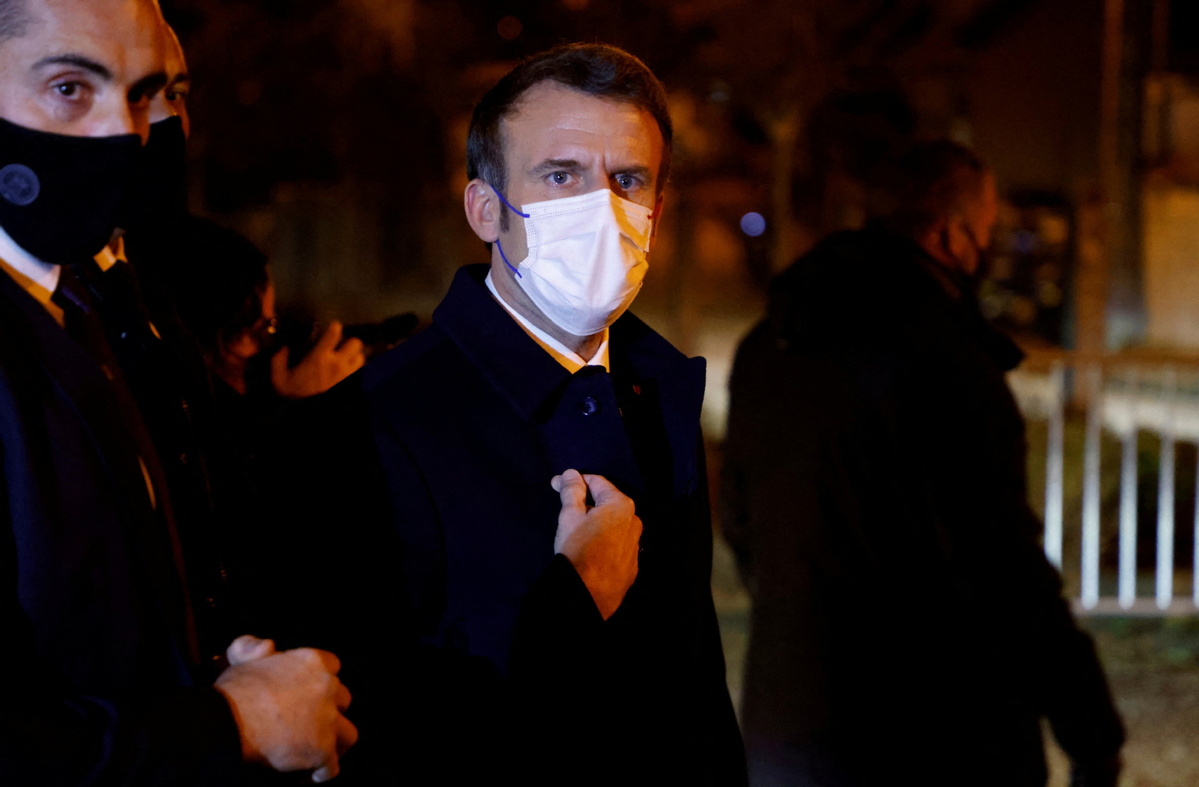 France will vote for its new president in April with incumbent Emmanuel Macron yet to officially announce his candidacy.
Macron's handling of the COVID-19 pandemic is reported to be a critical factor on whether he will win a second term.
He also hopes to be the first president to be reelected since five-year terms were introduced in 2000, though at least six leading candidates, plus many others who have declared an intention to run, will bid to replace him.
After two years of the COVID-19 crisis and with the Omicron variant now at its peak, Macron's supporters fear his lead is under threat as the public gets tired of restrictions. As in the previous election, he will need to stave off the pull of the far-right, reported French news site The Connexion.
Others bidding for the presidency include Valerie Pecresse for the conservative Les Republicains and the two far-right candidates Marine Le Pen and Eric Zemmour.
Recent Ifop surveys showed Macron polling at about 25 percent of voting intentions, compared with 18 percent for Le Pen, 16 percent for Pecresse and 11.5 percent for Zemmour.
'Tipping point'
One French business leader who wants Macron to win the election in April told the Financial Times on Sunday that the public no longer supports COVID-19 social measures. "We are at the tipping point where people are now sick of restrictions. Things could go badly for him," the business leader said. "They think the situation no longer merits the restrictions."
It was announced on Thursday that some coronavirus restrictions would be relaxed next month. But this is despite health ministry data showing that infections are still at more than 400,000 a day.
The Financial Times reported that polling in the run up to April's vote suggests that "about three-quarters of voters back candidates on an arc starting in the center and ending on the far-right", with left-wing and socialist parties falling behind. It said the combined ratings of all left-wing candidates amounted to just 23 percent of the national vote.
Luc Rouban, a political scientist at Sciences Po, told the Financial Times that there had been "a disintegration of French socialism. But the other factor is the electorate".
He added that there has been a slide to the right in the last 10 years on immigration and law and order.
The FT noted that a recent Ifop opinion poll showed public confidence in the government's ability to tackle the pandemic has slipped by 9 percentage points to 41 percent since early December.
According to a Jan 12 poll from Ipsos, Macron's popularity has dropped by four points since November, with 40 percent approving of his record.
The Guardian reported that Macron had also been ramping up his rhetoric against France's minority of unvaccinated people-less than 10 percent of the population-in part as a way of setting the political battle lines for the election.