Anger at curbs turns violent in heart of EU
Share - WeChat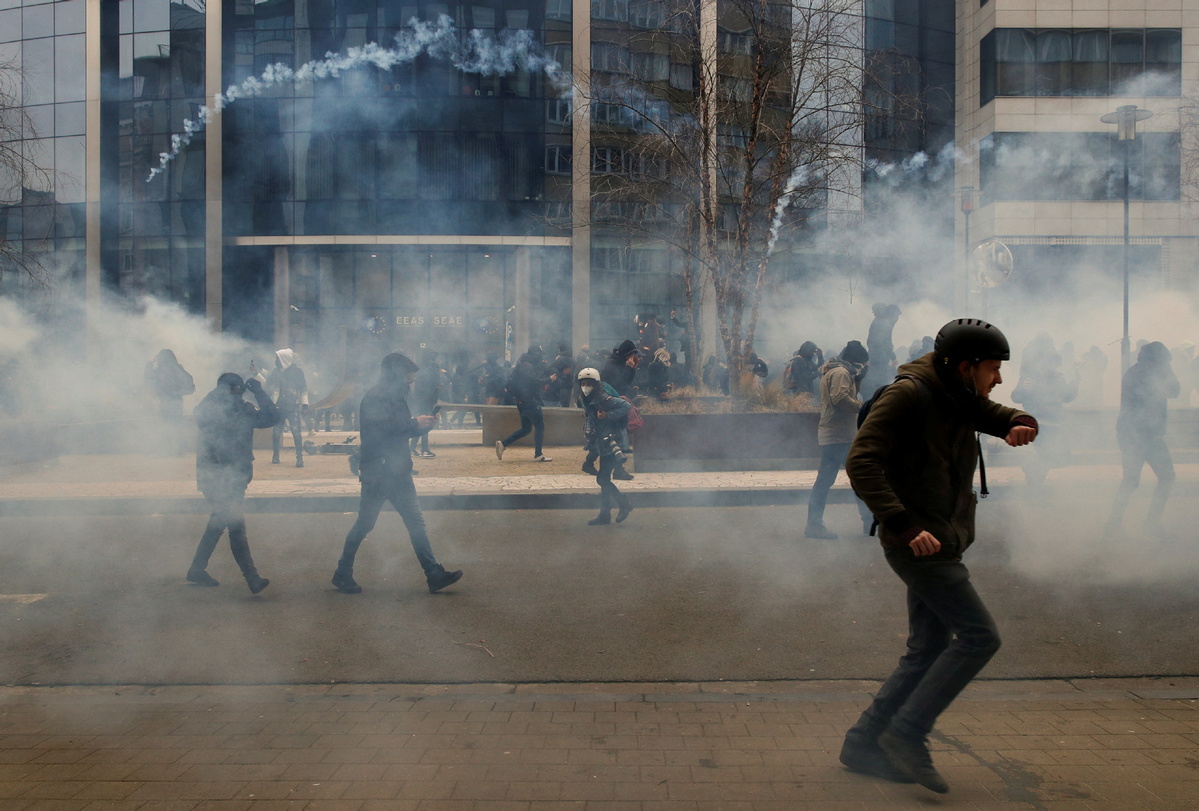 A massive demonstration in Brussels against COVID-19 measures turned violent on Sunday when police used tear gas and water cannons to disperse protesters. Many in the crowd threw objects at officers, set fires and vandalized properties.
About 50,000 people from several European Union member states, with just a few wearing face masks, marched from Brussels' North Station to the Cinqunatenaire Park in a demonstration organized by Europeans United. The group called COVID-19 measures, such as vaccination certificates, a violation of "democracy, freedom and human rights".
The demonstration in the Belgian capital was largely peaceful but a small group of people turned violent, throwing objects at police officers and setting fires on the streets. Their actions prompted the police to resort to tear gas and water cannons. About a dozen mounted police were also deployed at the park.
The police made about 70 arrests. Three officers and 12 rioters were taken to hospital, local media reported.
The office building of the European External Action Service, or EEAS, the EU's diplomatic and defense arm located near the park, was vandalized, drawing condemnation from EU leaders.
The organizers distanced themselves from the violent protesters and said the media should focus on the peaceful aspects of the demonstration. Demonstrators carried banners calling for liberty and mocking government restrictions. Some were carrying Belgian, Dutch, Polish and Romanian flags.
It was the fifth demonstration against COVID-19 measures in Brussels in the past two months.
European Council President Charles Michel, a former Belgian prime minister, said: "Under no circumstances can violence be tolerated."
In a tweet on Sunday night, he said: "I want to express my full support for the security forces and for the victims of violence and looting today in Brussels."
Josep Borrell, the EU's foreign policy chief, tweeted a message with a photo of himself standing next to a smashed window at the EEAS office building. "Strongly condemn the senseless destruction and violence at the manifestation in Brussels today," he said.
Widespread rallies
Similar protests took place over the weekend in other European cities. In Barcelona, Spain, protesters on Sunday wore costumes and waved banners with messages such as "It's not a pandemic, it's a dictatorship", as they marched against restrictions imposed by local and national governments.
Few of the estimated 1,100 protesters donned face masks, which are mandatory outdoors in Spain, The Associated Press reported.
Demonstrations also took place on Saturday in Athens, Helsinki, London, Paris and Stockholm.
Many European nations are experiencing high numbers of new infections due to the highly transmissible Omicron variant.
Belgium, with a population of only 11 million, reported average daily new infections of 35,975 for the seven days to Jan 18, up 49 percent from the previous seven days.
An average of 271 patients infected with COVID-19 were admitted to hospital every day from Jan 15-21, up by 43 percent from the previous week, according to Sciensano, the government public health authority, on Saturday.
But on Sunday, Hans Kluge, the Europe director of the World Health Organization, told Agence France-Presse: "It's plausible that the region is moving toward a kind of pandemic endgame."
He said that Omicron could infect 60 percent of Europeans by March and once the current surge of the variant sweeping across Europe subsides, "there will be for quite some weeks and months a global immunity, either thanks to the vaccine or because people have immunity due to the infection, and also lowering seasonality".
Kluge added: "We anticipate that there will be a period of quiet before COVID-19 may come back toward the end of the year, but not necessarily the pandemic coming back."
But he also cautioned that it was still too early to consider COVID-19 endemic.