Italy begins voting for next president with unclear slate
Share - WeChat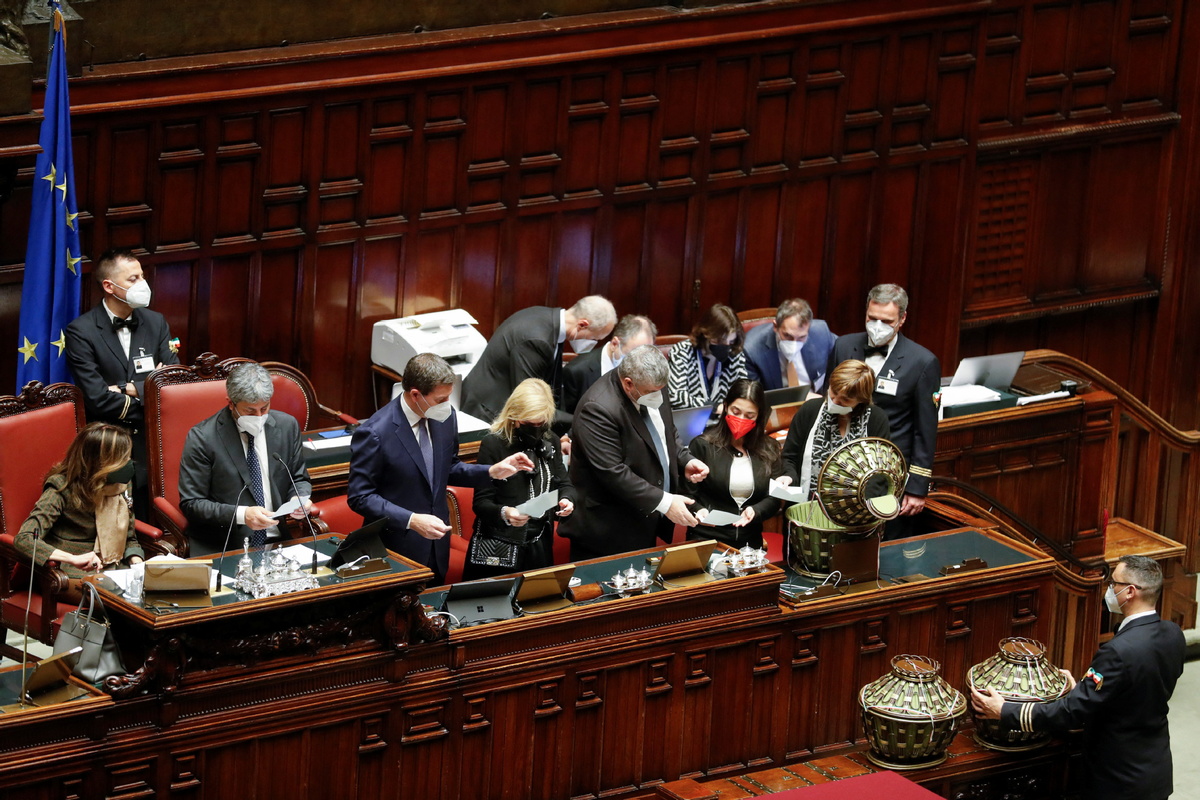 Around 1,000 lawmakers and regional representatives in Italy have started the process of choosing a replacement for President Sergio Mattarella.
The first round of voting on Monday featured a wide range of candidates wanting to be head of state of the eurozone's third-largest economy, with Prime Minister Mario Draghi among the most high-profile.
But the contest is being seen as especially "wide-open", leading to fears a clear winner may not emerge, and that political uncertainty and instability could follow.
The Reuters news agency said the financial markets are especially interested, and hoping a strong, unifying leader will emerge.
Voting is being carried out in secret and is likely to continue for several rounds over a number of days.
Reuters said some lawmakers have expressed concern about the prospect of electing Draghi, a former chief of the European Central Bank, because it would trigger his departure as prime minister and threaten his national unity administration, just as the nation needs stability in order to rebuild following the ravages of the novel coronavirus pandemic.
If Draghi were to stay on as prime minister, he would, as the Financial Times put it, be able to "forge ahead with an ambitious EU-funded reform program" worth 191 billion euros ($216 billion) in grants and loans.
Matteo Salvini, leader of the right-wing League party, said on Sunday: "At this difficult moment, it would be dangerous to remove Draghi from the post of prime minister."
The leaders of two other prominent political parties of Draghi's coalition government, the 5-Star Movement and the center-left Democratic Party, said before Monday's vote that their lawmakers would cast blank ballots, as a way of buying time, so cross-party talks could continue in the hope of finding a candidate disparate parties could agree to support.
An unnamed source within the Democratic party told The Guardian newspaper: "With Draghi, there's not so much enthusiasm on behalf of all parties. The 5-Star Movement fears it will lead to early elections, and some within the (Democratic party) fear there could be a government in which they will lose their ministerial jobs."
The BBC said one possible solution to avoid an impasse would be for Mattarella, who is due to step down on Feb 3, to stay on as head of state. While he has said he will not extend his time in office, some politicians are reportedly lobbying him in the hope he will change his mind.
While Italy's head of state is largely ceremonial, the president is responsible for resolving political crises and has a final say on who can be nominated to serve as prime minister, or in the Cabinet.