Muted celebrations can't dim festive spirit
Share - WeChat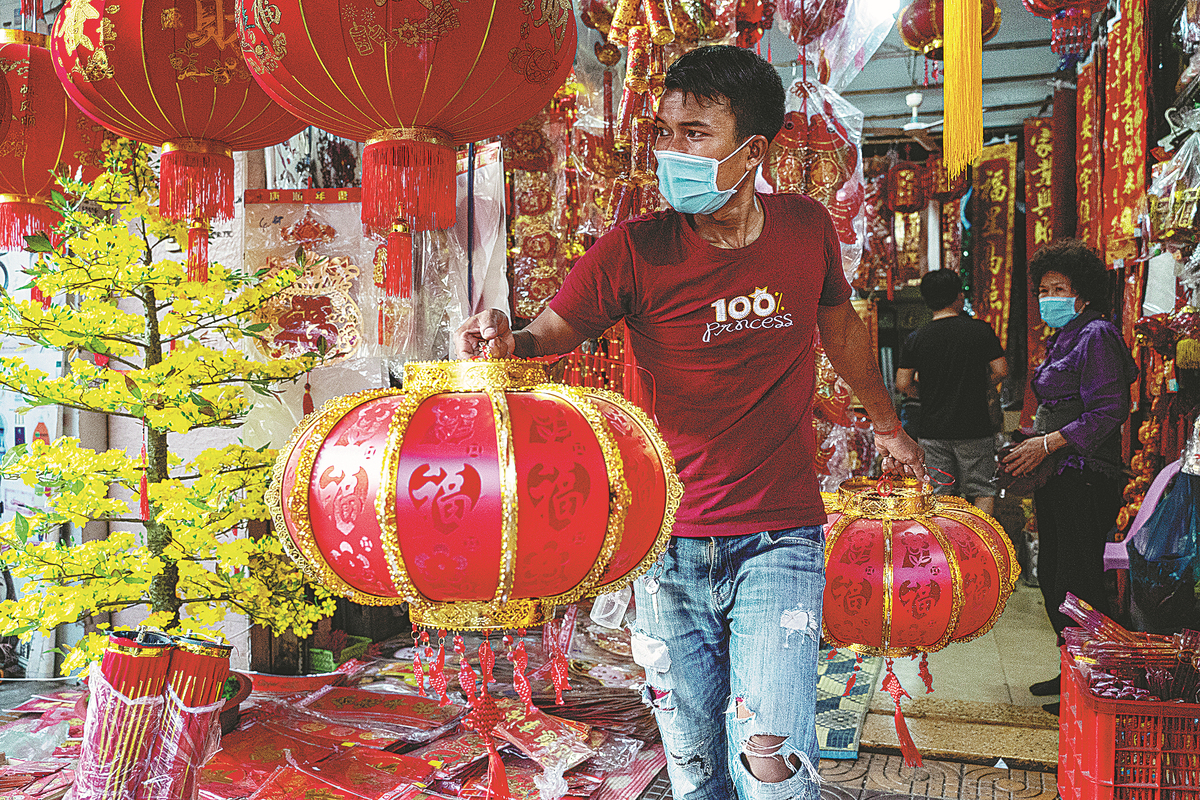 Chinese in SE Asia keep upbeat with another scaled-down Spring Festival
Malaysian businessman Alexander Yee will welcome in the Spring Festival with a quiet dinner with his immediate family. Yee used to celebrate Chinese New Year by going to family reunions in Malaysia and neighboring Singapore. But for the past two years, the pandemic has kept him at home in the eastern state of Sabah.
"For the last two years, due to the movement control order, we have not been able to travel. This year seems no exception," Yee said.
The onset of the COVID-19 pandemic in 2020 has changed the way Yee and the millions of ethnic Chinese in Southeast Asia observe the festival. In the past, they would celebrate by hosting huge family gatherings, traveling and watching parades and fireworks. But now, the celebrations have become muted owing to the travel restrictions and social distancing rules.
The rise of the highly infectious Omicron variant has pushed health authorities in countries such as Brunei, Malaysia and Singapore to issue orders that will limit the number of gatherings and activities during the Chinese New Year celebrations that start on the eve of Feb 1. The restrictions are meant to prevent a possible super-spreader event.
Paul Anantharajah Tambyah, president of the Asia Pacific Society of Clinical Microbiology and Infection, said the pandemic will have a "profound impact" on the celebrations in Singapore this year.
In Singapore, where 70 percent of the population is ethnic Chinese, only groups of up to five people are permitted to hold a social gathering. Each household can receive only five unique visitors a day. Those who want to have dinner in hotels or restaurants can reserve a table for only five people.
"The restriction in the number of visitors to each home will make large reunion dinners impossible and also limit the usual get-togethers with friends and family that characterize the celebrations every year," Tambyah said.
Tambyah said that such restrictions need to be in place even though the city-state, where more than 80 percent of the population is fully vaccinated, has one of the highest inoculation rates in the world.
"Unfortunately, the current vaccines do not significantly (reduce) transmission," he said, noting that "it is hard to contain a virus which is as transmissible as this one (Omicron)".
Reunion dinners allowed
In Malaysia, where the ethnic Chinese community comprises over 20 percent of the nation's roughly 32 million people, National Unity Minister Halimah Mohamed Sadique has said that family reunion dinners and house-to-house visits are allowed during Chinese New Year.
For gatherings in restaurants and other public venues, the guest number is limited to half the venue's capacity. People can go to temples for prayers on Feb 1 and 2, but they need to follow hygiene protocols like wearing face masks and practicing physical distancing.
"No big gatherings and grand celebrations, no open houses with an endless stream of visitors dropping by. Everything will be much scaled-down with smaller crowds, smaller reunions or gatherings of friends and family members, and less extravagant spending," said Lee Su Kim, founding president of the Peranakan Baba Nyonya Association of Kuala Lumpur and Selangor. The Peranakan, an ethnic community in Singapore and Malaysia, has a mixed Chinese and Malay/Indonesian heritage.
Lee said Chinese Malaysians are also concerned about visiting their elderly relatives given the greater infection risks for older people.
Brunei's Home Affairs Minister Awang Abu Bakar Apong said public gatherings must be limited to 75 percent of a venue's capacity, or a maximum of 300 people, whichever is lower. He said that lion dance troupes can only perform at temples, schools and community halls. Only 30 people are allowed for family reunion parties.
Brunei is home to more than 40,000 ethnic Chinese, accounting for about 10 percent of the sultanate's predominantly Malay population.
Despite these pandemic-related restrictions, Lee believes the Lunar New Year will be marked by a strong festive spirit.
"Those who believe in upholding tradition will continue keeping the tradition alive. Pandemic or no pandemic, the Chinese New Year is the most important festival of the Chinese people and they will continue celebrating it in whatever ways possible," she said.