Disneyland celebrates Year of the Tiger
Share - WeChat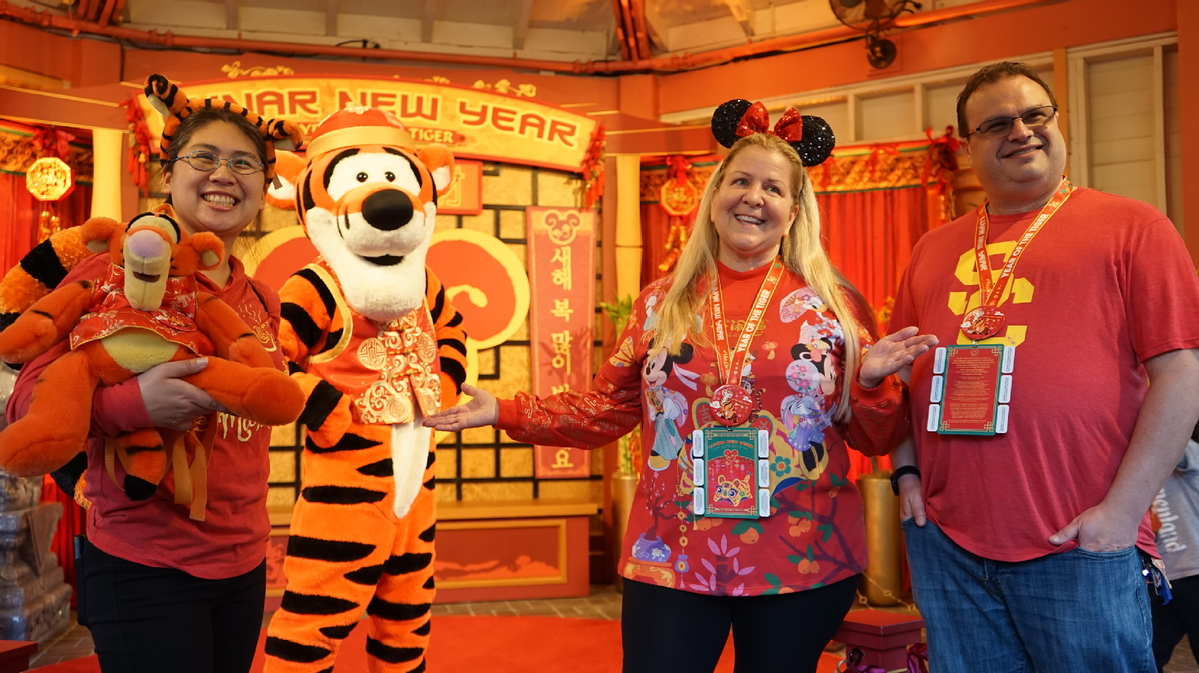 Disneyland California Adventure Park turned into a sea of red and gold as its celebrations for the upcoming Year of the Tiger started.
The amusement park's annual Lunar New Year festival, which runs from Jan 21 to Feb 13 this year, returns after a pandemic hiatus in 2021. It pays tribute to the Chinese, Vietnamese and Korean communities, all of which celebrate the traditional holiday.
For a limited time, guests at the park will see parades featuring Mulan, a legendary Chinese folk heroine, Chinese traditional drummers, dragon dancers, as well as Tigger, an anthropomorphic stuffed tiger character from Disney's Winnie the Pooh.
They are also invited to enjoy an array of Asian dishes and watch daily live performances featuring traditional musical instruments, along with Chinese, Korean and Vietnamese folk dancers. They can learn to write Chinese calligraphy and share their New Year's resolutions on the Lucky Wishes Wall.
"I love it. It's fun because you are bringing in different cultures and you are highlighting the different cultures," April Millikan, a sign-language interpreter from Anaheim, California, who was visiting the park Friday with her friend, Cara Morales, told China Daily.
Millikan, who wore a red shirt with gold accents, said she and her friend, Morales, a former bank assistant manager from Aliso Viejo, California, go to the park regularly and are fans of the Lunar New Year festivals.
"We weren't sure with COVID if they were going to be doing it this year; we are happy that they brought it back. It's amazing to learn about cultures," Morales said.
The Chinese New Year, or the Spring Festival, falls on Feb 1 this year. According to the Chinese zodiac, 2022 is the Year of the Tiger.
Red lanterns fluttered on poles in the park on Friday. Guests lined up to take photos with Disney characters wearing festive attire. The sound of stringed instruments playing Chinese folk songs and the children's song It's a Small World filled the sky.
Jacob Padilla, a 21-year-old student from Central Valley, California, was visiting with friends in the area when they stumbled upon the Lunar New Year festival at Disneyland, so the group decided to check it out.
"I learned my birth year, which is dragon. We saw a little bit of New Year resolutions, and New Year wishes on the chain; it's a really cool experience, seeing all of these cultures," Padilla, who was holding a red paper with the Chinese character for dragon, told China Daily.
Jenny Chen, president of the North Orange County Chinese American Senior Association, told China Daily that she and her husband as well as several other artisans have been demonstrating and helping guests learn calligraphy for three years at the Lunar New Year events.
"This is the happiest place on earth, and there are so many people who come from multiple races who come to the park every day. It's great to introduce some of our Chinese traditions to the guests," she said.
Zhao Gangqin, a member of the San Francisco-based Melody of China, put together performances with her sister Zhao Yangqin and their colleague Zhang Xiaofeng. She told China Daily that people are excited to learn about Chinese instruments.