Drunkards, beware of the long arm of law
Share - WeChat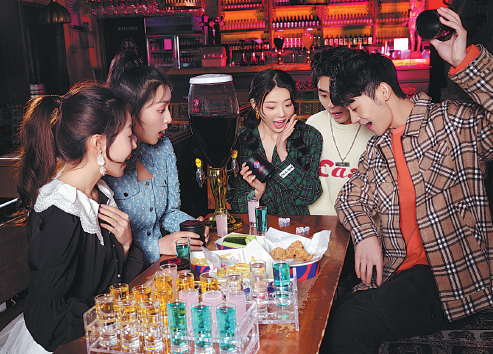 Traditionally, Chinese people celebrate Spring Festival with a sumptuous spread and hearty amounts of drinks. So it's not surprising to see some people having a few more swigs than usual to welcome the Spring Festival holiday.
There may be nothing wrong in having a couple of more drinks than usual once in a while but heavy drinking is not only harmful for health, but also can lead to drunken, violent brawls and even serious accidents. Generally, people don't know whether or not friends and fellow partygoers will be held legally responsible for any violence or accident that happens following a drinking party.
In this regard, Article 1190 of the Civil Code states that if a person with full capacity for conduct is at fault for being temporarily unaware of his own behavior or losing control and causing damage to others, he shall bear tort liability. So shall he when he is temporarily unconscious of his own behavior or loses control due to drunkenness, abuse of narcotic drugs or psychotropic drugs, causing damage to others.
Drinking in moderation at the dinner table (or a pub) is acceptable and even part of traditional Chinese culture, but if someone persuades, forces or tricks others to consume alcohol beyond his or her capacity, then he/she should bear the tort liability-bear the liability to pay compensation if at fault and the liability to indemnification if not-for the consequences.
After the Civil Code was implemented, some stark changes have been observed in the drinking culture, because any person who drinks beyond his or her capacity and creates trouble will have to bear responsibility for all the legal consequences of his/her action and cannot implicate others.
The Civil Code has established the principle of "taking one's own risk", which has made an increasing number of people aware that they are responsible for their own actions at all times.
Moreover, if a person forces an excessive amount of alcohol on another person, such as a superior on a subordinate, a buyer on a seller, or a friend on another, resulting in personal injury, the "perpetrator" will have to bear the legal responsibility as long as there is sufficient evidence to prove that he/she forced the "victim" to drink beyond his/her capacity.
But if a person is injured after having excessive drinks on his/her own-without anyone forcing it on him/her-that person has to bear responsibility for his action and the injury.
Whether a person who, after attending a party, drives under the influence and is involved in a serious accident will have to bear the legal responsibility for his or her actions needs to be analyzed and determined on a case-by-case basis.
But if a person drives under the influence out of his/her own accord and is involved in a serious accident, causing fatalities and/or injuries to people, that person has to bear all the legal consequences of his/her actions. And if other people had acquiesced or encouraged him/her to drive under the influence, they too have to bear their share of legal responsibility.
In such tricky cases, a judge needs to pass a ruling according to the specific requirements of the case and circumstances at the time of the incident, rather than adopting a one-size-fits-all approach.
Yet other partygoers cannot be held legally responsible for just having attended the same party as the future "offender". It is important to make this clear because some accident victims or their family members even filed lawsuits demanding that the other merrymakers also be held legally responsible and pay compensation to the victim or victims. Which is legally untenable.
As long as there is no coercive behavior, and the other partygoers didn't adopt a laissez-faire attitude after the "perpetrator" lost consciousness or control and allow him/her to drive, they don't need to bear legal responsibility.
Drinking in moderation during holidays can help liven up the atmosphere, but people should be aware of their alcohol consumption capacity, and never drive under the influence to avoid causing injury to others as well as themselves.
The author is a professor at the law school at the Zhongnan University of Economics and Law. The views don't necessarily reflect those of China Daily.
Most Viewed in 24 Hours
China Views